Lack of Persistent Platforms Hurts US Military
By: Edward Herlik*
Colorado Springs, CO (November 1st, 2008) – Air Force resistance to change has delayed the deployment of "backtracking" capabilities, or the ability to play a video traffic record in reverse to find bomb factories, weapons caches, safe houses, etc. This is one of the conclusions of an upcoming Persistent High Altitude Arial Platform Technologies and Markets Forecast research report by Homeland Security Research Corporation (HSRC) and Edward Herlik. Additionally, the report concludes that US military ground forces have not yet deployed "virtual team member" capabilities despite the fact that it was possible as early as summer, 2006, denying ground forces the potential protection and additional intelligence they so need. These capabilities are only possible given breakthroughs in lighter-than-air stratospheric airship technology. The US, Japan, South Korea and Switzerland have active airship programs with prototype flights logged between 15,000 and 73,000 feet. Russia and even Indonesia have study and design programs. DARPA, the US Defense Advanced Research Projects Agency, completed initial work on such technology in 2007, declaring stratospheric airships ready for large-scale prototyping. That agency has recently begun the same effort on heavier-than-air flight vehicles with a prototyping decision scheduled for 2012 and possible flight soon after. Whether floating or flying, those aerial vehicles are designed to persist above the jet stream for weeks to years at a time. They are designed to point into the wind and fly at its speed to essentially hover over one point on the ground. Operationally, they'll perform like very low altitude geosynchronous satellites. The ability to remain within sight of a chosen area 24/7 has been called the Holy Grail of surveillance and also enables significant communications possibilities. Virtual Team Member refers to the ability to deploy a trained soldier/operator with a patrolling squad or other unit, using persistent platforms to enable the virtual team member to view the entire battle through sensors on a persistent aerial platform. In other words, a unit member may watch over the patrol preventing ambushes, calling in supporting fire, coordinating aircraft, etc. Recent battles in Afghanistan have been fought without ever sighting the insurgents in that very rough terrain. Virtual Team Members would use gunfire-detection technology to pinpoint attackers and then direct fires or air strikes.
 Virtual Team Member (X) Protecting Patrol with Over-Watch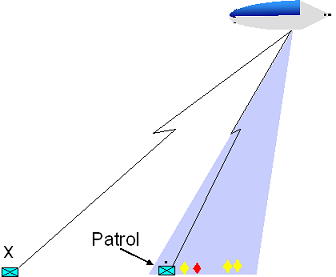 In this figure, we can see a Virtual Team Member stationed at the headquarters on the left (X) "patrolling" with the unit in the field by operating the airship's sensors (shown in blue) and communicating through the flight vehicle's communication relays. Those relays would also connect all patrol members to each other and to anyone in the world. Backtracking is only one of several capabilities enabled by truly persistent surveillance. The term is used commonly by the Joint Improvised Explosive Device Defeat Organization, a Department of Defense office that spends approximately $4 billion annually on near-term capabilities. Creating an unbroken video record of all ground movement enables intelligence operators to start with an event (bomb detonation or discovery) and follow the device backward through time to its point of origin. Bomb makers would have to move outside the surveillance area to avoid that outcome, exposing them to more checkpoints and other operational risks. Adding persistent platforms would push the surveillance limits outward.
Backtracking Simulation near The Pentagon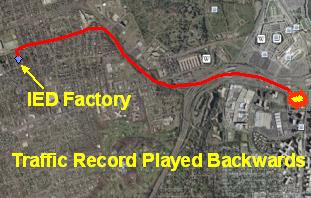 US counter-IED forces list the ability to observe traffic without gaps so as to play the record in reverse after an explosion as one of their top priorities. With backtracking, bomb makers would be exposed to the risks they now pass off on suicide bombers. Former Air Force Chief of Staff General John Jumper directed Air Force Space Command to develop persistent platforms starting in 2003. That work would have resulted in prototype capabilities during 2006 but was cancelled by Space Command when Jumper retired. The fixed-wing program was transferred to Air Combat Command. Stratospheric airship development has no current Air Force sponsor. The Army's Space and Missile Defense Command is attempting airship development and has just received prototype funding from an Air Force headquarters unit. A civilian prototype effort is also funded. Both prototypes should fly around September, 2009. The upcoming commercial and defense market forecast report also details the potentially significant disruption to space service providers as direct broadcast television, satellite radio and imagery customers move to persistent platforms. The report lays out the potential impact of such technologies on the booming cellular telephone markets in Asia, Africa and India. *About Ed Herlik Ed Herlik recently retired from a long US Air Force career. He earned a Bachelor of Science in Engineering and International Affairs from the US Air Force Academy and a Master of Arts in National Security Studies from California State University. A Cold War, Desert Storm, Somalia and the Balkans veteran, Ed was a command pilot with operational experience in attack, transport and helicopter aircraft and well as commercial jets. He also served two tours in the US Air Force Space Command, finishing as the command's expert on the survivability of persistent platforms. He has two patents (firefighting aircraft and stress sensing bolts) with two more pending (stratospheric airships and hybrid engines for used vehicles). Ed also authored the book, "Separated by War: An Oral History by Desert Storm Fliers and their Families" (McGraw-Hill)