Homeland Security Conferences
7-9 November, 2017  Riverbank Park Plaza Hotel, London, UK
Described as Europe's leading forum for satcom professionals, Global MilSatCom has been running for nearly two decades and has grown in size and stature every year, attracting almost 500 attendees and 40 sponsors in 2016. The conference's reputation has been built on the high-level international speakers and decision makers it attracts and the fantastic networking opportunities offered during the 4 days of sessions and workshops.This year's event will see developments and updates to MilSatCom programmes from around the world from leading figures and networking sessions throughout the 3-day event. Key themes and challenges at the core of the MilSatCom Community will be addressed, including the need for resiliency and robustness within SatCom systems, interoperability and flexibility within platforms, as well as the growing importance of allied collaboration.More details can be found on www.globalmilsatcom.com/homesec.
15-16 November 2017,  Georgetown University, Washington, D.C
Contact e-mail: carmen@insightxnetwork.com
http://www.insightxnetwork.com/domestic-terrorism-mass-casualty-incidents.html
Terrorism has changed: are you changing with it? Vehicle rammings, nightclub attacks, school shooters, the Boston Marathon attack…the list goes on. How can you best prepare for this new face of terrorism and mass casualty incidents? What do you need to know—both in terms of best-practice preparation and response? Insight Exchange Network's conference brings together federal, state and local authorities, along with industry subject matter experts, in a unique discussion aimed at keeping our country safe—don't miss it!
HOW TO REGISTER:
Register online at  http://www.insightxnetwork.com/domestic-terrorism-mass-casualty-incidents.html
14-16 November 2017,  Copthorne Tara Hotel, London, UK
Contact e-mail: tchung@smi-online.co.uk
http://www.favsurvivability.com/hsrc
As the only event purely dedicated to the area of vehicle protection, Future Armoured Vehicles Survivability aims to deliver a strong focus on the relationship between current requirements, emerging technologies and how these might be leveraged to enhance force protection.
Importantly, a key differentiator this year will be a dedicated pre-conference focus day on Active Protection System covering soft/hard kill active protection in detail. The three-day programme will cover the core areas of survivability in detail, exploring the latest platforms, vehicle architectures, passive/active protection, mobility, counter-IED, EW, un-manned/autonomous solutions, signature management and much more!
What's new for 2017:
National capability development updates from the British Army, DSTL, US Army, German Army, US Marine Corps and many more
A key focus on the technology that goes into providing enhanced protection. Hear from industry leaders, including ARTEC, IMI Systems, KMW and Lockheed Martin,
A pre-conference focus day exploring the development and integration of hard/soft kill active protection systems (APS)
HOW TO REGISTER:
Early bird offers and special military rates available. Register online at http://www.favsurvivability.com/hsrc
For over 30 years the MILIPOL brand has been synonymous with high quality, international exhibitions covering the field of internal State security. Over the years, the brand has been proudly represented by Milipol Paris and Milipol Qatar. From 2017, the Global Security Asia exhibition and conference, is renamed Milipol Asia-Pacific, so creating the world's leading international network of exhibitions dedicated to solutions, technologies and innovations for homeland security.
Next events:
Milipol Paris 2017, 21-24 November, Paris – www.milipol.com
Last session welcomed:
– 949 exhibitors coming from 55 countries – 89% of them were satisfied with their participation
– 24,056 visitors coming from 143 countries – 97% of them were satisfied with their visit
Milipol Qatar 2018, 29-31 October, Doha – www.milipolqatar.com
Last session welcomed:
– 230 exhibitors coming from 35 countries – 82% of them were satisfied with their participation
– 6,538 visitors coming from 103 countries – 91% of them were satisfied with their visit
Come and meet the key international players of the public and industrial security sector, and discover and discuss new trends, products and services of the market.

TRUSTECH – Pay, Identify, Connect & Secure
28 – 30 Nov.2017 – Cannes – French Riviera
TRUSTECH is the Largest International Event dedicated to Trust-Based Technologies with unprecedented networking opportunities and not-to-be-missed Keynote Speakers.
Join the whole industry for three days of Innovation, Business and Networking!
TRUSTECH will include amongst other things a selection of Startups and Fintechs who will showcase their latest innovations for the Payment and Identification industries.
TRUSTECH gathers in Cannes (French Riviera):
–              13,000+ Attendees from 125 countries,
–              49% Top Managers
–              350+ Exhibitors & Sponsors
–              250+ Leading International Speakers
For more information: www.trustech-event.com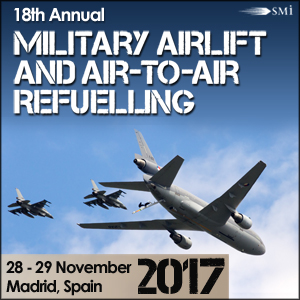 18th Annual Military Airlift and Air-to-Air Refuelling
28th – 29th November 2017, Madrid, Spain
This year's Military Airlift conference returns once more to further explore national approaches to maximising airlift and aerial refuelling capabilities through new technologies and platforms.
With expert led presentations from some of the world's leading authorities, this two-day event will provide essential insight on rapid response capabilities to ensure troops and supplies can be effectively mobilized when needed; utilizing cost effective strategies for upgrades, modernising existing platforms, as well as acquiring new capabilities.
Key topics include: Forward basing and expeditionary operations, international operability, training, airlift platform acquisition, and air-air refuelling.
There will also be fantastic networking opportunities at two drinks receptions held by Airbus and Boeing as well as a post conference site visit to Getafe Air Base.
Early bird discounts!
Register by 30th June to save £300
29th September to save £200
31st October to save £100
Register online at: www.military-airlift.com/hsrc

THE GLOBAL HIGH-END SECURITY SHOWCASE
29-30 November, London Olympia
UK Security Expo 2017 is a major-scale event that tackles some of the most challenging threats to our citizens, borders and infrastructure. The event provides a unique and secure environment for security experts to come together to buy products, share experience and gain the knowledge needed to address current and emerging security challenges.
With over 250 world-class exhibitors, the show delivers 10,000+ International Visitors to London from Government, Transport & Borders, Major Events, Military, Law Enforcement, Emergency Services, CNI and the public and Private Sectors.

200+ Speakers & 250+ Sessions over 2 days.
www.uksecurityexpo.com/hsrc
Reasons to attend:
Network with thousands of like-minded security professionals from across the public and private sector
Expand your knowledge on the latest security solutions at ­the Technology Workshops
See cutting edge technologies in action in the Live Tactical Demonstration Zones
Be at the forefront in the fight against the cyber threat by attending the Cyber Conference and Cyber Intelligence Zone
Engage with Government Departments including Home Office JSaRC, London Fire Brigade, Met Police, Civil Nuclear Constabulary, Border Force and the Defence & Security Accelerator
Learn the importance of the design phase and how to assess your buildings at our Designing Out Terrorism Conference
Attend the Facilities Management Conference to share best practice and benchmark your crisis management plans
Learn from recent attacks and major incident response in the Protecting Crowded Places Conference
Find out how to conduct a comprehensive risk assessment in the Major Events Conference
Visitor passes are Free-of-Charge
Register now – www.uksecurityexpo.com/hsrcreg
6th – 7th December 2017, London, United Kingdom
Maritime Information Warfare will focus on the growing need for navies to develop their information exploitation capabilities. As navies must now achieve strategic superiority in both conventional and asymmetrical conflict environments, knowledge is the new 'king of the battlefield'. The utilization of real-time data is key to ensuring mission success – whether it be combatting piracy or a technologically advanced enemy.
The conference will look at the platforms used for data collection; ranging from open source data collection to more traditional ISR systems, and the ways in which that data is examined through big data analytics, ultimately to consider how this effects decision making in the field.
It also captures the current movement within the naval domain – running off the back of the Royal Navy's 'Information Warrior', which is looking to expand its fleets data capture and utilize capability to achieve information superiority at sea.
Early bird discounts!
Register by 31st August to save £300
29th September to save £200
31st October to save £100
Register online at: www.maritimeinfowarfare.com/hsrc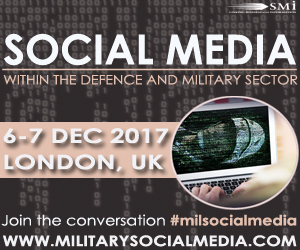 SOCIAL MEDIA WITHIN THE DEFENCE AND MILITARY SECTOR
6th – 7th of December 2017, Copthorne Tara Hotel in London
Registration is now live for SMi's 7th conference on Social Media within the Defence and Military Sector which takes place on 6th and 7th of December 2017 at the Copthorne Tara Hotel in London.
The only social media event focused on the defence and military sector, the conference will explore the top tips and trends surrounding the reality of social media becoming increasingly integrated into defence operations. It will also provide a platform to network with experts from leading military forces including Austria, Canada, Germany, Ireland, Israel, Netherlands, Norway, United Kingdom and the USA, as well as key decision makers from solution providers at the cutting edge of innovation such as Cobham, Saab, Fujitsu, and more.
The event will showcase fresh case studies exploring the power of social media during military campaigns such as Bundeswehr's Die Rekruten on YouTube; the Irish Defence Force's immersive video and virtual reality recruitment campaign; and how Project Cirrus showcased Fujitsu's Global Connectivity platform, which has transformed the way the Ministry of Defence collaborates with industry partners.
Register online at www.militarysocialmedia.com/hsrc.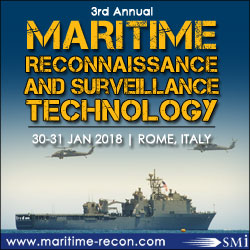 Maritime Reconnaissance and Surveillance Technology
30-31 January 2018, Crowne Plaza Rome, S. Peter's Hotel and Spa, Rome, Italy
Contact e-mail: tchung@smi-online.co.uk
http://www.maritime-recon.com/hsrc
Maritime Reconnaissance and Surveillance Technology will cover a wide range of topics such as unmanned maritime system technology, intelligence gathering, C4ISR, AIS system technology, interoperability and system integration, and space-based surveillance. What differentiates our conference from other events in the industry is our keen and deliberate focus on space-based surveillance and space-based global maritime awareness. For the third year in a row, we have partnered with C-Sigma, an enterprise that "fosters wider cooperation and exchange in the use of and access to satellite-based maritime surveillance information at global level."
Benefits of attending:
Features high ranking military officials involved with the enhancement of naval surveillance programmes
Learn how nations including Italy, the UK, France, Germany, Canada and the USA are developing their maritime ISR capabilities through space-based and unmanned surveillance technologies
Get to the heart of challenges faced by maritime forces through focused briefings, discussions and networking
Highlighting the importance of technology to collect and disseminate information to major operators at sea
Registration Information:
Early bird offers and special military rates available. Register online at http://www.maritime-recon.com/hsrc
1-2 February 2018, Crowne Plaza Rome, St Peter's Hotel & Spa, Rome, Italy
http://www.netcentric-warfare.com/hsrc
As we look into the 21st century, the way in which military forces communicate, disseminate intelligence and issue orders is changing as several NATO-aligned nations pursue network enabled capabilities programmes. There is now an emphasis on 'system of systems' network that empowers a robust web of interaction between air and ground forces – maximising asset deployment and creating a common operating picture.
As battlespace has become digitised, the focus on data and communication networking between joint forces and command and control facilities has taken centre stage. With combat exercises increasingly operating in asymmetrical environments, there is a growing need to exploit well networked forces. In this context, through streams of data and real-time analysis, decision making on the ground has become more effective and efficient – with robustly networked forces adaptively responding to threats with versatility and agility.
SMi's  Network Centric Warfare conference will focus on key aspects challenging and enhancing joint operations – in particular, utilisation of digital fire support, interoperability between air and ground based communication systems, digitalisation of battlespace, improving technical education and the Forza NEC programme.
Featured speakers include the Italian Army, Italian Navy, US Army Europe, NATO, DSTL, UK MoD and more. See the full list of speakers and register on www.netcentric-warfare.com/hsrc. Early Birds apply: Book by 31 October to save £400. Book by 30 November to save £200. Book by 15 December to save £100.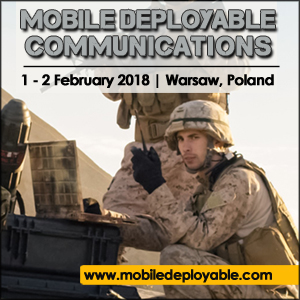 Mobile Deployable Communications 2018
1-2 February 2018, Warsaw, Poland.
Flexible and continuous connectivity, anywhere, at any time remains a key priority for major defence forces around the world. With the critical threat of cyber warfare intensifying, there is now a pressing need to ensure secure communications can be effectively operated in contested environments.
SMi's 11th annual Mobile Deployable Communications conference returns to look at the key drivers causing the growing demand for flexible, protected, and interoperable CIS capabilities, and through expert led presentations, from some of the world's leading authorities, will discuss the challenges for both solution providers and end users of deployable communications.
Key Topics Include: SatCom on the move, cyber electronic warfare interference, procuring new systems to collaborate with existing, allied collaboration and more!
Early bird discounts!
Register by the 31st October to save £400
30th November to save £200
15th December to save £100
Register online at: http://www.mobiledeployable.com/hsrc
For more information please contact: +44 (0) 207 827 6138 or email: scargan@smi-online.co.uk
21-22 February 2018, Crowne Plaza Rome, St Peter's Hotel & Spa, Rome, Italy
SMi Group at proud to announce the 11th Annual Border Security conference and exhibition which will convene on the 21st-22nd February 2018 in Rome, Italy.
With the migration crisis ongoing throughout the Mediterranean and mainland Europe, Border Security is at the forefront of planning for nations around the world. This year's event will bring together senior border security experts from around the globe to discuss how to manage the security of borders at a time when mass irregular migration and cross-border terrorism have all nations at high alert.  
In addition, with free-movement a critical and divisive focus of the BREXIT negotiations, as well as a new administration in the White House, this year's event promises to be more topical and relevant than ever before. Therefore, with rapid globalisation impacting every continent, added pressures to borders around the world need addressing and SMi's 11th Annual Border Security 2018 will bring together leading representatives of industry and government to discuss the political and technological solutions being utilised to secure national borders.
See the full list of speakers and register on www.bordersec.com/hsrc. Early Birds apply: Book by 31 October to save £400. Book by 30 November to save £200. Book by 15 December to save £100.

Transport Security & Safety Expo
11-12 June 2018, Washington D.C
http://www.transportsecurityworld.com/events/tssx
Transport Security and Safety Expo (TSSX) is the only event of its kind to provide a platform for transport operators across all verticals, government officials and suppliers to address current concerns, share best practice and build long-lasting business connections.
See the full list of speakers and register on http://www.transportsecurityworld.com/events/tssx