Homeland Security Conferences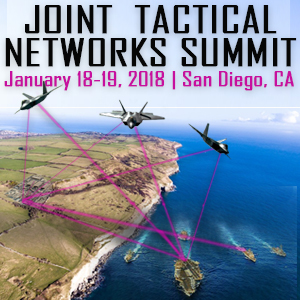 2 nd ANNUAL JOINT TACTICAL NETWORKS SUMMIT
"Advancing Joint Communications to Succeed in Multi-Domain Operations"
January 18-19, 2018 | Parma Payne Goodall Alumni Center at SDSU, San Diego, CA
The 2nd Annual Joint Tactical Networks Summit will allow members of the C2 and network community, military leaders, and critical organizations to advance the joint force's ability to communicate and exchange information efficiently and securely within a multi-domain environment. This Summit will seek to enhance tactical data linkage tools and network architectures to support advanced communication capabilities for the joint force to succeed. This program will stimulate discussions aimed at enhancing our nation's networks to allow for successful information exchange and network interoperability to further improve our Military power.
2018 Confirmed Speakers Include:
Jeff Mercer, Director, Joint Tactical Networking Center
BG Welton Chase, USA, Commanding General, 7th Signal Command
Kevin Mulvihill, Director C4 Information Infrastructure, DCIO C4 & IIC, DoD CIO
CAPT Robert Croxson, USN, PM, MIDS Program Office, NAVAIR
COL James Turinetti, USA, Deputy Chief of Staff/ Chief Information Officer, G-6, US Army Pacific
Col Joseph Delaney, USMC, Commander, DISA-PAC
Col Glen Genove, USAF, Deputy Director, Air & Cyberspace Operations (A3/6), CIO & Director of Cyberspace Forces, PACAF
Col Douglas Dudley, USAF, Commander, Air Force Network Integration Center
Register today for the opportunity to gain an inside perspective on enhancing the joint force's ability to communicate and exchange information within a multi-domain environment. This two-day, senior level event, will consist of candid discussions revolving around this year's theme of "Advancing Joint Communications to Succeed in Multi-Domain Operations."
Register online at:
http://dsigroup.org/joint-tactical-networks-summit/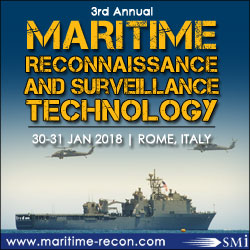 Maritime Reconnaissance and Surveillance Technology
30-31 January 2018, Crowne Plaza Rome, S. Peter's Hotel and Spa, Rome, Italy
Contact e-mail: tchung@smi-online.co.uk
http://www.maritime-recon.com/hsrc
Maritime Reconnaissance and Surveillance Technology will cover a wide range of topics such as unmanned maritime system technology, intelligence gathering, C4ISR, AIS system technology, interoperability and system integration, and space-based surveillance. What differentiates our conference from other events in the industry is our keen and deliberate focus on space-based surveillance and space-based global maritime awareness. For the third year in a row, we have partnered with C-Sigma, an enterprise that "fosters wider cooperation and exchange in the use of and access to satellite-based maritime surveillance information at global level."
Benefits of attending:
Features high ranking military officials involved with the enhancement of naval surveillance programmes
Learn how nations including Italy, the UK, France, Germany, Canada and the USA are developing their maritime ISR capabilities through space-based and unmanned surveillance technologies
Get to the heart of challenges faced by maritime forces through focused briefings, discussions and networking
Highlighting the importance of technology to collect and disseminate information to major operators at sea
Registration Information:
Early bird offers and special military rates available. Register online at http://www.maritime-recon.com/hsrc
1-2 February 2018, Crowne Plaza Rome, St Peter's Hotel & Spa, Rome, Italy
http://www.netcentric-warfare.com/hsrc
As we look into the 21st century, the way in which military forces communicate, disseminate intelligence and issue orders is changing as several NATO-aligned nations pursue network enabled capabilities programmes. There is now an emphasis on 'system of systems' network that empowers a robust web of interaction between air and ground forces – maximising asset deployment and creating a common operating picture.
As battlespace has become digitised, the focus on data and communication networking between joint forces and command and control facilities has taken centre stage. With combat exercises increasingly operating in asymmetrical environments, there is a growing need to exploit well networked forces. In this context, through streams of data and real-time analysis, decision making on the ground has become more effective and efficient – with robustly networked forces adaptively responding to threats with versatility and agility.
SMi's  Network Centric Warfare conference will focus on key aspects challenging and enhancing joint operations – in particular, utilisation of digital fire support, interoperability between air and ground based communication systems, digitalisation of battlespace, improving technical education and the Forza NEC programme.
Featured speakers include the Italian Army, Italian Navy, US Army Europe, NATO, DSTL, UK MoD and more. See the full list of speakers and register on www.netcentric-warfare.com/hsrc. Early Birds apply: Book by 31 October to save £400. Book by 30 November to save £200. Book by 15 December to save £100.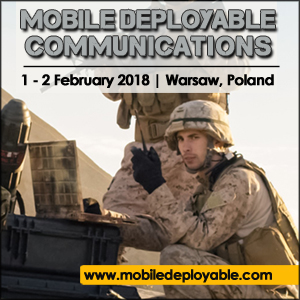 Mobile Deployable Communications 2018
1-2 February 2018, Warsaw, Poland.
Flexible and continuous connectivity, anywhere, at any time remains a key priority for major defence forces around the world. With the critical threat of cyber warfare intensifying, there is now a pressing need to ensure secure communications can be effectively operated in contested environments.
SMi's 11th annual Mobile Deployable Communications conference returns to look at the key drivers causing the growing demand for flexible, protected, and interoperable CIS capabilities, and through expert led presentations, from some of the world's leading authorities, will discuss the challenges for both solution providers and end users of deployable communications.
Key Topics Include: SatCom on the move, cyber electronic warfare interference, procuring new systems to collaborate with existing, allied collaboration and more!
Early bird discounts!
Register by the 31st October to save £400
30th November to save £200
15th December to save £100
Register online at: http://www.mobiledeployable.com/hsrc
For more information please contact: +44 (0) 207 827 6138 or email: scargan@smi-online.co.uk
21-22 February 2018, Crowne Plaza Rome, St Peter's Hotel & Spa, Rome, Italy
SMi Group at proud to announce the 11th Annual Border Security conference and exhibition which will convene on the 21st-22nd February 2018 in Rome, Italy.
With the migration crisis ongoing throughout the Mediterranean and mainland Europe, Border Security is at the forefront of planning for nations around the world. This year's event will bring together senior border security experts from around the globe to discuss how to manage the security of borders at a time when mass irregular migration and cross-border terrorism have all nations at high alert.  
In addition, with free-movement a critical and divisive focus of the BREXIT negotiations, as well as a new administration in the White House, this year's event promises to be more topical and relevant than ever before. Therefore, with rapid globalisation impacting every continent, added pressures to borders around the world need addressing and SMi's 11th Annual Border Security 2018 will bring together leading representatives of industry and government to discuss the political and technological solutions being utilised to secure national borders.
See the full list of speakers and register on www.bordersec.com/hsrc. Early Birds apply: Book by 31 October to save £400. Book by 30 November to save £200. Book by 15 December to save £100.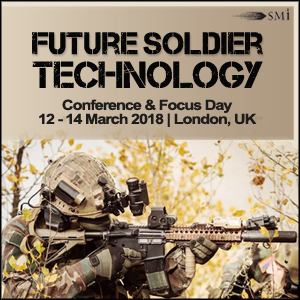 Future Soldier Technology 2018
12th – 14th March 2018, London, UK
Conference: 13th and 14th March 2018
Focus day: 12th March 2018

The 4th annual Future Solider Technology conference returns to London on the 13th and 14th March 2018.
Future soldier programmes continue to be critically important for dismounted infantry operations around the world. As militaries are expected to operate in diverse environments – from artic to urban landscapes – developing materials, technologies and capabilities that enable soldiers to survive and thrive has become ever more important.
As the only meeting solely dedicated to enhancing soldier modernisation programmes, Future Soldier Technology 2018 will provide a unique opportunity to see how emerging technologies and materials are used to overcome challenges in soldier modernisation programmes, from across the world.
It will explore the key categories for development, such as: survivability, lethality, sustainability, mobility and C4i. Along with human factors and ergonomics (size, weight and power of systems), power requirements and much more.
NEW FOR 2018: A pre-conference Focus Day on Dismounted Soldier Situational Awareness on 12th March 2018!
Register by 31st January to save £100!
Register online at:  http://www.futuresoldiertechnology.com/hsrc     
For more information please contact: +44 (0) 207 827 6138 or email: scargan@smi-online.co.uk
20th – 22th March 2018, Singapore
Cyber Security is still a global issue with recent attacks being extremely sophisticated and unexpected. Different industries are being targeted to cause the greatest impact to an economy. We are pleased to announce that our 6th annual Cyber Intelligence Asia conference and exhibition will take place in Singapore on the 20-22 March 2018.
Cybercrimes are on an increase with many banks, governments, utilities and transportation agencies/departments being targeted. Singapore is a region hub for oil and gas firms and banks and protecting their infrastructure is key to creating their strong economy. Cybercrimes are constantly becoming an everyday occurrence and the attacks are also sophisticated and unknown causing governments to make sure their cyber defence systems are updated regularly.
Cyber Intelligence Asia will provide you the opportunity to meet with leading cyber security experts from across Asia-Pacific in one place. You will also have the opportunity to network with senior Singapore government and military officials who set their cyber security strategies and plans.
During the event you will also hear presentations from the following government's; Malaysia, Philippines, China, Thailand, Indonesia, Taiwan and many more…
To be part of our 6th annual Cyber Intelligence Asia conference and exhibition either as a sponsor, exhibitor, speaker or delegate please contact us on events@intelligence-sec.com or +44 1582 346 706.
17th – 19th April 2018, Rome, Italy
Our 5th annual CBRNe Summit Europe conference and exhibition will be heading back to Rome, Italy where we will be evaluating the developments in CBRNe capabilities across Europe. The threat of CBRNe attacks across Europe is continuing to increase year on year.
CBRNe Summit Europe continues to grow each year and provides you unrivalled access to public sector officials from across Europe, Middle East, Americas and South-East Asia in one place.
Many CBRNe threats are developing and many terrorist cells are looking at different ways to create destruction across major cities in Europe. Our event will focus on many aspects of CBRNe to provide you an complete overview of the challenges faced to our first responders, emergency services and military in responding to new style attacks in our urban cities.
Our 2018 show will focus on the following topics over the two day conference and exhibition; Italian CBRNe Capabilities and Challenges, Maritime CBRNe threats, Chem-Bio Countermeasure Development, CBRNe Forensics, Countering IED's, Security in Public Spaces – Increasing CBRNe threats and Military-Civil CBRNe Response Cooperation.
After the event you should come away with a complete and diverse understanding of how national first responders deal with CBRNe attacks from preparations, response, decon, recovery, forensics and lessons learnt. You will hear in-depth presentations from leading officials on different CBRNe threats.
As well as reviewing different threat scenarios we will also be looking at new emerging CBRNe threats during the conference such as CBRNe threats in the maritime domain which is becoming a major concern to the Italian Navy. Another developing threat is the capability of terrorist cells using drones with chem-bio payloads to attack public places for mass casualties. During the conference these new challenges will be discussed.
To be part of the largest gathering of CBRNe professionals in Europe please contact us via email at events@intelligence-sec.com or by phone +44 (0)1582 346 706 and we will be happy to provide you further information on you can participate either as a speaker, sponsor/exhibitor or as delegates.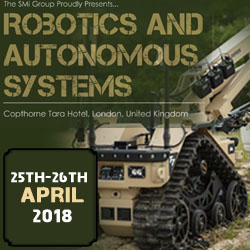 Robotic and Autonomous Systems
25th – 26th April 2018, London, UK
http://www.robotics-autonomous.com/hsrc
SMi is delighted to announce the launch of Robotics and Autonomous Systems (RAS) conference taking place in London, UK on 25th and 26th April 2018.
The UK MoD has recognised the potential of Robotic and Autonomous Systems (RAS) to provide strategic superiority in military operations. As a means to establish the opportunities a quick adoption of RAS would provide the British Army, SMi will launch its Robotics and Autonomous Systems Conference, which will seek to enhance the British Army's capabilities as well as modernise along with new emerging technologies.
The UK MoD established 5 priorities in the development of RAS: Sustainability, Manoeuvrability, Situational Awareness, Lethality and Survivability. These five priorities are what RAS 2018 conference will revolve around. These will additionally encompass other main themes such as counter-IED, AI, interoperability, or communication systems.
Top Military Speakers:
Lieutenant Colonel Richard Craig, SO1 Capability and Cohesion, Army HQ, British Army

Major Lloyd Davies, Starter Requirements Manager, DE&S, UK MoD

Colonel Jerome Lemaire, Land Strategic Directorate, DGA, France

Lieutenant Colonel Leon Altarac, Head of the Robotics Department of the Ground Forces Technology Brigade, Israeli Defence Forces

Dr. Robert W. Sadowski, Robotics Senior Research Scientist, TARDEC, US Army
And more!
Register by:
December 15th and save £400
January 31st and save £200
February 28th and save £100
Register online at: www.robotics-autonomous.com/hsrc

Transport Security & Safety Expo
11-12 June 2018, Washington D.C
http://www.transportsecurityworld.com/events/tssx
Transport Security and Safety Expo (TSSX) is the only event of its kind to provide a platform for transport operators across all verticals, government officials and suppliers to address current concerns, share best practice and build long-lasting business connections.
See the full list of speakers and register on http://www.transportsecurityworld.com/events/tssx