Homeland Security Conferences
---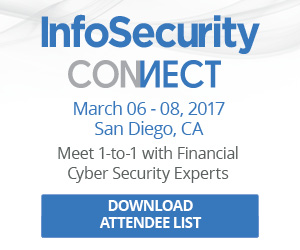 6-8 March, 2017. Rancho Bernardo Inn, San Diego, CA
What is InfoSecurity Connect?
InfoSecurity Connect is a forum where senior Cyber Security executives from some of the top US banks, credit unions, insurances and financial services organizations come together to have detailed discussions with their peers, source solutions and services from leading providers, and gain valuable insights on how to improve their cyber security and elevate their current information security programs and policies.
InfoSecurity Connect was launched to provide Cyber Security executives with high-level networking with peers and pre-qualified meetings with solution providers, this is a high-profile, interactive gathering in an exclusive environment. Attendance is by invitation-only and is strictly limited to 65 of North America's top banks, credit unions, insurances and financial services organizations.
The financial service industry is the number one targeted sector by cyber criminals. Don't let your company become the next headline. In its inaugural year, InfoSecurity Connect provides
Strategies and tactical guidelines for staying ahead of the FSI cybersecurity curve and keeping up with the ever-changing regulatory landscape.
Our expert speaking faculty will tackle timely issues and help security professionals master current initiatives and challenges – and have fun in San Diego while doing so!
We'll give you custom-made content and the levels of networking that will set you up for success:
High-level strategic content
Consultative business meetings
Presentations from thought leaders and subject matter experts
Interactive workshops
Facilitated and qualified networking
Social events and other networking surprises
This is unlike any event you've ever encountered. From the luxurious venue, the carefully selected attendees, the solutions selected to meet your individual needs, to the opportunity to customize your own program, this is an experience that you simply don't get anywhere else. Our mission is to make your life easier.
---
---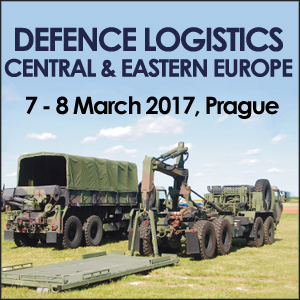 Defence Logistics Central and Eastern Europe
7-8 March, 2017. Prague, Czech Republic
Commanders and soldiers require the right equipment quickly and efficiently to complete their missions, therefore the way they are supported through logistics is constantly advancing to meet new demands.
This conference will aim to share the challenges of new Logistic structures and how they are being overcome by national militaries and international institutions.
The key focus will be on specific aspects of logistics, with expert speakers covering their most pressing requirements such as: heavy-lift transport, supply chain management, demand forecasting and preparedness, MRO, lifecycle management, engineering support and much more.
Event Highlights:
Leading Military Logisticians from the Czech Republic, Hungary, Slovakia, Sweden, Norway, Netherlands and Spain confirmed to attend, making this the most senior and focused logistics meeting in the region!
Key topics to be focused on include: Transportation and Heavy Lift Capability, Logistics Command and Control, Fuel and Energy and Medical Support
New to this year – a unique focus on NATO activities in the region and how individual nations are working together to support them
Industry solutions will be showcased to leading military decision makers
Plus there will be a half day, post-conference workshop on 'Supply Chain Management for the Modern Military', hosted by Brigadier (ret'd) Mark Dunn, Principal Consultant from Defence and Security PA Consulting
Early Bird Discounts!
Register by 31st January to save £100
Register online at: www.defence-logistics.eu/hsrc
---
---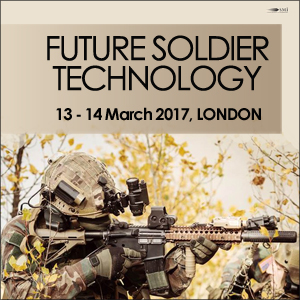 13-14 March, 2017. London, United Kingdom
Soldier Modernisation remains a key priority for major defence forces around the world. How can dismounted soldiers have the most effective equipment that is as light as possible, protective and has sustainable power?
Future Soldier Technology 2017 is only conference solely dedicated to enhancing soldier modernisation programmes. With expert led presentations, from some of the world's leading authorities on future soldier systems, explore at this 2-day event, the greatest challenges and next generation solutions that are enabling infantry to conduct operations in today's and tomorrow's battlefields.
Key topics include: lightening the load and analysis of space for components, power and energy, body armour and night vision, communications and common integrated architecture.
There will also be 2 post conference workshops on:
How to Do Business with the British Army for Soldier Modernisation
Black Swans and Soldier Programme Management: A Look inside the US Army Technology and Equipment Acquisitions from Capability Setting To Procurement
Early Bird Discounts!
Register by 31st January to save £100
Register online at: www.futuresoldiertechnology.com/hsrc
---
---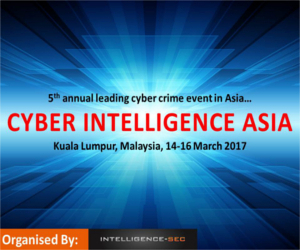 14-16 March, 2017. Kuala Lumpur, Malaysia
Our 5th annual Cyber Intelligence Asia will once again bring the key officials from across Asia-Pacific to discuss the latest challenges and threats they are facing daily to their computer systems. Cyber criminals are finding new and sophisticated ways to break into government computer systems, meaning that many governments are constantly battling to stay ahead with the latest security systems.
Cyber Intelligence Asia will allow you to hear in-depth presentations from the following nations: Malaysia, Singapore, Thailand, Philippines, Japan, Indonesia, China, Taiwan, Cambodia, Laos and many more…
To participate please contact us at events@intelligence-sec.com or +44 (0)1582 346 706
---
---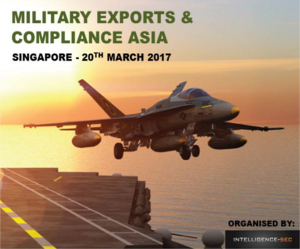 Military Exports & Compliance Asia
20 March, 2017. Singapore
Asia-Pacific has many different and new export controls in recent years. This event will allow you to hear from the key nations across the region that will provide details on their latest export regulations and laws.
This regional conference will provide public and private sector officials' in-depth knowledge of the latest export controls and treaties in place across Asia-Pacific and the U.S. There will be a special focus on the ITAR and EAR reforms that are paramount for defence contractors to abide.

To participate please contact us at events@intelligence-sec.com or call us at +44 (0)1582 346 706.
---
---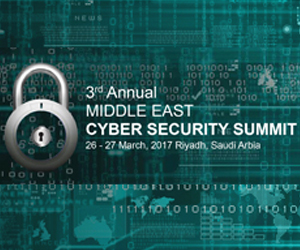 26-27 March, 2017. Riyadh
With growth in demand for data centers and managed and cloud services expected to be in the double and triple digits, there appears to be significant opportunity in this segment of Saudi Arabia's ICT market. Pressure on departmental expenditures in the public sector and a subsequent slowing of growth in the private sector could act as drivers for this expansion as customers seek cost-saving synergies. However, there are also issues to address, including security fears, regulation and the development of effective strategic partnerships.
Nispana is excited to announce its 3rd Middle East Cyber Security Summit on the 26 & 27 March, 2017 in Riyadh. With the Kingdom's plan to diversify into non-oil revenues like infrastructure, education, tourism etc, ICT is set to play a pivotal role especially in the key areas like infrastructure for cloud services, data centers, disaster recovery, big data and analytics, mobility and security. If your firm provides one or more of the above services, this is one event you cannot afford to miss out on!
www.mecyber.com
Contact details :
Mr. JaiSimha Das
Head of Marketing
+9880022722
---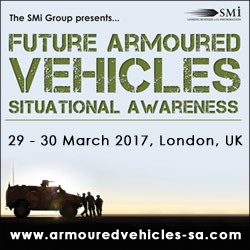 Future Armoured Vehicles Situational Awareness
29-30 March, 2017. London, UK
The ability to make accurate, decisive decisions is more important than ever for today's mechanised forces. Complex counter insurgency operations have demonstrated the need for timely visual intelligence and comprehensive information sharing to meet a challenging and constantly changing environment.
Simultaneously, future land forces must prepare for high intensity conflict, where information superiority and surveillance capability may be challenged by a technologically capable enemy. For advantages to be maintained, an intimate understanding of the capabilities available must be explored.
With particular focus on the collaboration between military, research and industry, SMi's 2nd annual Future Armoured Vehicles Situational Awareness conference invites not only the programme managers, capability directors and operational commanders from the armed forces, but also ensures that the senior engineers, chief scientists and platform managers from the leading solution providers are present.
---
---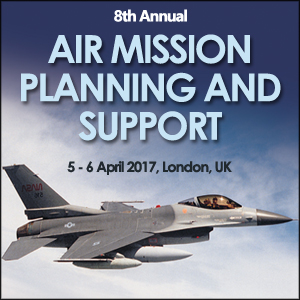 8th Annual Air Mission Planning and Support
5-6 April, 2017. London, UK
Now in its 8th year, this highly focused event aims to uncover how leading nations are delivering their most advanced air mission planning and support systems to date. Exploring the strategies used to shape present and future structures of Air Forces around the world.
This year, boasts the most senior and international edition yet, covering key subjects like the F-35 Lighting II Joint Programme, improving interoperability between partner Air Forces and maximizing joint air capabilities to improve security and control across borders.
Be a part of this unique networking experience, where you will get an opportunity to meet and discuss with an elite speaker panel of 22 Commanding Officers and industry experts from: Canada, Czech Republic, France, Italy, Netherlands, Poland, UK and USA, at the forefront of air mission planning and support.
Key speakers include:
Chairman: Lieutenant General (Ret'd) Giuseppe Marani, Former Logistics Commander, Italian Air Force
Air Marshal (Ret'd) Greg Bagwell, Former Deputy Commander Operations, Royal Air Force
Air Commodore Robert Adang, Deputy Director, European Air Group, Royal Netherlands Air Force
Colonel Mikel R. Huber, U.S. Marine Corps Service Lead for the F-35B and F-35C, US Marine Corps
Reasons to attend:
Hear updates on the F-35 Lighting II Joint Programme
The only conference in Europe dedicated to air mission planning and support strategies
8 different nations speaking on their latest technology updates
Register by:
31st January to save £200
28th February to save £100
Register online at: www.airmissionplanning.co.uk/hsrc
---
---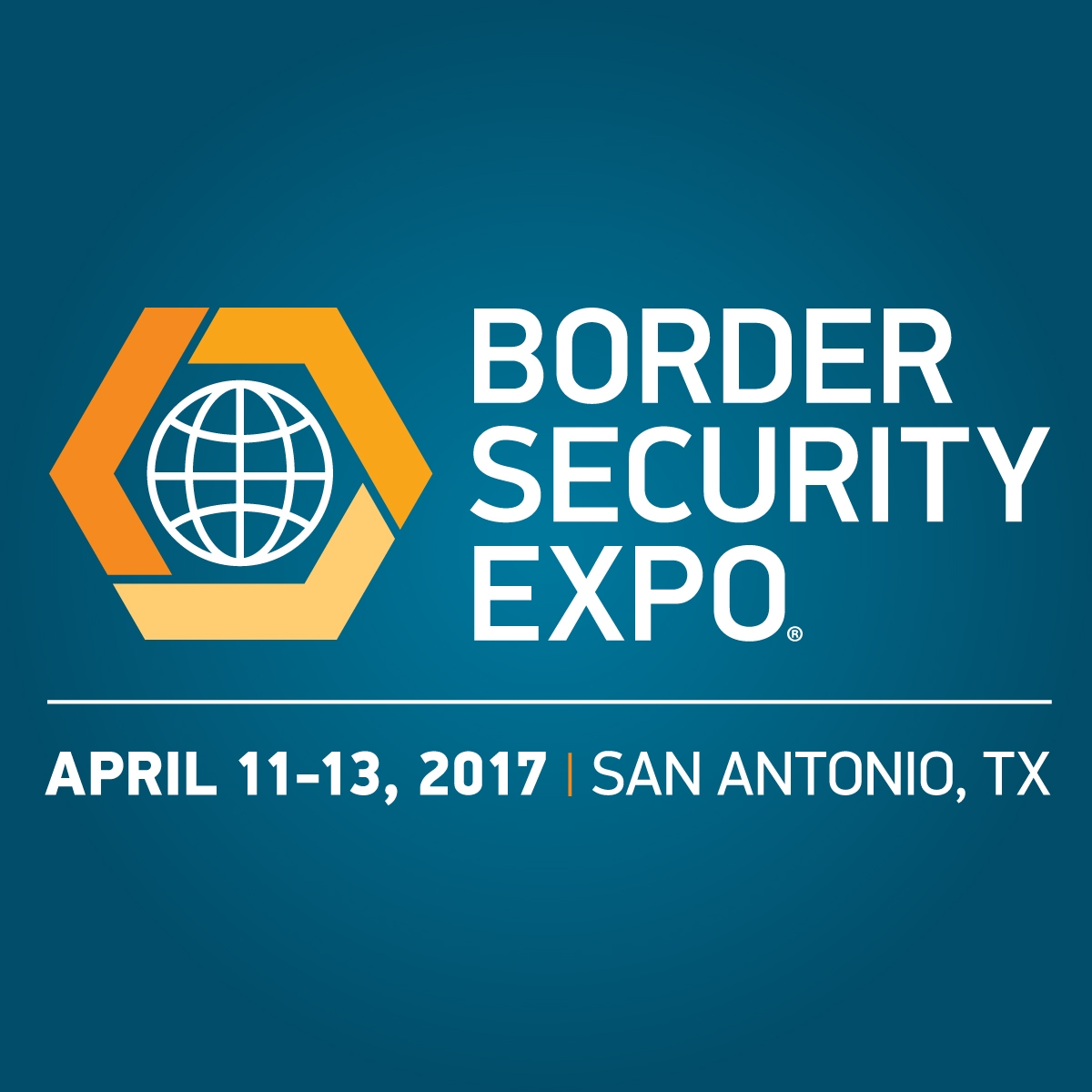 11-13 April, 2017. Henry B. Gonzalez Convention Center. San Antonio, TX, USA
Now in its 11th year, Border Security Expo is the only major conference and expo fully addressing border security and has become the go-to destination for federal, state and local government leaders and law enforcement personnel. Border Security Expo 2017 will take place in San Antonio, Texas (April 11th -13th, at the Henry Gonzalez Convention Center).
Why Attend?
Find out what's new in border security
Learn from global leaders at the acclaimed two-day conference
Network with peers and colleagues from the US and abroad
See, test and compare the latest equipment, technology and services
Visit the largest exhibition of its kind anywhere in the world from 125+ exhibiting companies
Attend awards ceremonies, memorial services, and networking receptions
Demo Day at an outdoor venue on April 13 for testing equipment in the field
2016 Conference Highlights Included:
Interagency and Cross-Agency Collaboration: DHS State Directors/State/Local Law Enforcement
Port of Entry Technologies, Biometric Exit/Entry
Optimizing Interagency Operations and Intelligence
Keynotes from:
Joseph L. Nimmich, Deputy Administrator, Federal Emergency Management Agency
John P. Wagner, Deputy Assistant Commissioner, Office of Field Operations, U.S. Customs & Border Protection
Daniel Ragsdale, Deputy Director, U.S. Immigration and Customs Enforcement
Robert Harris, Director, Join Task Force – West, Department of Homeland Security
Ronald D. Vitiello, Acting Chief, U.S. Border Patrol, U.S. Customs and Border Protection
Janice Ayala, Director, Join Task Force – Investigations, U.S. Immigration and Customs Enforcement
To stay up to date with the 2017 conference schedule as it is announced, visit here
Event Details:
For more information and to register visit: www.bordersecurityexpo.com
For Exhibits & Sponsorship information contact: John.Moriarty@ClarionEvents.com
---
---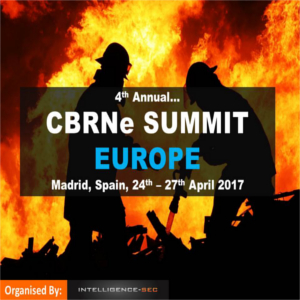 4th annual CBRNe Summit Europe
24-27 April, 2017. Madrid, Spain
We are pleased to announce that our 4th annual CBRNe Summit Europe conference & exhibition will be taking place in Madrid, Spain on the 24-27 April 2017. Our leading event will allow you to meet with the region's leading CBRNe officials to discuss the latest CBRNe threats and techniques used to respond to attacks.
CBRNe Summit Europe is the leading CBRNe event in Europe with 200+ participants from across EMEA and the US. With many western European countries on high terror alerts due to recent attacks in Paris and Brussels, this event will allow participants to hear from leading first responders, military and government officials on how they are combating threats to their major cities and the techniques used in responding to attacks to civilians.
As well as the threat of IED's and WMD there is an ongoing threat of biological outbreaks across Europe with the latest threat coming from the Zika virus which many global agencies such as the ECDC and WHO are working to contain if the virus spreads into Europe.
CBRNe Summit Europe will provide an insight into Europe's CBRNe Capabilities and response to attacks. By participating at our leading event you will also hear presentations on the following topics; Medical Countermeasures, European CBRNe Capabilities, CBRNe Forensics, CBRNe Intelligence and Information Sharing, European Policies and Strategies to counter the threat of CBRNe attacks and Countering IED's.
Our CBRNe Summit is officially endorsed by the NATO JCBRN Defence Centre of Excellence who provides input into the agenda and assist with inviting key officials from NATO's member states to take part at the event. We also have the support of OSDIFE as our Scientific Partner who assist us with inviting senior speakers from across EMEA and the US.
We are also pleased to announce that on the 27th April 2017 you will have the opportunity to visit the Spanish Army Medical Brigade HQ where they will demonstrate their decontamination units as well as other CBRNe assets/capabilities they have.
To be part of our CBRNe Summit Europe conference & exhibition either as a speaker, sponsor, exhibitor or delegate please email us at events@intelligence-sec.com or call us on +44 (0)1582 346 706
---
---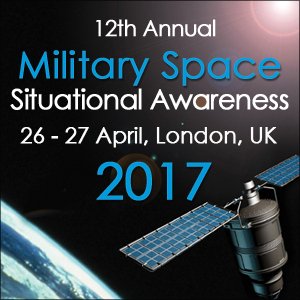 12th Annual Military Space Situational Awareness
26-27 April, 2017. London, UK
This year's highly anticipated event will focus specifically on key situational awareness challenges in an increasingly contested, congested and competitive space.
Delegates will hear innovative presentations by leading industry and military figures, working with active projects aiming to enhance Space Domain Awareness for the international community, on their current requirements and capabilities within the armed forces. Covering solutions for the future and how to develop ways in which projects and programs can produce better results.
Key focuses:
National updates on SSA
Command and control
Space weather
Traffic management
Optical and imaging sensors
Benefits of attending:
Hear from new countries seeking to develop their space programmes such as Poland, Denmark, the Netherlands and many more
Learn from leading nations such as USA, UK, France, Germany and Canada, on how they continue to enhance space security through Space Domain Awareness technologies
Discuss key topics that affect space situational awareness; from space-borne sensors to effective information management systems
Gain a unique insight in to the challenges we face beyond our atmosphere and how the armed forces and industry are striving to overcome them
Register by:
31st January to save £200
28th February to save £100
Register online at: www.military-space.com/hsrc
---
---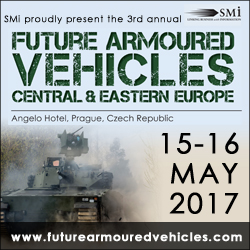 3rd Annual Future Armoured Vehicles Central & Eastern Europe
15-16 May, 2017. Angelo Hotel, Prague, Czech Republic
As Central and Eastern European nations continue to develop their land force mobility, fire support and protection, the armoured vehicle remains a vital capability area for development. Future Armoured Vehicles Central and Eastern Europe returns once more this spring to proactively discuss the key challenges and opportunities surrounding the combat vehicle.
With comprehensive support from the Czech MoD, this focused meeting for the mechanised community will aim to proactively discuss the tactics and technologies that will enhance future combat vehicle effectiveness within the Central and Eastern European region. By bringing you latest updates from the Czech Republic, Germany, Lithuania, Latvia, Romania, Bulgaria and US Army Europe, this year's conference will equip you with the tools to optimise combat vehicles development in this highly active and increasingly important region.
With the aim to provide a bridge between the end user's' needs, procurement and the solution provider, Future Armoured Vehicles Central & Eastern Europe is the perfect platform to facilitate collaboration between the key stakeholders, as well as to gain insight into the very latest active requirements and emerging technology.
Key Focuses:
Regional strategic updates from land force command and capability development including but not limited to: Austria, Bulgaria, Germany, Latvia, Lithuania, Romania, Slovenia and Turkey
A key focus on the Czech MoD and development of next generation infantry fighting vehicle, 8X8 and MBT platforms
An examination of the key combat vehicle capability areas and technologies enabling future lethality, survivability and C4I
Perspectives and feedback from mechanised operations and multinational training
Register by:
31st January to save £400
28th February to save £200
31st March to save £100
Click here to register online or contact us at:tchung@smi-online.co.uk
---
---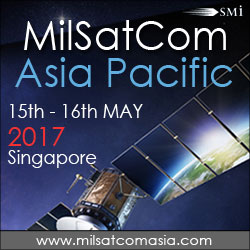 7th annual MilSatCom Asia Pacific
15-16 May 2017 Grand Copthrone Waterfront Hotel, Singapore
With the utility of space as a medium for war growing exponentially across the globe, the Asia-Pacific region is an area where rapid development and growth is particularly evident. This year's conference will provide national updates from key regional nations on their space and MilSatCom programmes.
Our unrivalled speaker line up will provide critical programme updates to look at how SatCom is utilised to gain the upper hand in the frontier that is crucial for future combat. In addition, this year's conference will look at other key topics including the management of space debris and the critical importance of space-based assets and satellite capabilities in assisting emergency communications and disaster response in the region.
Key nations you can expect to hear from include leading Asia Pacific militaries as well as the vital perspectives of strategic partners such as the USA and Canada. With military budgets being restricted globally, cooperation and interoperability between nations over key MilSatCom assets is more important than ever to ensure individual nations are able to satisfy national and regional.
Benefits of Attending:
Meet, network and hear from the Singapore Armed Forces and surrounding nations
Hear the latest developments in national MilSatCom and space programmes from leading Asia Pacific nations
Explore how key nations such as the US and Canada are assisting the growth of MilSatCom programmes in the Asia-Pacific region
Discuss and develop partnerships with allied nations to improve and enhance cooperation to effectively accomplish common goals
Hear from Republic of Korea Armed Forces, Indian Armed Forces, Hughes Network Systems, US Air Force, New Zealand Defence Force, Maritime Forces Pacific Headquarters, ASEAN Chief Information Officer Association, S. Rajaratnam School of International Studies, Ministry of Defence of the Republic of Indonesia, Indonesia Institute for Maritime Studies and much more…
Register by:
31st January to save $600
28th February to save $300
31st March to save $100
Click here to register online or contact us at:tchung@smi-online.co.uk
---
---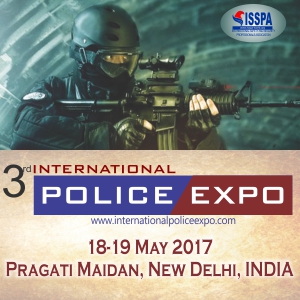 3rd International Police Expo 2017 (Co – Located Event 2nd Homeland Security Expo)
18-19 MAY 2017, Pragati Maidan, New Delhi ,India
India is among the world's top five defense spenders with its forces budget at $53.5 billion, India is one of the biggest defense spenders globally. The country has one of the world's largest armed forces – much of which requires modernization – and faces a range of external and internal security threats that drive investment into military personnel and equipment including terrorism, insurgencies, tensions with neighboring countries growing assertion in the region. India remains reliant on imports to meet much of its armed forces' requirements for technologically advanced equipment; however, amid efforts to develop and expand the local defense industry under Prime Minister Modi's 'Make in India' initiative, we expect the country's huge defense trade deficit to gradually narrow over the coming decade.
On the backdrop of huge demand in Asia, India in particular, we are organizing 3rd International Police Expo (Co – Located Event 2nd Homeland Security Expo) at Pragati Maidan, New Delhi, India during 18-19 MAY 2017.  it is India's one and only exhibition & conference on Army, Police & other forces covering all segments like Defense, Homeland Security, Forensics, Law Enforcement, Surveillance, Protection,  Communication, Fire, Disaster and Rescue Management, Force Wellness and Fitness, Training, Investigation Technology, Traffic & Logistics, Modern equipment, technologies and inputs which are required by police, military , and allied forces for safety and protection of society and all other necessities in day to day and special operations.
Attend two days International Conference along with exhibition on theme of "Internal Security a major challenge, despite border conflicts". Conference aims to gather researchers, technology developers, Senior Police Officers of State and Union Territories and International Police in order to discuss not only about the challenges of internal security, but also other related issues like Safety & Security, Cyber Security, Rescue, Forensics, Communication and Transmission Systems, Ballistic Protection etc.
3rd International Police Expo (Co – Located Event 2nd Homeland Security Expo) is going to be attended by the key officers of Army, Navy, Air force, Civil Police, Civil Defense Forces, Disaster Management and Rescue Authority and Forces, Fire Police, Traffic Police, Ministry of Public Security, Ministry of Home Affairs, Ministry of Defense, Coastal Forces etc. It will be one stop platform to meet the prospective buyers and officers of the industry. To do the business in these countries, Dealer and Distributor channel can also be developed through the event.
Besides this expo & conference, we are also organizing Police Excellence Awards on the evening of 18th May 2017. The aim of this award show is to honor the forces who perform their duties  24 X7  for safety & security of our society. We are also providing opportunity to create your own category /categories on the basis of company's Latest Products & Technologies. Sponsorship opportunities are also available. Kindly follow the link for same. http://award.policeres.org/#loginScreen.
HOW TO REGISTER:
Register by 15 February 2017 to save 300 USD
For Exhibits & Sponsorship information contact: ashish@nexgenexhibitions.com, info@internationalpoliceexpo.com
For more information and to register visit: www.internationalpoliceexpo.com
---
---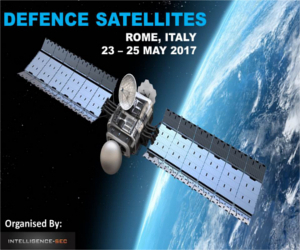 23-25 May, 2017. Rome, Italy
Take part in our upcoming Defence Satellites. The event will provide information from leading nations on the capabilities of their satellite systems.
With a greater need for satellite imagery to assist global armed forces on the ground when in combat missions, Defence Satellites is a timely event to discuss the latest capabilities from the leading nations who have developed strong satellite capabilities. There is also a greater need to share resources and many nations are now creating joint space missions to save on costs.
To participate please contact us at events@intelligence-sec.com or +44 (0)1582 346 706
---
---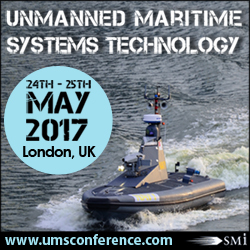 Unmanned Maritime Systems Technology
24-25 May, 2017. Leading and Winning Naval Warfare through the Technological Innovation of Maritime Robotic Systems, London, UK
SMi is delighted to announce the launch of the Unmanned Maritime Systems Technology conference taking place in London, UK on the 24th – 25th May 2017. Aimed at Unmanned Maritime System Program Managers, Heads of Surface/Underwater Warfare and Heads of Autonomous Systems Integration, UMS Technology 2017 will reflect on the future developments and technological innovation of maritime robotic systems.
Exercise Unmanned Warrior has shown the naval community that drones, both autonomous and remotely controlled will remain a permanent feature on todays and tomorrows naval theatre of operations. Unmanned Surface Vessels, Unmanned Underwater Vehicles and Unmanned Aerial Vehicles will continue to proliferate as they expand the range from which navies can operate, at a reduced cost and risk to personnel.
The Royal Navy which led the exercise are in the middle of reviewing the success and beginning to shape future concepts for unmanned platforms in naval warfare. In May the review will be completed and the Navy will be able to announce future concepts for maritime drones. Therefore this is the perfect opportunity to bring together leading unmanned maritime users to discuss the future role of drones and other innovative technology being developed in the industry.
2017 Speaker Line-Up:
Admiral Sir George Zambellas, Former First Sea Lord and Chief of Naval Staff, Royal Navy
Rear Admiral Keith Blount, Assistant Chief of the Naval Staff Aviation and Carriers, Rear Admiral Fleet Air Arm, Royal Navy
Rear Admiral Shepard Smith, Director of the Office of Coast Survey, NOAA: National Oceanic & Atmospheric Administration
Commodore Andreas Vettos, Commander Maritime Air Directorate, NATO MARCOM
Captain Zbiniew Gorniak, Deputy Chief of Staff Plans, Maritime Operations Centre, Polish Navy
Captain Jon Rucker, Program Manager Unmanned Maritime Systems, US Navy
Captain Clark Troyer, Commanding Officer, ONR Global
Mr David Burton, Director Strategy, NATO STO-CMRE
Dr Phillip Smith, Ship Systems & Integrated Survivability Programme Manager, DSTL
Morten Nakjem, Research Manager, Maritime Systems, FFI
Benefits of Attending:
Hear from senior naval officials on the latest advancements in unmanned technology
Learn how UMS are changing the nature of warfare above and below the water
Gain access to key military stakeholders all seeking to develop their unmanned capabilities
Discuss topics focused around key platforms and capabilities from UUVs for Mine Counter Measures to USVs for Anti-Surface Warfare
Informal networking time to talk to peers and colleagues also shaping and influencing Unmanned Maritime System programmes today
Registration & Early birds:
BOOK BY 31st JAN 2017 TO SAVE £400
BOOK BY 28th FEB 2017 TO SAVE £200
BOOK BY 31st MARCH 2017 TO SAVE £100
Click here to register online, contact James Hitchen on +44 (0) 207 827 6054 or by Email:jhitchen@smi-online.co.uk
---
---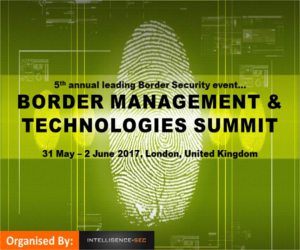 5th annual Border Management & Technologies Summit
31 May – 2 June , 2017. London, UK
With UK citizens recently voting to leave the European Union (BREXIT) this will have a huge impact on the UK Border Force operations and functions. There will also be implications for UK citizens and mainland European's wishing to travel back and forth between the UK and mainland Europe.
Our 5th annual Border Management & Technologies Summit will bring together leading border security officials from the UK and across Europe to discuss key issues regarding European border challenges, threats, organised crimes and EU policies and strategies.
To participate please contact us on events@intelligence-sec.com or +44(0)1582 346 706
---
---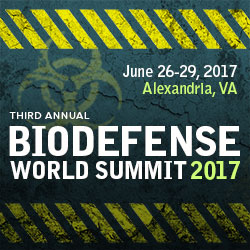 3rd Annual Biodefense World Summit
26 – 29 June 2017. Alexandria, VA, USA
The Knowledge Foundation's Third Annual Biodefense World Summit brings together leaders from government, academia, and industry for compelling discussions and comprehensive coverage on pathogen detection, sample prep technologies, point-of-care, and biosurveillance. Across the four-track event, attendees can expect exceptional networking opportunities in the exhibit hall, during panel discussions, and while sharing case studies with members of the biodefense community from technology providers to policy makers.
Hear Keynote Presentations from the following industry leaders, and more:
John Besser, Ph.D., Deputy Chief of the Enteric Diseases, Centers for Disease Control & Prevention
Kurt Schaecher, Ph.D., Deputy Director, Division of Medicine, U.S. Army Medical Research Institute of Infectious Diseases (USAMRIID)
Helen M. Moore, Ph.D., Chief, Biorepositories and Biospecimen Research Branch, Cancer Diagnosis Program, Division of Cancer Treatment and Diagnosis, National Cancer Institute
Bob Buchanan, Ph.D., Professor & Director, Center for Food Safety & Security Systems, University of Maryland
Register by:
March 31 and save up to $250
May 19 and save up to $100
Register online at: http://chidb.com/reg/bpm/reg.asp or by calling: +1-781-972-5400
---
---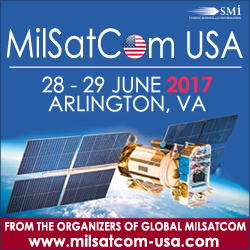 28-29 June, 2017. MilSatCom – Sheraton Pentagon City, Arlington, VA, USA
From the organizers of leading military satellite communications event Global MilSatCom, the highly anticipated MilSatCom USA conference returns stateside on 28th-29th June 2017 in Arlington, Virginia. Registration is now live on www.milsatcom-usa.com/hsrc.
With the space and cyberspace domains growing ever more congested, contested, and competitive, ensuring effective resiliency and protection on future MilSatCom systems is more crucial than ever before. The two-day conference will provide the ideal forum to discuss how further comprehensive collaboration can benefit all parties and stakeholders.
The event will explore key topics such as the USA's acquisition process, alongside contemporary and crucial issues such as the Wideband AoA and utilisation of ComSatCom, as well as assessment of threats facing the space domain such as space congestion and debris, EW, jamming, anti-satellite capabilities and cyber.
Featured speakers include key government and military personnel from US Army, Australian Defence Force, US Air Force, US Department of Defence, US NorthCom, NATO NCIA, NORAD, DISA, DARPA; and also key industry speakers from Airbus Defence and Space, Hughes Network Systems and more.
PLEASE NOTE: All active federal employees, including military personnel, will be FREE ADMISSION to our event. However, in order to attend this event pre-registration is required, which is subject to final approval by the conference organiser. Please visit www.milsatcom-usa.com/hsrc for more details.