Featured Events
---
---

29 April – 1 May, 2015. Washington, DC, U.S.A
The leading international The Non-Conventional Threat CBRNe event series is finally making its debut in the United States of America. NCT CBRNe USA 2015 will take place 29 April – 1 May 2015 in Washington, DC, providing a forum for armed forces, government agencies, civil first responders and the industry to discuss crucial challenges of CBRNe.
NTC is the #1 CBRNe event series in the world, globally established and known as prime regional CBRNe summits in Southeast Asia, Europe, and the Middle East. For the first time the world's most prestigious CBRNe event will be hosted in the USA. With its well-established experience and expertise in Europe, the Middle East and Asia, the NCT event series constitutes the perfect forum to gather relevant experts on CBRNe matters. Its high-ranking speakers, high-class venues, and outstanding networking opportunities make NCT CBRNe USA an event not be missed in 2015.
The conference will include high-level speakers and governmental delegations from all over the USA.
Topics of discussion will include an American perspective on the requirements of international CBRN defense, CBRN operations in a military environment, threat mitigation and decontamination, international threat reduction, critical infrastructure and urban security – challenges for CBRN detection, nuclear and radiation monitoring and surveillance, mass diagnosis and forensics, as well as CBRN preparedness and protection.
NCT CBRNE USA 2015 HIGHLIGHTS
2-day conference with high-level speakers and up to 500 attendees from all over the Americas, Asia, and Europe
Live CBRN demonstration on day 1
Vibrant exhibition showcasing the state of the art technology and equipment
Networking reception
THE USA AND CBRNE
The USA are without a doubt the world's leading nation for CBRNe related innovations, solutions, and approaches. In the face of relentless terrorist threats, CBRNe matters remain a focal point in the arena of homeland security. Through several government agencies such as DTRA and BARDA, the US is constantly upgrading its CBRN defense capabilities and preparedness for mass casualty incidents. Consequently, this leads to the necessity of sharing best practices, raising awareness of persisting challenges, and getting the most novel solutions and approaches out there.
---
---

10 – 12 May, 2015. Dhahran International Exhibition Centre, Dammam, Saudi Arabia
Saudi Safety & Security (SSS) Forum annually attracts the entire industry in the Eastern Province of Saudi Arabia, the industrial hub for the Middle East region. Launched in 2011, SSS has combined an international exhibition and strategic conference to serve this hugely important industry for the Middle East.
Saudi Safety & Security 2015 is officially endorsed by Asis Chapter 72, the global association for security professionals. This event brings together leading companies from all around the globe. They all have premier expertise in the safety, security and fire prevention and will test in a live environment the products, services and technologies that will shape the future of the industry.
Vetted by a range of senior level industry professionals, including previous participants, SSS 2014 received exceptional feedback regarding its content in terms of its value to the wider community and general public and SSS 2015 looks to build on this. In parallel the international exhibition brings together leading companies from all around the globe and with premier expertise in the safety, security and fire prevention department to test in a live environment the products, services and technologies that will shape the future of the industry.
---
---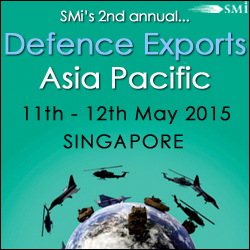 11 – 12 May, 2015. Grand Copthorne Waterfront Hotel, Singapore
Don't miss the 2nd annual Defence Exports Asia Pacific conference taking place on the 11th and 12th May 2015 in Singapore.
Take this opportunity to discuss and network with key government officials and industry leaders from the Asia Pacific region and understand and utilize the latest updates on APAC export control regulations whilst hearing about various ECR changes happening in 2015.
The 2015 speaker panel features:
Claire Willette, Director, Strengthening Export Controls, Australian Department of Defence Ambassador Philip Griffiths, Head of Secretariat, Wassenaar Arrangement Jun Kazeki, Director, Security Export Control Policy Division, Ministry of Economy, Trade and Industry (METI) of the Japanese Government
Jaeil Jo, Export Control Support Department, Korea Strategic Trade Institute
Faizal Yusof, Deputy Director, Strategic Trade Controller, Ministry of International Trade and Industry (MITI), Malaysia
Donald Pearce, Regional Export Control Officer, US Embassy Singapore, U.S Department of Commerce – Bureau of Industry & Security
Beth Ann Johnson, Director, Global Trade Management, Northrop Grumman Corporation
Iliyana Hristev, Director of Export and Trade Compliance, QinetiQ North America
Harry Patel, Head of Trade Compliance, Meggitt PLC
Julia Reed, National Director Export Controls (Australia Pacific), Airbus Group
In addition, there will be 2 interactive half-day workshops, both taking place on the 13th May:
Applying ECR in the Real World, Hosted by: Gary Stanley, President, Global Legal Services
The Definition of "Specially Designed", Hosted by: Donald Pearce, Regional Export Control Officer, U.S Department of Commerce – Bureau of Industry & Security
HOW TO REGISTER
Book before 27th February and save S$600
Register online at: http://www.smi-online.co.uk/2015defence-exportsasia.asp
Contact James Hitchen on: +44 (0) 20 7827 6054 or email: jhitchen@smi-online.co.uk
---
---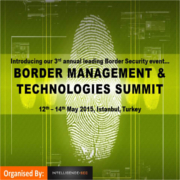 Border Management & Technologies Summit
12 – 14 May, 2015. Istanbul, Turkey
Now entering our 3rd year of our Border Management & Technologies Summit, we will look into emerging countries that are making significant improvements to their border security. The event will also look into the new technologies and paradigms being developed to create more efficient borders.
With Integrated Border Management systems becoming established across Europe we will be looking at case studies from Eastern European nations on their development of creating a strong IBM strategy and the importance of sharing information with neighbouring nations.
Passenger screening has leaped forward in terms of developments in recent years and our event will discuss the improvements in passenger screening at airports and analyse what else can be done to improve security.
Identity Management systems being developed at borders and are becoming more sophisticated, our event will look into the different techniques used by border forces across Europe. The EU is focused on creating Smart Borders and the use of biometrics such as new technologies such as Fly on the Finger are being pushed through to key travel hubs across the EU. Border Management & Technologies Summit will review the latest technologies and evaluate the improvements they will bring to travel hubs across Europe.
Meet with senior government officials from Turkey, Romania, Moldova, United Kingdom, Tajikistan, Georgia, Switzerland, The Netherlands, France and many more…
To take part in our international event either as a speaker, sponsor, exhibitor or as a delegate please contact us at events@intelligence-sec.com or call us on +44 (0)1582 346 706
---
---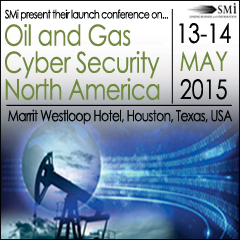 Oil and Gas Cyber Security North America
13 – 14 May, 2015. Marriott West Loop Hotel, Houston, Texas, USA
This must attend 2-day event will address the most pressing cyber security issues facing the oil and gas sector with key presentations, case studies, technology sessions, panel debate and live demonstrations delivered by senior industry decision makers from an array of global oil and gas companies.
Benefits of Attending:
Understand the current key market regulations to set a new standard across the industry
Discover how you need to operate to create a safer environment
Discuss how the industry needs to develop in North America
Evaluate live demos on how to block oncoming attacks and minimise the clean up
Hear about the latest technology and software available
Listen from leading case studies and understand what lessons have been learned
Expert Speaker Panel Includes:
James Morrison, Computer Scientist, Houston Cyber Task Force, FBI
Michael Lewis, Policy and Framework Advisor, Information Risk Strategy and Management, Chevron Information Technology Company
Randy Hamilton, Manager, IT Security and Compliance, Newfield Exploration Company
Catherine Cavazos, Data Security Manager, National Oilwell Varco
Claudia Escobar, Statewide Security Programme Manager, State of Texas – Department of Information Resources
Donna Dodson, Chief Cybersecurity Advisor, National Institute Of Standards And Technology
Glenn Fink, Senior Cyber Security Researcher, Pacific Northwest National Laboratory
Jason McEachin, Director, Sales Engineering, Lookingglass Cyber Solutions
Mike Firstenberg, Director of Industrial Security, Waterfall Security Solutions
Robert Parisi, FINPRO Cyber & Technology Product Lead, Marsh, Inc.
Plus, an interactive half-day pre-conference Workshop (12th May 2015, Marriott West Loop Hotel, Houston):
Cybersecurity Frameworks and Architectures
The workshop will provide discussions of cybersecurity frameworks/architectures, including the NIST Cybersecurity Framework, the Sherwood Applied Business Security Architecture (SABSA), and the COBIT framework.
Important questions that will be discussed include:
What is a cybersecurity framework?
What is its relationship to the enterprise information framework?
What role does a cybersecurity framework play in securing an enterprise information system?
What are some of the representative cybersecurity frameworks or architectures?
Further information available at URL: http://www.smi-online.co.uk/2015oilgascyberusa29.asp
Contact: Andrew Gibbons on +44 (0) 207 827 6156 or e-mail agibbons@smi-online.co.uk
---
---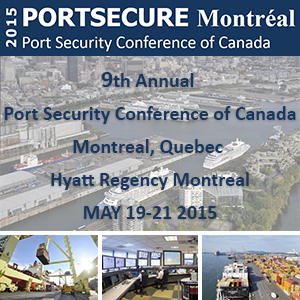 Port Security Conference of Canada
19 – 21 May, 2015. Hyatt Regency Montreal, Quebec
The PORTSECURE CONFERENCE & EXPO is in its ninth year as Canada's premiere national conference and expo on port and maritime security. This year the conference and expo will take place from May 19th, – 21st, 2015 at the Hyatt Regency Montreal, Quebec.
The vision for PORTSECURE came from the need for professional development and technical education, especially during a time of change.
PORTSECURE is a forum for practical discussion of how to most effectively implement security in the port environment. PORTSECURE is a professional development opportunity for those charged with the management and operation of security activities within the port, and will be of interest to operators, regulators, shippers and others directly involved in the successful operation of secure and safe ports.
The structure of PORTSECURE allows delegates to be briefed on current and pending issues and regulations by government and industry officials, and to share practical case studies of effective solutions implemented in real world situations on a daily basis. Sessions on best practices will highlight the most effective ways operators have found to get the job done. The expo gives delegates a chance to see the latest security technologies from world-class solution providers.
PORTSECURE.ca | registration@macdonnell.com | 902.425.3980 | @portsecure
---
---
International Port Security Conference
3 – 4 June, 2015. Holiday Inn Regents Park, London, UK
The 6th annual International Port Security conference returns to London on the 3rd and 4th June 2015. This must-attend event will unite Heads of Ports and security experts from European nations to discuss the real life processes and issues which effect everyday port security, both in terms of practicality and in terms of strategy.
Attendees will also be able to attend a complimentary Site Visit to The Port of Dover, held on the 5th June (A maximum of 25 places are available).
The International Port Security 2015 expert speaker faculty includes:
Rear Admiral Luis Sousa Pereira, Commandant PRT Navy Marine Corps (Fuzileiros), Portuguese Navy
Dario Barbaric, Port Facility Security Officer, Environmental and Quality Manager, Dubrovnik Port Authority
Juan Martin Gonzalez, Chief of Safety & Security, Port Authority of Vigo
Commander Hallvard Flesland, Branch Head NCAGS, NATO Shipping Centre, NATO Shipping Centre
Dr Karen Sumser-Lupson, Commissioner, African Maritime Safety and Security Agency
Christian Dupont, Deputy Head of Unit, DG MOVE, EU Commission
Commander David Phillips, Chief Harbour Master, Port of London Authority
Stephen Reid, Chief Officer, Belfast Harbour Police
Don't miss the pre-conference interactive workshop on Weathering the Storm with STORM, Held on 2nd June. Hosted by: Professor David Attard, Head of Maritime Security Compliance, Malta Transport Authority and John Schembri MSc (Sy & RM), PgC OHS (Portsmouth), SRIM
Book before 31st March to save ?00
Visit http://www.smi-online.co.uk/2015portsecurity16.asp to register or for more information Contact the team on: +44 (0) 20 7827 6000 / events@smi-online.co.uk
---
---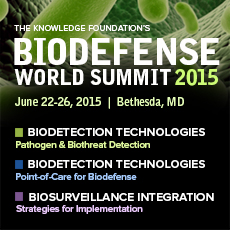 22 – 26 June, 2015. Bethesda, MD
Successful biodefense requires a multi-faceted and coordinated approach from assay to technology to reporting. At the Knowledge Foundation's Biodefense World Summit, leaders from government, academia, and industry will come together to discuss pathogen detection, point-of-care technologies, and biosurveillance, demonstrating threat detection and assessment from start to finish. This three-track event will provide attendees with comprehensive coverage of biodefense and allow for exceptional networking opportunities with members of the defense community from technology providers to policy makers.
Conference Tracks:
Biodetection Technologies: Pathogen & Biothreat Detection
Biodetection Technologies: Point-of-Care for Biodefense
Biosurveillance Integration: Integrated Management of Threats to Public Health & Safety
Keynote Speakers:
Steve Bennett, Ph.D., Executive Director, National Biosurveillance Integration Center, U.S. Department of Homeland Security
Charles Chiu, M.D., Ph.D., Associate Professor, Laboratory of Medicine / Infectious Diseases, UCSF School of Medicine, University of California, San Francisco
Peter Emanuel, Ph.D., ECBC BioSciences Division Chief & JPEO-CBD JUPITR ATD Lead, Aberdeen Proving Grounds
Gerald Epstein, Deputy Assistant Secretary for Chemical, Biological, Radiological, and Nuclear Policy at U.S. Department of Homeland Security
Matthew D. Shaw, Vice President, CBRNE Defense, Battelle
Michael A. Smith, M.Phil., Ph.D., PMP, Director, Critical Reagents Program, Medical Countermeasure Systems, JPEO, U.S. Department of Defense
---
---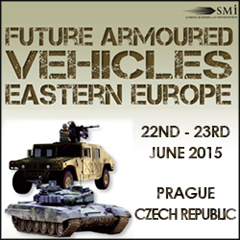 Future Armoured Vehicles Eastern Europe
22 – 23 June, 2015. Prague, Czech Republic
2014 saw an unprecedented surge in defence requirements and spending commitments in Eastern Europe. The need for greater domestic security has yet again meant defence forces in the region are looking to the armoured vehicle when ensuring their ground operations and maneuverers are set up for success.
Unlike other events Future Armoured Vehicles Eastern Europe is designed to unite armoured vehicle procurement and technology experts with one goal, to enhance existing and future land forces capability through the effective deployment of military vehicles. At no other event in 2015 will you be able to meet such a well-rounded and unique set of military vehicle experts all present with one goal in mind-to advance their technical knowhow and increase the effectiveness of their new and ongoing programmes.
Confirmed speakers presenting high level briefings include
Lieutenant General Jaroslav Kolkus, Former Deputy Chief of Defence Staff & Military Representative to NATO and EU, Armed Forces of the Czech Republic
Brigadier General Pavel Adam, Director of the Division of Capabilities Development and Planning, General Staff, Armed Forces of the Czech Republic
Brigadier General Slawomir Wojciechowski, Director of Strategy and Defence Planning, Polish Armed Forces
Brigadier Bjarne Nermo, Commander of the Land Systems Division, Norwegian Defence Logistics Organisation
Brigadier General Norbert Huber, Director Armament and Procurement, Austrian MoD
Brigadier General, Frantisek Minacek, Director; Centre for Security and Military Strategic Studies, University of Defense in Brno, Czech Republic
Colonel Josef Kopecky Commander 7th Mechanized Brigade, Armed Forces of the Czech Republic
Colonel Maciej ZAJAC, Deputy Chief, Land Forces Department, Armament Inspectorate, Polish Armed Forces
Lieutenant Colonel , Richard Macha, Industrial Cooperation Division Czech MoD and Head of the Czech Delegation to AC/225 – NATO NAAG
Colonel Robert TIBENSKY, Director General – National Armaments, Slovak Armed Forces
Lieutenant Colonel Mindaugas STEPONAVICIUS, Director of Capability Planning Department, Lithuanian MOD
Colonel Egbert R. Teeuw, Programme Manager BOXER at OCCAR, Royal Netherlands Army
Miha Matek, Head of Armament Project Management Division, Slovenian MoD
Lieutenant Colonel Dr. Tomas Turo, Group Leader National Representative of Czech MoD in MILVA AC/225 (NAAG), Department of Combat and Special Vehicles, University of Defence, Czech Republic
Major Claus Johansen, Director of Study and Development Division, Danish Army Combat and Fire Support Centre
Heather Elsley, Programme Manager – Land Integrated Survivability Programme & Delivery Directorate, DSTL, UK
Mr. Jiri HYNEK, President, Defence and Security Industry Association of the Czech Republic (DSIA)
For more information, please contact Michael Nazarenko on +44 (0) 207 827 6002
Event website: http://www.smi-online.co.uk/2015avtaf21.asp
---
---

24 – 26 June, 2015. Augusta, GA
Cyber Security for Defense – This event will focus on the ever growing need within the Military to combat the intense rise of Cyber Attacks, but also on developing a strong, resilient, and effective team of Cyber Warriors. This conference serves as an opportunity for solution providers to break through the background noise and present their unique ideas and products in an environment specifically tailored to highlighting them, while simultaneously learning about the future requirements of the Military and a variety of other topics. Meanwhile the Department of Defense gets a first hand look at some of the solutions they may have not originally considered, all in pursuit of that best value solution.
For more information download the agenda here http://bit.ly/1Jlbuq4
---
---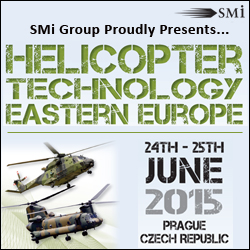 Helicopter Technology Eastern Europe
24 – 25 June, 2015. Dorint Hotel Don Giovanni Prague, Czech Republic
SMi's Helicopter Technology Eastern Europe 2015 has been designed to unite military helicopter procurement and technology experts with one goal, to enhance existing and future air support operation across air, land and sea.
The event is being supported by DSIA (Defence and Security Industry Association of the Czech) and is the only event with high level support from Czech Republic Commander Air Force, Brigadier General Libor Stefanik.
The Helicopter Technology Eastern Europe 2015 expert speaker faculty features:
Major General Bohuslav Dvorak, Former Deputy Chief of the General Staff, Currently Chief of Advisors to Minister of Defence, Czech Armed Forces (conference chairman)
Brigadier General Libor Stefanik, Commander, Czech Air Force
Major General Dragen Scuri, Commander, Croatian Air Force and Air Defence
Major General Richard Felton Commander, Joint Helicopter Command UK MoD
Brigadier General Andreas Putz, Commander Air Support Brigade, Austrian Air Force
Brigadier General Fortunato Di Marzio, General Manager, NH 90 Programme, NAHEMA (NATO)
Colonel Robert Tibensky, Head of National Armaments, Slovak Armed Forces
Colonel Jiri Vavra, Head of Air Force Development Department, Armed Forces of the Czech Republic
Colonel Peder Soderstrom, Chief of the Swedish Helicopter Wing, Swedish Air Force
Colonel Steen Ulrich, Head of Helicopter Wing, Royal Danish Air Force
Lieutenant Colonel Bojan Brecelj, Commander 15th Aviation Wing, Slovenian Air Force
Andrew Gray, Helicopter Programme Manager, European Defence Agency
Marko Gruden, Helicopter Programme Manager, Armament Project Management Division, Slovenian MOD
Mr. Jiri HYNEK, President, Defence and Security Industry Association of the Czech Republic (DSIA)
Book before 31st March to save ?00
Visit http://www.smi-online.co.uk/helicopter-tech13.asp to register or for more information
Contact Andrew Gibbons on: +44 (0) 20 7827 6156 / agibbons@smi-online.co.uk
---
---
Air Mission Planning Conference
6 – 7 July, 2015. Holiday Inn Regents Park, London, UK
The 6th annual Air Mission Planning conference will look at the theoretical and pragmatic aspect of Mission Flight Management and Mission Support Systems and will provide attendees with the knowledge to plan and brief all phases of a special operations aviation mission.
The conference will focus on special operations on the ground and / or in an aerial environment, computer-based flight planning systems, all stages involved in air mission planning from – initial planning, briefing and the execution of the whole operation.
The 2015 expert speaker faculty includes:
Air Commodore Paddy Teakle, GBR AF, Deputy Force Commander (FCD)/Chief of Staff (COS), HQ NAEW&C Force Command, NATO
Brigadier General Holt, Deputy United States Military Representative, North Atlantic Treaty Organization (NATO)
Lieutenant Colonel Cory "Fargo" Jeffers, Commander, 13th ASOS, Fort Carson, CO (USA)
Lieutenant Colonel Rafael Fernandez-Shaw Dominguez, Operations Division, Spanish Air Force
Lieutenant Colonel Jaroslav Mika, Commander, 211 Squadron, Czech Air Force
Colonel Giorgio Seravalle, ITAF Air Mobility and Special Forces Command, Chief Operations and Exercises, Italian Air Force (ITAF)
Colonel Reinhard Krell, Director, Movement Coordination Centre Europe
Colonel Gungor Ozer, Turkish Air War College, Turkey
Squadron Leader Derek Reinhardt, RAAF Lead-In Fighter Capability Assurance Program – Resident Project Engineer, Royal Australian Air Force
George Onslow, B2, AWC Scientific Advisor HW, Air Command, RAF
Dimitrios Petridis, Programme Manager of the Aviation Support Programme Office, NATO Support Agency (NSPA)
Book before 31st March to save ?00
Visit http://www.smi-online.co.uk/2015airmissionplanning12.asp to register
Contact the team on +44 (0) 20 7827 6000 for more information.
---
---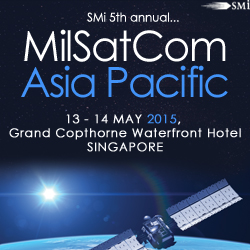 13 – 14 September, 2015. Grand Copthorne Waterfront Hotel, Singapore
MilSatCom Asia-Pacific 2015 will boast a tailored programme based on current issues across MilSatCom covered by a series of regional and international speakers. In addition to having representatives from the Pacific region, the conference will have Asian representation too as we explore regional military SatCom roadmaps and packages. We will also be hearing from nations outside the region sharing their experiences, partnerships initiatives as end-users and the latest technologies in the satcom industry.
The 2015 speaker panel features:
Mochamad Irwan Hariyono, Senior Staff, Geospatial Information Agency (BIG), Indonesia
Lieutenant Colonel Matthew Turpin, Chief of Asia-Pacific Strategy, Department of Defense
Nicolas D Ojeda Jr, Deputy Executive Director, Information and Communications Technology Office (ICT Office)
D D'Ambrosio,EVP, Government Services, O3b Networks
Airbus Defence & Space Speaker to be announced
Lieutenant Commander Bill Blick,Joint Commander Engineer, New Zealand Defence Force
Tom van der Heyden, CEO, Eur Asian Technology Holdings
Matthew Child, SVP Government Services, Eutelsat
Michael Pollack, CEO, The Traville Group
Nguyen Than Yen Huong, Vice President, Diplomatic Academy of Vietnam
Jen Pearce, PACOM Analyst, ProSol, UMSC
Hendriatiningsih Sadikin, Associate Professor, Geodetic & Geomatica Engineering, Institute of Technology Bandung
In addition, there will be an interactive half-day workshop, taking place on the 12th May: Data Everywhere – And We Still Want More! The Evolution and Future of FSS and MSS MilSatCom Data Services. Hosted by: John Yates, Satellite Communications Consultant
HOW TO REGISTER
Book before 27th February and save S$600
Register online at: http://www.smi-online.co.uk/2015defence-exportsasia.asp
Contact James Hitchen on: +44 (0) 20 7827 6054 or email: jhitchen@smi-online.co.uk
---
---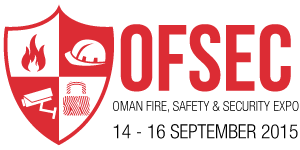 14 – 16 September, 2015. Muscat, Oman
Ofsec: Oman's Only And Most Comprehensive Exhibition On Fire, Safety And Security
OFSEC 2015 will bring together local and international exhibitors who will showcase their avant-garde solutions, specific transverse and latest technologies, cutting edge innovations, cost-effective products and services to meet the requirements of governments, businesses, industrial & commercial entities, aviation, construction, infrastructure, transportation, manufacturing, oil and gas and utilities sectors.
OFSEC is designed to meet the needs of the local, regional and international markets by linking practitioners, suppliers, distributors and manufacturers from the fire, safety and security industry, with key decision makers from the government and private sectors, making it a definitive networking platform, where new projects and partnerships are initiated and visionary objectives are implemented. This event also aims to create synergy and strengthen the collaboration between the authorities and the industries.
The Exhibition will lay foundation and be the gateway to the current and future market trends in the fire, safety and security sectors, for the industry professionals to communicate, share ideas, identify solutions, to operate effectively and efficiently and stay abreast with the latest global trends. OFSEC will confluence and strengthen local and international business engagement and encourage investment.
---
---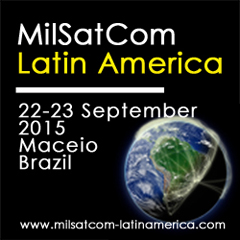 2nd Annual MilSatCom Latin America
22 – 23 September, 2015. Maceio Atlantic Suites, Maceio, Brazil
Now in its second successful year, MilSatCom Latin America 2015 is the only regional meeting place for military satellite communications specialists and all those responsible for optimising security and surveillance of national and air space and key domestic assets.
This conference will feature high level military and government briefings from those directly responsible for advancing these satellite capabilities and after our 2014 event, where we had over 100 attendees, this Septembers' event is set to only continue to attract the region's main SatCom protagonists.
Event Highlights:
Keynote Briefings from senior officers from Brazil and surrounding Latin American nations

A unique focus on enhanced military capability through the development and implementation of SATCOM programs

Briefings on: payload optimisation, cyber security deterrents, overcoming satellite interference, real time data delivery to military operations, power enhancement and capacity increases and bandwidth maximisation

High level panel discussions featuring technical managers and project engineers from military as well as industry

Focused discussion groups tackling key challenges facing SATCOM program managers in the region
SATCOM equipment exhibition showcasing the latest technology
Informal networking time factored in so you can gather insight from peers and colleagues also shaping and influencing regional helicopter programmes today
Event Speakers 2015 include:
Helcio Vieira Junior, Commander Space Operations Center, Brazilian Armed Forces
Marcio Teixeira de Campos, C2 Operations Department Chief, Brazilian Armed Forces
Abde Bellahnid, Directorate of Joint Capability, SATCOMS & SAR Requirements, Canadian Department of Defence
Hugo Montoya, Director of Innovation and Competitiveness, Mexican Space Agency
Maximiliano Erazu, Satellite Communications, Comision Nacional de Actividades Espaciales
Marcelo Perfetti, Communication and Information General Directorate, Argentine Army
Cristovam Nascimento, Brazil Correspondent Office, Global VSAT Forum
Carlos Afonso Pierantoni Gamboa, 1st Vice President ABIMDE, ABIMDE ASS BRAS DOS INDUSTRIAS DE MAT DEFESA
Harold Haney, Chief Space and Missile Defense C4 Division, USSTRATCOM
Carlos Alejandro Villasenor Navarro, Department of Transmissions, SEDENA
Walter Bartels, President, Brazilian Aerospace Industries Association (AIAB) and many more
For more info please contact James Hitchen, +44 (0) 207 827 6054, jrotar@smi-online.co.uk
---
---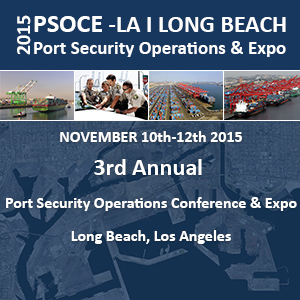 Port Security Operations Conference & Expo
10 – 12 November, 2015. Long Beach, LA
The 2015 program will feature some of North America's most knowledgeable maritime security experts from major ports, private terminals, government departments, and private security solution providers. Conference participants will discuss many topics including global trends in port and maritime security, regulatory impacts, security training, TWIC, and best practices for supply chain security and resilience.
PSOCE – LA I Long Beach developed out of a need for professional development and technical education in the area of maritime security and has made a significant contribution to the exchange of information and best practices over the course of the past seven years. The conference is a forum for practical discussions on how to most effectively implement security in a port environment. Getting the regional picture of Sector Los Angeles – Long Beach and any recent initiatives is of great interest to our delegates, as is the evolving regulatory framework that affects millions of seaport workers.
psocew.com | @PSOCE | registration@macdonnell.com | 902.425.3980
---
---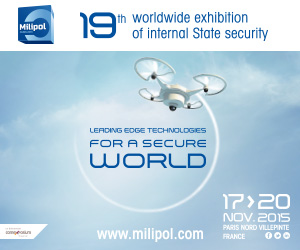 17 – 20 November, 2015. Paris
Milipol Paris is the worldwide event of the internal State security market for all public and industrial security professionals.
Participate at the 19th edition of Milipol Paris, 17-20 November 2015:
meet the key international players of the public and industrial security sector,
discover and discuss new trends, products and services of the market, develop your business!
Milipol Qatar is the foremost exhibition of the key players involved in the Middle East internal State security sector.
Milipol Qatar 2014 boasted record participation at the region's premier security show:
261 exhibitors – coming from 36 countries – 85% of them were satisfied with their participation
6,638 visitors – coming from 63 countries – 93% of them were satisfied with their visit
Next appointment: Milipol Qatar 2016!
---
---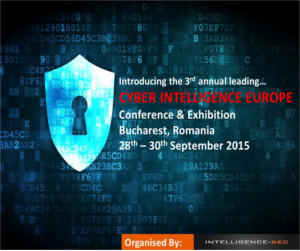 28 – 30 November, 2015. Radisson Blu Hotel, Bucharest, Romania
Cyber Intelligence Europe 2015 will analyse the different types of cybercrimes being faced to government agencies across Europe. Many public and private sector organisations are being targeted with the criminals exposing sensitive information to the public. Take part in our 3rd annual event to discuss ways of how to combat cybercrimes.
Our third instalment of our Cyber Intelligence Europe conference & exhibition will be taking place in Romania where the government is implementing strategies to improve their cyberspace from cybercrimes and attacks. NATO has recently named Romania as the main hub of operations in South Eastern Europe to combat cybercrimes in the region.
One aspect which will be discussed during the three day event will be the importance of sharing information between regional governments and private sector organisations to develop an understanding of how to combat the cyber criminals from breaching critical infrastructure.
Cyber Intelligence Europe 2015 will bring together leading cyber security officials from Europe's leading government agencies, military and law enforcement agencies who will provide in-depth and knowledgeable presentations discussing current strategies being used by them to protect their computer systems as well as sharing information through the use of case study presentations.
Don't miss out on taking part at our international Cyber Intelligence Europe event on the 28th – 30th September 2015.
For more information regarding this international event please contact us at info@intelligence-sec.com or +44 (0)1582 346 706.
---
---