Homeland Security Conferences

World Border Security Congress
20-22 March 2018, Marriot Madrid Auditorium. Madrid, Spain
http://world-border-congress.com/
The World Border Security Congress is the only multi-jurisdictional transnational platform where the border protection, management and security industry policy-makers and practitioners convene annually to discuss the international challenges faced in protecting not only one's own country's borders, but those of neighbours and friends.
World Border Security Congress will provide a platform for the world's border protection forces and agencies to discuss and debate the current and future issues and challenges facing the border management, security and migration management sectors.
Controlling and managing international borders in the 21st Century continues to challenge the border control and immigration agencies around the world. It is generally agreed that in a globalised world borders should be as open as possible, but threats continue to remain in ever evolving circumstances and situations.
Advancements in technology are assisting in the battle to maintain safe and secure international travel. The border security professional still remains the front line against these threats. World Border Security Congress is a high level, 3 day event providing you with the opportunity to reach the senior decision makers in the border protection and management industry.
We look forward to welcoming you to World Border Security Congress on 20th-22nd March 2018 in Madrid, Spain.
20th – 22th March 2018, Singapore
Cyber Security is still a global issue with recent attacks being extremely sophisticated and unexpected. Different industries are being targeted to cause the greatest impact to an economy. We are pleased to announce that our 6th annual Cyber Intelligence Asia conference and exhibition will take place in Singapore on the 20-22 March 2018.
Cybercrimes are on an increase with many banks, governments, utilities and transportation agencies/departments being targeted. Singapore is a region hub for oil and gas firms and banks and protecting their infrastructure is key to creating their strong economy. Cybercrimes are constantly becoming an everyday occurrence and the attacks are also sophisticated and unknown causing governments to make sure their cyber defence systems are updated regularly.
Cyber Intelligence Asia will provide you the opportunity to meet with leading cyber security experts from across Asia-Pacific in one place. You will also have the opportunity to network with senior Singapore government and military officials who set their cyber security strategies and plans.
During the event you will also hear presentations from the following government's; Malaysia, Philippines, China, Thailand, Indonesia, Taiwan and many more…
To be part of our 6th annual Cyber Intelligence Asia conference and exhibition either as a sponsor, exhibitor, speaker or delegate please contact us on events@intelligence-sec.com or +44 1582 346 706.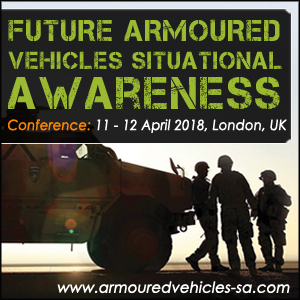 Future Armoured Vehicles Situational Awareness 2018
11th – 12th April 2018, London, United Kingdom
http://www.armouredvehicles-sa.com/hsrc
SMi proudly presents the next annual conference in the sell-out portfolio of Armoured Vehicle events: Future Armoured Vehicles Situational Awareness 2018, taking place on 11th and 12th April, London, UK.
The ability to make accurate, decisive decisions is more important than ever for today's mechanised forces. Future land forces must prepare for high intensity conflict, where information superiority and surveillance capabilities may be challenged by an innovative enemy. For advantages to be maintained, an intimate understanding of the capabilities available must be explored.
With a strong focus on the collaboration between military, research and industry, Future Armoured Vehicles Situational Awareness 2018, invites not only the programme managers, capability directors and operational commanders from the armed forces, but also ensures that the senior engineers, chief scientists and platform managers from the leading solution providers are present.
Highlights:
Exclusive Situational Awareness Military briefings from the UK, the US, Germany, the Netherlands, Canada and NATO
System Integration presentations from RFEL, BAE Hägglunds, Patria, QinetiQ and Thales
Communication and systems updates from the following platforms: AJAX, Challenger II, PUMA, CV90, Fennek, BOXER, LAV III, US Army Abrams Bradley; Stryker, AMPV, GMV, NGCV
Insight into the latest technologies enabling enhanced vetronics, vehicle architectures, sensor development and integration, CIS and battle management
Register online at: http://www.armouredvehicles-sa.com/hsrc
17th – 19th April 2018, Rome, Italy
Our 5th annual CBRNe Summit Europe conference and exhibition will be heading back to Rome, Italy where we will be evaluating the developments in CBRNe capabilities across Europe. The threat of CBRNe attacks across Europe is continuing to increase year on year.
CBRNe Summit Europe continues to grow each year and provides you unrivalled access to public sector officials from across Europe, Middle East, Americas and South-East Asia in one place.
Many CBRNe threats are developing and many terrorist cells are looking at different ways to create destruction across major cities in Europe. Our event will focus on many aspects of CBRNe to provide you an complete overview of the challenges faced to our first responders, emergency services and military in responding to new style attacks in our urban cities.
Our 2018 show will focus on the following topics over the two day conference and exhibition; Italian CBRNe Capabilities and Challenges, Maritime CBRNe threats, Chem-Bio Countermeasure Development, CBRNe Forensics, Countering IED's, Security in Public Spaces – Increasing CBRNe threats and Military-Civil CBRNe Response Cooperation.
After the event you should come away with a complete and diverse understanding of how national first responders deal with CBRNe attacks from preparations, response, decon, recovery, forensics and lessons learnt. You will hear in-depth presentations from leading officials on different CBRNe threats.
As well as reviewing different threat scenarios we will also be looking at new emerging CBRNe threats during the conference such as CBRNe threats in the maritime domain which is becoming a major concern to the Italian Navy. Another developing threat is the capability of terrorist cells using drones with chem-bio payloads to attack public places for mass casualties. During the conference these new challenges will be discussed.
To be part of the largest gathering of CBRNe professionals in Europe please contact us via email at events@intelligence-sec.com or by phone +44 (0)1582 346 706 and we will be happy to provide you further information on you can participate either as a speaker, sponsor/exhibitor or as delegates.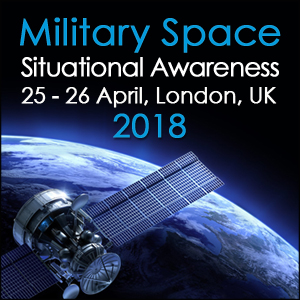 Military Space Situational Awareness 2018
25th – 26th April 2018, London, United Kingdom
http://www.military-space.com/hsrc
With the defence industry becoming ever more data driven, ensuring that space systems can operate both safely and efficiently is crucial for government and military agencies.
SMi's 13th annual Military Space Situational Awareness (SSA) conference will bring together key military, government, civilian and industry stakeholders, to discuss leading approaches and strategies being adopted to generate a holistic approach to SSA, at a time when the domain is growing increasingly congested with active satellites, space debris and adverse threats.
Key focuses include: Space Surveillance and Tracking (SST) data, next-generation sensor and radar capabilities, space weather, intercontinental-ballistic missile strikes, space governance of Low Earth Orbit (LEO) satellite launches and planned mega-constellations, and much more!
Highlights:
Hear from senior military and civil officials on the latest solutions being implemented to enhance the security of space assets through domain awareness
Discuss key issues impacting space security including debris, weather and hostile threats
With the era of mega-constellations in LEO approaching, debate how best government and industry can manage further space congestion through policy implementation and best practices to ensure effective and sustainable use of these assets
Discuss the benefits of allied cooperation of Space Situational Awareness (SSA) services and information to create a holistic approach to SSA and a more accurate global picture
View the agenda or register online at: http://www.military-space.com/hsrc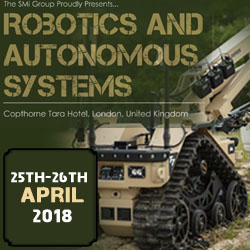 Robotic and Autonomous Systems
25th – 26th April 2018, London, UK
http://www.robotics-autonomous.com/hsrc
SMi is delighted to announce the launch of Robotics and Autonomous Systems (RAS) conference taking place in London, UK on 25th and 26th April 2018.
The UK MoD has recognised the potential of Robotic and Autonomous Systems (RAS) to provide strategic superiority in military operations. As a means to establish the opportunities a quick adoption of RAS would provide the British Army, SMi will launch its Robotics and Autonomous Systems Conference, which will seek to enhance the British Army's capabilities as well as modernise along with new emerging technologies.
The UK MoD established 5 priorities in the development of RAS: Sustainability, Manoeuvrability, Situational Awareness, Lethality and Survivability. These five priorities are what RAS 2018 conference will revolve around. These will additionally encompass other main themes such as counter-IED, AI, interoperability, or communication systems.
Top Military Speakers:
Lieutenant Colonel Richard Craig, SO1 Capability and Cohesion, Army HQ, British Army
Major Lloyd Davies, Starter Requirements Manager, DE&S, UK MoD
Colonel Jerome Lemaire, Land Strategic Directorate, DGA, France
Lieutenant Colonel Leon Altarac, Head of the Robotics Department of the Ground Forces Technology Brigade, Israeli Defence Forces
Dr. Robert W. Sadowski, Robotics Senior Research Scientist, TARDEC, US Army
And more!
Register by:
December 15th and save £400
January 31st and save £200
February 28th and save £100
Register online at: www.robotics-autonomous.com/hsrc
MilSatCom Asia Pacific 2018 conference
14-15 May 2018, Singapore
http://www.milsatcomasia.com/hsrc
With technology rapidly advancing and access to space becoming increasingly congested, the number of nations in the Asia-Pacific region looking to embrace the space frontier is on the rise!
SMi's 8th annual MilSatCom Asia Pacific conference will explore the increasing investment in Space and SatCom assets throughout the Asia-Pacific region, focusing on protected and tactical requirements facing the region, how capability gaps are cost-effectively being fulfilled through COTS procurement strategies and international cooperation, the utilisation of SatCom assets for civilian purposes in the region such as humanitarian and disaster response, and much more.
Highlights:
Hear how nations in the Asia-Pacific region are taking advantage of rapid technology developments to increase commercial and military access to space
Discuss the importance of implementing protected SatCom capabilities to ensure critical space assets in a region with rising tensions
Explore opportunities to develop commercial and international partnerships with key nations in the region including Australia, Japan, Philippines, Singapore and Vietnam
Discuss how SatCom is utilised for humanitarian and disaster response across military and civilian life in Asia-Pacific
Register by 29th March to save S$100!
View the agenda or register at: http://www.milsatcomasia.com/hsrc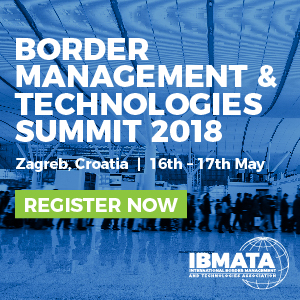 IBMATA are pleased to announce that our inaugural international conference
16-17 May 2018, Zagreb, Croatia
With a complex border comprised of a long coastline and a land border shared with both EU and non-EU states, Croatia illustrates some of the challenges facing border management today.
As well as in-depth presentations from the Croatian government, delegates will also hear presentations from other Balkan states discussing topics including cross-border smuggling and trafficking, managing migration through the region, and regional cooperation on border security matters.
There will also be representation from western European nations providing an update on current security challenges faced at their borders and transportation hubs.
With around 150 participants from across EMEA and North America, the event also provides vendors with the perfect opportunity to showcase the latest technologies to an international audience.
The event will be chaired by the IBMATA Chairman, Mr Tony Smith, the former Director-General of UK Border Force.
If you are interested in speaking, sponsoring or exhibiting at the event please contact Martyn Hill: martyn.hill@ibmata.org  or +44 7792 473246.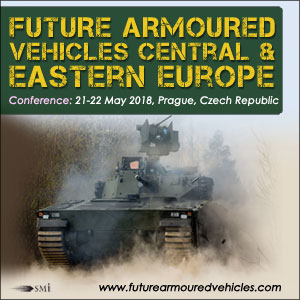 Future Armoured Vehicles Central and Eastern Europe
21-22 May 2018, Prague, Czech Republic
SMi Group's 4th annual Future Armoured Vehicles Central and Eastern Europe conference returns to Prague, Czech Republic on 21st and 22nd May 2018.
With the Czech Armed forces undergoing a multi-billion acquisition and modernisation programme for their armoured vehicle fleet, this year's Future Armoured Vehicles CEE conference will not only bring together land and procurement experts to discuss developments in the domain of land material but will directly support the multi-billion procurement programmes of the Czech Republic and of the regional nations present.
Join us in Prague this May to explore combat vehicles development in this highly dynamic region, and more than ever at the heart of the European security landscape!
Highlights:
Benefit from detailed insight into the Czech Armed Forces' modernization and procurement plans pertaining to its 8×8, main battle tank, and IFV replacement
Hear detailed updates from key Central and Eastern European nations on their respective procurement and modernization programmes, including briefings from heads of land, of procurement, and operational command from Poland, the Czech Republic, Croatia, Austria, Slovakia, and many others!
Join exclusive briefings from other leading nations and organisations such as Sweden, the US, Spain and OCCAR
View the latest combat vehicle survivability, C4I, and weapon systems technology in the exhibition area
Register by 29th March to save £100!
View the agenda and register at: http://www.futurearmouredvehicles.com/hsrc

Transport Security & Safety Expo
11-12 June 2018, Washington D.C
http://www.transportsecurityworld.com/events/tssx
Transport Security and Safety Expo (TSSX) is the only event of its kind to provide a platform for transport operators across all verticals, government officials and suppliers to address current concerns, share best practice and build long-lasting business connections.
See the full list of speakers and register on http://www.transportsecurityworld.com/events/tssx