Featured Events
---
---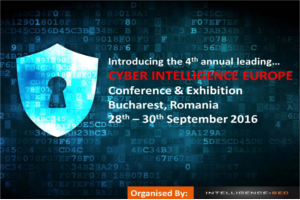 28-30 September, 2016. Bucharest, Romania
Cyber-attacks are continuing to rise across Europe with many government and private sector firms being attacked through Malware, DDoS and Trojan Horse attacks and losing sensitive information. Cyber Intelligence Europe 2016 will once again take place in Romania who is the leading cyber security nation in Eastern Europe with a high level of investment being used to create a strong cyber defence strategy for the region.
Our 4th annual Cyber Intelligence Europe conference and exhibition will bring together leading public sector officials who will discuss the latest challenges and threats they are facing to their computer networks. There is now a greater need to track the criminals and a high level of intelligence is needed to monitor computer systems and tracing the threat before it is too late.
Cybercrimes have also been on the increase in recent years and many companies and critical infrastructure organisations have been attacked. This has created a greater need for the public and private sectors to share information to combat against the criminals.
Don't miss out on taking part at our international Cyber Intelligence Europe event on the 28th – 30th September 2016.
For more information regarding this international event please contact us at events@intelligence-sec.com or +44 (0)1582 346 706.
---
---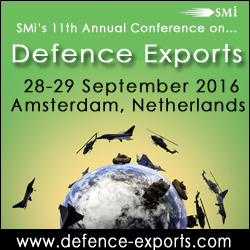 28-29 September, 2016. Movenpick Hotel, Amsterdam, Netherlands
Defence Exports 2016 will provide crucial ITAR, ECR, EAR and OFAC updates as well as changes to national European export controls from long-standing EU members, recent members as well as non-EU national updates. Alongside the elite panel of government speakers, senior international trade compliance professions will discuss the key challenges in compliance and topics include cyber security and export violations, electronic data services such as cloud and how to comply, global trade compliance programmes and self-disclosure. Speakers 2016 include Global Legal Services, U.S. DoD, Pillsbury Law, BAE Systems, MoD Israel, Bell Helicopter Textron, Netherlands Ministry of Foreign Affairs, NATO, Danish Business Authority and many more.
www.defence-exports.com/hsrc
E-mail: jrotar@smi-online.co.uk
Tel: +44 (0) 207 827 6054
---
---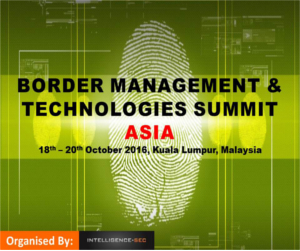 Border Management & Technologies Summit Asia
18-20 October, 2016. Kuala Lumpur, Malaysia
Asian nations have been developing their borders significantly in the past few years. Many Asian airports now have the latest biometric and passenger naming systems available, however, many nations are still catching up, and with more passengers flying through Asian nation's development on their borders is critical.
We are pleased to bring our successful Border Management & Technologies Summit to Asia. Our event will focus on the current border management systems in place across Asia-Pacific. Many countries in Asia have separate borders from the mainland, such as islands, which makes it harder to manage the borders.
The maritime environment in Asia is critical and many countries rely on fisheries to generate their country's GDP. With this in mind surveillance of the maritime domain is an important aspect of border security in Asia. Our event will focus on the challenges of managing coastal borders and tracking migration through the maritime domain.
Border Management & Technologies Summit Asia will also discuss the development of Integrated Border Management (IBM) systems in Asia and review the capabilities of a number of nations in Asia.
To take part in our international event either as a speaker, sponsor, exhibitor or as a delegate please contact us at events@intelligence-sec.com or call us on +44 (0)1582 346 706
---
---
Air Missile Defence Technology
24-25 October, 2016. Prague, Czech Republic
SMi's Air Missile Defence Technology conference will provide updates on capabilities and requirements from national militaries on their Air Missile Defence programmes, the challenges associated with developing those programmes, the importance of interoperability between nations to ensure a cost efficient and effective Air Missile Defence strategy, as well as the growing importance of interoperability within technological systems to ensure a swift transaction from existing to new AMD platforms. These topics will be addressed by military speakers, solution providers, and, crucially, industry technological experts on hand to provide the latest information in developments within Air Missile Defence Technology. Military forces are looking to combat the complex threats posed by a wide range of missiles and ensure the security of their own territory. Currently, this is perhaps more prevalent in Eastern Europe than anywhere else with rising tensions being met with a demand for advances and developments in Air Missile Defence Technology. Therefore, this two-day event will explore the strategies and technologies required to develop next generation capability in this vital area of national defense.
---
---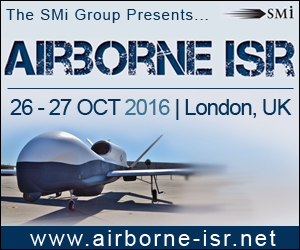 26-27 October, 2016. London, UK
In today's complex and ever changing operational environment, the demand for increased situational awareness continues to grow. As a decisive and indispensable tool, air based ISTAR is increasingly relied upon to deliver this capability, allowing commanders to understand the situation on the ground and act accordingly.
Covering direction, collection, process and dissemination, Airborne ISR aims to thoroughly analyse the intelligence chain and deliberate best practice for the enhancement of ISTAR capability. Drawing on respective nations ISTAR structure, operational feedback and training, to explore the doctrine necessary to develop this vital asset.

Importantly, the conference will also benefit from the guidance of technical leaders from research and industry, whose insight into the latest platforms, systems and sub-systems will provide greater awareness of existing and future capability.
Early Bird Discounts available! For more information and to register, please visit www.airborne-isr.net/hsrc
---
---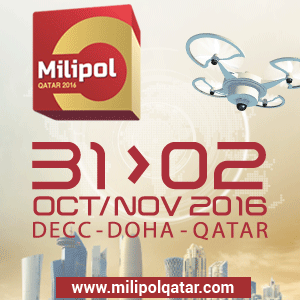 31 October – 2 November, 2016. Doha Exhibition & Convention Center
11th International Exhibition of Homeland Security – The Middle East Security Pass.
In 1996, the State of Qatar has chosen the Milipol trademark for its international references. The Milipol Qatar exhibition is being held under the aegis of the Ministry of Interior of Qatar, who has appointed a "Milipol Qatar Committee", made of four high ranked officials. They are responsible for the organization in Doha of the event, under the authority of the Prime Minister and Minister of Interior H.E. Sheikh Abdullah Bin Nasser Bin Khalifa Al-Thani.
For 19 years, the teams in Paris and Doha have been working in close relationship. As for Milipol Paris, Milipol Qatar is a biennial exhibition but is held on even numbered years. With the passing editions, Milipol Qatar has become the biggest international exhibition in the Middle-East, dedicated to internal State Security. It has made a name of itself through the professionalism and the quality of its exhibitors and visitors, all linked to the public and industrial security sectors.
Milipol Qatar attracts the biggest companies in the world which showcase their latest products and innovations in the fields of security, safety, detection and prevention equipment and systems as well as various other defence supplies.
Milipol Qatar 2014 easily surpassed all achievements from its previous editions: 6,583 visitors from 63 countries – 93% of them were satisfied with their visit, 261 exhibitors from 36 countries – 85% of them were satisfied with their participation, 146 Official Delegates and 213 journalists.
For additive information, please refer to the Milipol Qatar website , Milipol Qatar 2014 Statistics , Milipol Qatar 2014 exhibitor list , Milipol Qatar visitors profile and 2014 video.
Attend the 11th edition of Milipol Qatar
31 Oct. / 2 Nov. 2016 – Doha Exhibition & Convention Center
www.milipolqatar.com – sales@milipol.com – T. +33 1 76 77 13 14
---
---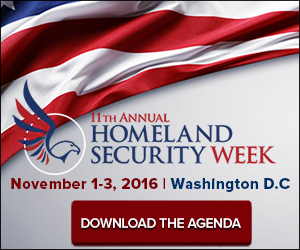 1-3 November, 2016. Washington, D.C.
Homeland Security Week returns for its 11th year in its new location at the Ronald Reagan Building & International Trade Center. The event will bring together 35+ homeland security leaders and 250 attendees to discuss the future requirements necessary for government agencies, all directly or indirectly responsible for US homeland security, to facilitate a complex, joint, multilayered plan that will combat the evolving challenges our country faces.

Homepage: http://bit.ly/297ybl6

Event Agenda: http://bit.ly/299cbW0

Registration: http://bit.ly/29izrBu
---
---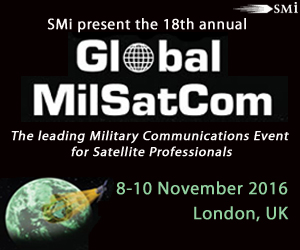 Global MilSatCom Conference and Exhibition
8-10 November, 2016. Park Plaza Riverbank Hotel, London, UK
Europe's leading military satellite communications event, described by the audience as "the best networking event" in their calendar will bring together over 450 of the industry's key senior military representatives alongside the world's leading SatCom solutions providers and operators.
Global MilSatCom 2016 will feature 3 days' worth of exceptional keynote addresses, industry-leading presentations and interactive panel discussions to allow attendees the opportunity to hear about the newest technologies to help them develop more secure satellite communications.
In this unrivalled event products and services will be unveiled, there shall be new updates on military SatCom programmes and crucial topics will be discussed. These include the potential for greater exploitation of commercial services to satisfy end-user military requirements, how the great demand for more resilient and protected SatCom is being satisfied, the potential for SatCom on airborne platforms in years to come as well as discussion on allied partnerships and interoperability as a solution for governments and militaries across the globe.
Benefits of Attending Global MilSatCom 2016:
Meet and network with over 450 attendees, including 120 military personnel
Hear critical updates on military programmes and understand how your solutions can satisfy their requirements
Discuss topical issues, such as the SatCom AoA in the U.S, the renewal of European programmes and how emerging markets are satisfying their MilSatCom requirements
Understand the latest technological solutions and how these best suit the end-user
Expert Speaker Line Up for 2016 includes:
Senior Representative, UK Ministry of Defence
His Excellency Dr Mohammed Al Ahbabi, Director-General, UAE Space Agency
Colonel Leonardo Musmanno, Head of Navigation, Surveillance and SatCom Division, Italian Ministry of Defence
Lieutenant Colonel Abde Bellahnid, Directorate of Joint Capability, SATCOMS & SAR Requirements, Department of National Defence Canada
Lieutenant Colonel Kenneth Sandler, Assistant Chief of Staff G6, U.S Marine Corps Forces for Europe and Africa
Wing Commander Rhys Taylor, Joint Communication and Information Systems (J6), New Zealand Defence Force
Lieutenant Colonel Frank Valentin Nielsen, CIS Operations Support Department, Danish Defence Command
Major Attila Horvath, SatCom Specialist, Hungarian Defence Forces
Major Nicolas Stassin, Defense Staff/ Strategy Department/ Defense Development Division/ Capabilities Section/ Enabling Space, Belgian Defense
Clare Grason, Programme Manager, Enhanced Mobile Satellite Services, DISA
Dean Olson, Senior SatCom Policy Analyst, DoD CIO, U.S Department of Defense
Deanna Ryals, Chief of International MilSatCom, U.S Air Force
Senior Representative, DGA France
Magali Vaissiere, Director of Telecommunications and Integrated Applications, European Space Agency and many more.
Event programme also includes two pre-conference workshops:
Workshop A: Architecting Space Systems; Hosted by The Aerospace Corporation
Workshop B: The Low Earth Orbit Small Satellite Constellation Revolution; Hosted by Surrey Satellite Technology

Lead Sponsor: SES.
Gold Sponsor: Airbus Defence & Space.
Networking sponsors: Eutelsat and Lockheed Martin.
Sponsors and Exhibitors: Advantech Wireless, Boeing, Comtech Telecommunications, Comsat, Datapath, GATR Technologies, Hughes, Intelsat General, LuxGovSat, Newtec, O3b Networks, Raytheon, Spectra Group UK, Thales, Uniquesys, ViaSat and many more!

To sponsor/exhibit: contact Alia Malick on +44 (0) 207 827 6168
Delegate/group bookings: contact James Hitchen on +44 (0) 207 827 6054

For further information, go to www.globalmilsatcom.com/HSRC
---
---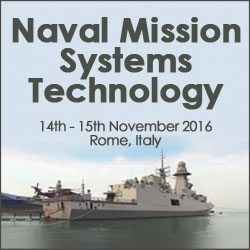 Naval Mission Systems Technology
14-15 November, 2016. Crowne Plaza Hotel, Rome, Italy
Optimising the Collection and Dissemination of Data within Naval Mission Systems to Maximise Maritime Operations
Navies are constantly looking at how the collection and dissemination of data from marine helicopters, UAVs, radars and shore based sensors through C2 systems can be improved to produce an accurate, clear, and all-encompassing picture of the maritime theatre for allied forces.
The complexity associated with effectively coordinating the variety of operations of these systems means that interoperability between all systems, divisions, and nations is of paramount importance. Therefore, SMi's Naval Mission Systems Technology Conference will explore the strategies and technologies required to develop next generation capability in this vital area of national defence.
This conference will provide updates from national navies on their mission system capabilities, future requirements and the associated challenges. Focusing on the importance of technological interoperability to ensure a swift transaction from existing to new platforms as well as allowing continual upgrades to respond to evolving mission tasks. These topics will be addressed by expert military speakers, solution makers and industry providers to offer the latest information in developments within Naval Mission Systems Technology.
The expert speaker panel includes: Italian Navy, German Navy, NATO Modelling and Simulation Center of Excellence, BAAINBw and many more.
EARLY BIRD OFFERS AVAILABLE:
Register by 15 July to SAVE £400!
Register by 31 August to SAVE £300!
Register by 30 September to SAVE £200!
www.navalmissionsystems.com/hsrc
Contact Drew Miller on: Tel: +44 (0) 207 827 6128 | email: dmiller@smi-online.co.uk
---
---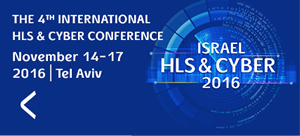 4 thInternational HLS & CYBER Conference
14 – 17 November, 2016. Tel Aviv, Israel
The 4th International HLS & CYBER Conference is a biennial event that combines a comprehensive exhibition of the most recent technological advancements and the latest developments with the presence of and insights by some of the leading international experts in the field and one-on-one meetings with high-level executives from the most reputable security firms in the world.
Don't miss the opportunity to meet industry leaders and government officials, from Israel and, around the world, who will share their expertise and operational experience in handling security challenges, all the while discovering Israel's latest technological solutions on the market at the
4th International HLS & CYBER Conference
in Tel Aviv, Israel, November 14 – 17, 2016.
---
---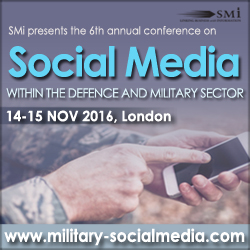 Social Media Within the Defence and Military Sector
14 – 15 November, 2016. Holiday Inn Bloomsbury, London UK
Social Media has become increasingly integrated into the fabric of military life in the 21st Century – not only as a means of reaching out to a global audience for recruitment and information but as a new front in warfare. Thus, SMi's 6th conference on Social Media within the Defence and Military Sector provides the ideal platform to discuss how social media has become a vital tactical tool on and off the battlefield. With the biggest speaker lineup to date, hear from some of the leading social media experts including NATO, UK MoD, US DoD, SHRM, Twitter, LinkedIn, etc as they explore strategies in communications through social media in military activities.
KEY HIGHLIGHTS:
Discover a unique approach to both strategic communications and tactical use of social media on the ground during operations
Learn from the military and commercial sector on how to create an effective social media strategy
Discover how social media is intertwining with other aspects of warfare to create a multi-levelled war zone both in the real world and the virtual one.
Explore how nations are using social media in new and innovative ways as digital communications becomes essential to the perception of military activities
Panel Discussion: Overcoming the challenge of generating skilled personnel ready to engage in media operations
View the full conference agenda and list of speakers at www.military-socialmedia.com/hsrc
HOW TO REGISTER:
Earlybird offers available – Book by 30 June to save £400, Book by 30 September to save £100. Register online at: www.military-socialmedia.com/hsrc.
SPECIAL RATES AVAILABLE FOR MILITARY AND GOVERNMENT REPRESENTATIVES
---
---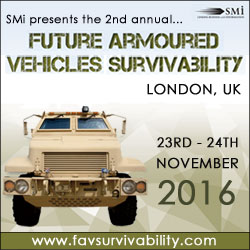 Future Armoured Vehicles Survivability
23-24 November, 2016. London, UK
SMi's 2nd annual Future Armoured Vehicles Survivability conference will focus on the collaboration between military and industry and invites not only capability and operational flag officers to share their lessons learnt from theatre, but also the lead engineers, chief scientists and technical directors from the vehicle manufacturers themselves, who create the platforms and technologies at the heart of the armoured vehicle. The two-day conference programme will detail latest industry developments and what leading defence nations and their selected OEMS are doing to enhance the safety and security of their troops, which will enable you to optimise your own armoured vehicle platform for maximum protection.
---
---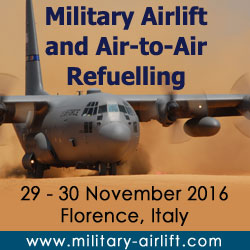 Military Airlift and Air-to-Air Refuelling
29-30 November, 2016. Florence, Italy
SMi's 17th annual Military Airlift and Air-to-Air Refuelling, Europe's largest bespoke military conference, will feature an international line-up of senior military, multinational commands and expert industry speakers who will provide a comprehensive overview of strategic and tactical airlifts in Europe. The two-day event will also enable you to participate in discussions on interoperability enhancement and how emerging technology will impact next-generation airlift capabilities. Whilst the focus is mainly on airlift for military operations, the agenda will also feature presentations on military logistics, humanitarian response and vertical helicopter airlift. Furthermore, delegates will have the opportunity to attend a complimentary site visit to the Pisa Air Force Base, which will be hosted by the Italian Air Force.
---
---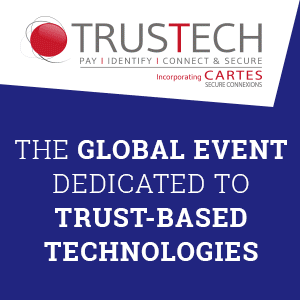 29 November – 1 December, 2016. Palais des Festivals, Cannes
TRUSTECH is the global event dedicated to TRUST-BASED TECHNOLOGIES. Secure Payment, Identification and Connections are the buzz words for a 3-day event offering unrivalled networking opportunities and keynote speakers.
The format of TRUSTECH has been completely redesigned: Two Events-in-One Format: meet up with industry professionals and keep up with the latest innovations!
CARTES, the exhibition for the Smart Card Ecosystem with stands.
TRUSTECH CONFEX, featuring the latest generations of Payment and Identification Technologies with packaged offers including booths, speaking opportunities, conference passes and communication tools.
How to take part to TRUSTECH 2016?
Attendees have also 2 ways to participate in TRUSTECH 2016:
VISITOR PASS: Register as a free visitor and gain access to the CARTES Exhibition and TRUSTECH CONFEX floor.
CONFERENCE PASS: Order your conference pass and gain access to an unrivalled content thanks to TRUSTECH CONFEX programme, and both the CARTES Exhibition and TRUSTECH CONFEX floor. Take advantage of the various social and networking opportunities.
Key figures:
TRUSTECH (Incorporating CARTES) gathers yearly:
18,000+ attendees
400+ exhibitors & sponsors
250+ speakers
1,800+ CEOs
130+ countries
80+ media & institutional partners
---
---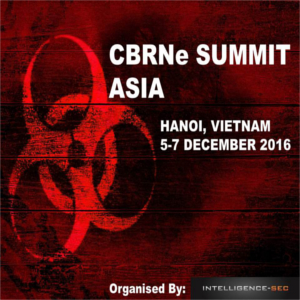 5-7 December, 2016. Hanoi, Vietnam
We are pleased to announce our 2nd annual CBRNe Summit Asia conference & exhibition which will take place in Hanoi, Vietnam on the 5-7 December 2016. CBRNe threats are becoming a key focal point in the region for many governments who are developing their CBRNe capabilities and response techniques.
Vietnam is one of these countries that are investing capital into creating a strong CBRNe defence capabilities and response teams. This event will review what the local government of Vietnam are doing to create their CBRNe Capabilities and how they are working side by side with neighbouring nations and the UNICRI.
CBRNe Summit Asia will also have a special focus on the 2020 Olympic Games preparations being taken by the Japanese Government and Defence Force. They see CBRNe threats as one of the main threats to their cities and stadiums in Tokyo.
During the event you will have the opportunity to hear presentations focussing on all aspects of CBRNe allowing you to develop your understanding the threats faced across the CBRNe domain. CBRNe Summit Asia will discuss the following topics over the 3 days; Regional CBRNe Capabilities and Developments, Vietnam CBRNe Capabilities and Threats, Japan's preparations for the 2020 Olympic Games, Biological Threats and Countermeasures, Countering IED's in major cities, Radiation Monitoring and Threats and finally Nuclear Security Challenges.
You will hear in-depth presentations from the following governments; Vietnam, Thailand, Hong Kong, China, Malaysia, Laos, Brunei, Philippines, Japan, Cambodia, Myanmar, USA, Italy and many more…
To be part of our international CBRNe Summit Asia conference & exhibition either as a speaker, sponsor, exhibitor or delegate please contact us either by telephone +44 (0)1582 346 706 or email events@intelligence-sec.com
---
---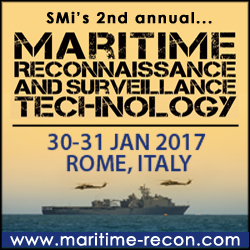 Maritime Reconnaissance and Surveillance Technology 2017
30-31 January, 2017. Rome, Italy
Gold Sponsor: PAE

After last year's huge success the SMi Group is proud to announce the 2nd Maritime Reconnaissance and Surveillance Technology. The event will be held in Rome on the 30th and 31st of January 2017.
Based on the success of the 2016 conference, we aim to replicate and improve by providing a more regional focus, not just on the Mediterranean, but other areas of interest including the Black Sea and further beyond in the Asia Pacific region. All of which have keen collective interest on ensuring the safety and security of legitimate maritime activities.

This high level meeting will bring together senior military leadership, project decision makers, technical experts and cutting edge industry solution providers to explore future endeavours that will enhance the security and stability of the world's oceans.

The 2017 programme will:
Provide a wider regional focus outside of the Mediterranean where challenges are also persistent
Feature high ranking military and law enforcement officials involved with the enhancement of maritime surveillance platforms and systems
Present a running theme on the importance of information sharing as operations are increasingly conducted at an international level
Include Informal networking time to talk to peers and colleagues also shaping and influencing Maritime ISR programs today
Allow learning on how other nations are developing their maritime surveillance and reconnaissance provision from past experience and cutting edge research and development
Get to the heart of challenges faced by modern maritime forces such as capability gaps and what requirements they now have
HOST NATION KEYNOTE SPEAKERS:
Rear Admiral Giovanbattista Raimondi, Chief of C4 and Security Department, Italian Navy
Rear Admiral Nicola Carlone, Chief of Operations, Italian Coast Guard
Colonel Sergio Cavuoti, Chief of the Intelligence and Awareness Policy Branch of the Air Staff Aerospace Planning Division, Italian Air Force
REGIONAL EXPERT SPEAKERS:
Rear Admiral Enrico Credendino, EU Navfor Med Operation Commander, EU Naval Force
Commodore William Ellis, Commander CTF-67, US Naval Forces Europe
Captain Jan De Beurme, Chief of Staff, Belgian Navy
Wing Commander Richard Berry, P-8 Poseidon Program Manager, Royal Air Force
Commander Michael Sela, Head of C5I Branch in the R&D department, Israeli Navy
Commander Pasi Staff, Chief of Surveillance, Finnish Navy
Commander Hannes Schroeder-Lanz, Branch Chief C4ISR, Germany Navy
Guy Thomas, Director, C-SIGMA
Gerard O'Flynn, Head of SAR Ops, Irish Coast Guard
Leendert Bal, Head of Department C Operations, European Maritime Safety
Joachim Beckh, Technical Working Group Chair, MARSUR
Vice Admiral (Ret'd) Peter Hudson, Former Commander, NATO MARCOM
HOW TO REGISTER:
EALYBIRDS AVAILABLE:
BOOK BY 30TH SEPTEMBER TO SAVE £400
BOOK BY 31ST OCTOBER TO SAVE £200
BOOK BY 30TH NOVEMBER TO SAVE £100
Register online at: www.maritime-recon.com/hsrc or email Justin Predescu on
jpredescu@smi-online.co.uk
---
---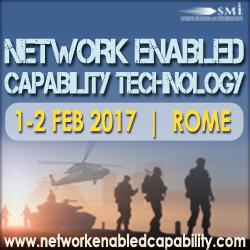 Network Enabled Capability Technology
1-2 February, 2017. Crowne Plaza Rome – St Peter's, Rome, Italy
Over the last few years several nations have been involved in researching, developing and implementing network enabled capability technologies across armed forces.
Therefore, SMi's Network Enabled Capability Technology conference will take into consideration various MOD's NEC programs developed by different nations.
Key presentations will discuss various technological components and strategic approach to deliver systems and ultimately a more advance force to phase present and future threats.
The two-day agenda will feature high-level military support from the Italian Army and keynote sessions from US Army Europe, US EUCOM, NATO, SHAPE, Norway and the Netherlands.
---
---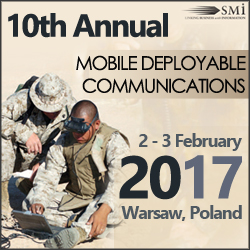 10th Annual Mobile Deployable Communications
2-3 February, 2017. Warsaw, Poland
SMi Group's 10th annual Mobile Deployable Communications conference will take place in Warsaw, Poland on 2nd-3rd February 2017 with the full support of the Polish Armed Forces. With growing external threats to national and regional security, the Polish Armed Forces are modernising their systems and enhancing capabilities, and this includes tactical communications, making it the ideal location for this event.
Along with strong support from the host nation, there will also be neighbouring and regional speakers providing updates on their tactical CIS capabilities, programmes and war fighting requirements.
The unrivalled expert speaker line up for 2017 includes: Polish Armed Forces, DGA France, DISA Europe, Belgian Defence, Netherlands MoD, Spanish MoD, Multinational Corps North East, EU Military Staff, U.S Army Europe, European Defence Agency, NATO Force Integration Unit Poland, General Dynamics Mission Systems, Thales and many more!
Proudly sponsored by General Dynamics Mission Systems, Tampa Microwave and Thales, the event is expected to attract over 100 attendees, so you can expect to meet the following:
Heads of CIS
Tactical Communications Programme Managers
Heads of J6
Heads of Signals
Heads of Communications
Benefits of attending:
Meet and network with the Polish Armed Forces and discuss procurement opportunities and key developments in national communication capabilities
Hear national updates on CIS capabilities and tactical communication programmes and learn how you can adapt your solutions
Discuss the future of tactical CIS capabilities, from higher frequencies and faster rates to broadband access in remote locations
Analyse the latest products and solutions and discuss how they are going to transform tactical communication capabilities
Register by 31st October to save £400
30th November to save £200
16th December to save £100
Register online at: www.mobiledeployable.com/hsrc
---
---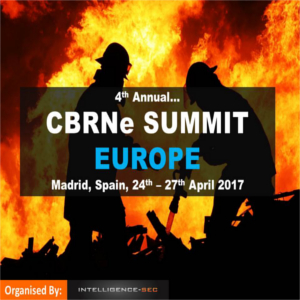 4th annual CBRNe Summit Europe
24-27 April, 2017. Madrid, Spain
We are pleased to announce that our 4th annual CBRNe Summit Europe conference & exhibition will be taking place in Madrid, Spain on the 24-27 April 2017. Our leading event will allow you to meet with the region's leading CBRNe officials to discuss the latest CBRNe threats and techniques used to respond to attacks.
CBRNe Summit Europe is the leading CBRNe event in Europe with 200+ participants from across EMEA and the US. With many western European countries on high terror alerts due to recent attacks in Paris and Brussels, this event will allow participants to hear from leading first responders, military and government officials on how they are combating threats to their major cities and the techniques used in responding to attacks to civilians.
As well as the threat of IED's and WMD there is an ongoing threat of biological outbreaks across Europe with the latest threat coming from the Zika virus which many global agencies such as the ECDC and WHO are working to contain if the virus spreads into Europe.
CBRNe Summit Europe will provide an insight into Europe's CBRNe Capabilities and response to attacks. By participating at our leading event you will also hear presentations on the following topics; Medical Countermeasures, European CBRNe Capabilities, CBRNe Forensics, CBRNe Intelligence and Information Sharing, European Policies and Strategies to counter the threat of CBRNe attacks and Countering IED's.
Our CBRNe Summit is officially endorsed by the NATO JCBRN Defence Centre of Excellence who provides input into the agenda and assist with inviting key officials from NATO's member states to take part at the event. We also have the support of OSDIFE as our Scientific Partner who assist us with inviting senior speakers from across EMEA and the US.
We are also pleased to announce that on the 27th April 2017 you will have the opportunity to visit the Spanish Army Medical Brigade HQ where they will demonstrate their decontamination units as well as other CBRNe assets/capabilities they have.
To be part of our CBRNe Summit Europe conference & exhibition either as a speaker, sponsor, exhibitor or delegate please email us at events@intelligence-sec.com or call us on +44 (0)1582 346 706
---
---