Featured Events
---
---
Maritime Reconnaissance & Surveillance Technology
15 – 16 February 2016. Crowne Plaza Hotel, Rome, Italy
Maximising Maritime Situational Awareness Capabilities for Security of Life and Territory at Sea
Maritime Reconnaissance and Surveillance Technology 2016 will feature leading experts representing Italian, Swedish, Irish and US Coast Guard, Italian Air Force, NATO, Finnish Navy and many more.

The 2-day event programme will cover a variety of topics including:
Procurement projects for multiple ISR platforms including UAVs and maritime patrol aircraft
Operational experiences conducting maritime missions
International coastguards' experience and border control
Research & Development: Maritime surveillance systems
International cooperation; Information sharing
Search and rescue missions and so much more.
The speakers and invited participants will be carefully selected to bring together those with active requirements for Maritime ISR assets and will ensure that as well as military leaders, the OEMS and prime contractors participate. We will also make sure that the very latest technology innovators will be present to share their ground breaking equipment with a captive audience all looking to advance their Maritime Situational Awareness programmes.
CONFIRMED SPEAKERS 2016 INCLUDE:
Brigadier David Evans, Head of Information Superiority, Royal Navy
Captain Andrea Micheli, Head of the C2IS Office, C4 and Security Department, Italian Navy
Chris Reynolds, Head of the Irish Coast Guard
Colonel Sergio Cavuoti, Chief of the Intelligence and Awareness Policy Branch of the Air Staff Aerospace Planning Division, Italian Air Force
Commander Pasi Staff, Chairman of European Maritime Surveillance Network, Finnish Navy
Guy Thomas, Director, C-Sigma
Jonathan Locke, Senior Scientist, Centre for Maritime Research and Experimentation, NATO
Lieutenant Commander Sam Edwards, Maritime Domain Awareness, US Coast Guard
Confirmed Representative for EU Naval Force
Rear Admiral Dan Thorell, Director, Response and Law Enforcement Department, The Swedish Coast Guard
Rear Admiral Nicola, Carlone Chief of Operations, Italian Coast Guard and many more.
For further information on this event please go to www.maritime-recon.com/HSRC
Contact e-mail: jrotar@smi-online.co.uk
Contact tel: +44 (0) 207 827 6130
---
---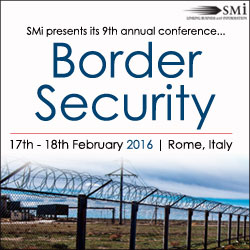 9th annual Border Security Conference
17 – 18 February 2016. Rome, Italy
SMi Group are proud to announce the return of the highly successful Border Security conference, now in its 9th year. The value of this event is recognized by the Italian Navy who will be sending a delegation to attend and provide a senior speaker to present on the current operations in relation to the migrant crisis.
The event will also focus on other aspects of border security, such as the smuggling of drugs and illegal goods at the border as well ascounter terrorism. Sessions will focus on how this can be reduced, whether it be modern technologies, greater collaboration or a larger security presence at the border.
CONFIRMED SPEAKERS 2016 INCLUDE
Chairman: Rear Admiral (Ret'd) Massimo Annati, Former Head of the International Matters at the Naval Armaments Directorate, Italian Navy
Rear Admiral Enrico Credendino, Commander, EU Naval Force Mediterranean
Rear Admiral Luis Sousa Pereira, Commandant PRT Navy Marine Corps (Fuzileiros), Portuguese Navy
Antti Hartikainen, Director-General, Finnish Customs
David Skuli, Director, Central Directorate of Border Police, French National Police
Ambassador Andrew Tesoriere, Head, EU Border Assistance Mission (EUBAM) to Moldova and Ukraine
Detlef Schroeder, Deputy Director, CEPOL and many more
BENEFITS OF ATTENDING BORDER SECURITY 2016
Meet and network with the Italian Navy who are speaking, chairing and sending a delegation to attend the event
Understand the critical issues in the European migrant crisis
Hear from key European organisations on how to further secure external European borders in the current climate
Listen how modern technologies will reduce smuggling and fraud at the borders
Learn about the critical challenges faced at sea, land and air borders
Discuss how technology solutions can further strengthen borders and improve efficiency
For further information about Border Security 2016 please go to www.bordersec.com/HSRC
Contact e-mail: jrotar@smi-online.co.uk
Contact tel: +44 (0) 207 827 6054
---
---

1 – 3 March, 2016. Islamabad, Pakistan
Safe Secure Pakistan 2016 is the only premium b2b exhibition of Pakistan which provides an excellent opportunity for international safety & security equipment manufacturers to reap the benefits from this potential market. Over the years, the event has reinforced its position as a one stop solution for the regional Safety & Security industry with optimum networking. SAFE SECURE PAKISTAN 2016 will focus to attract key industry stakeholders from all across the world to showcase latest technology, innovations and advancement of internal security, fire fighting, policing, emergency & rescue, transport safety.
Over the period of 11 years, the exhibition has successfully introduced numerous security equipments and services in Pakistan from all over the world. The show provides an excellent platform for public and private sector to experience and adapt latest safety and security technology and solutions. The exhibition is attended by over 6500 business professionals from across Pakistan.
---
---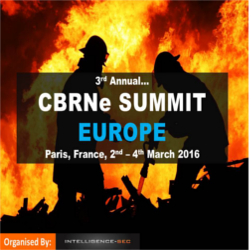 2 – 4 March, 2016. Paris, France
Our 3rd annual CBRNe Summit will focus on many key areas in the CBRNe industry. With a key focus on the following topics: CBRNe Forensics, Medical Intelligence, CBRNe Capabilities of Civil and Military agencies, Civil-Military Cooperation, Threat of Explosives and First Responder techniques.
CBRNe Summit 2016 will allow you to meet with senior officials from the CBRNe industry with 150+ participants from across 20+ countries in one place over a 3 day event.
To be part of our 3rd annual CBRNe Summit either as a speaker, sponsor, exhibitor or delegate please email us at events@intelligence-sec.com or call us on +44(0)1582 346706.
---
---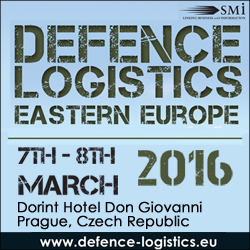 Defence Logistics Eastern Europe
7 – 8 March, 2016. Prague, Czech Republic
Defence Logistics Eastern Europe 2016 aims to bring together members of logistics commands from across the region to discuss the challenges of modernising their logistics forces through training, international cooperation and procurement. While at the same time going through expensive budget reforms.
The 2016 speaker line-up features:
Brigadier General Jaromir Zuna, Director Support Division, Armed Forces of the Czech Republic
Brigadier General Imre Pogacsas, Head of Logistics Directorate, Hungarian Defence Forces
Brigadier General Dariusz Lukowski, Head of J4 Logistics Department, Polish Armed Forces
Brigadier Simon Hutchings, Commander 104 Logistics Support Brigade, British Army
Brigadier General Ivica Olujic, Chief of J4, Croatian General Staff, Croatian Armed Forces
Brigadier General Arild Dregelid, Head of the LOS Programme, Norwegian Armed Forces
Brigadier General Diogini Maria Loria, Head of Logistics, EU Military Staff
Brigadier General Herman Ruys, Deputy Chief of Staff Support and Enabling, EUROCORPS
Commodore Marcel Halle, ACOS J4, NATO SHAPE
Colonel Dr. Pavel Foltin, Director of Logistics Department – Faculty of Military Leadership, University of Defence, Armed Forces of the Czech Republic
Colonel Jan Husak, Director, Multinational Logistics Coordination Centre
Colonel Dr. Pavel Foltin, Director of Logistics Department – Faculty of Military Leadership, University of Defence, Armed Forces of the Czech Republic
Don't miss the masterclass on: Optimising Logistics and Rapid Response to CBRN Incidents in the Czech Republic. Hosted by Colonel Zoltan Bubenik from Armed Forces of the Czech Republic
EARLY BIRD: Book before 30th November to save £400
Visit www.defence-logistics.eu for further details or contact the team on +44 (0) 20 7827 6000 or email: events@smi-online.co.uk
---
---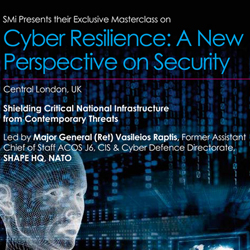 Cyber Resilience: A New Perspective on Security
14 March, 2016. London, United Kingdom
Developing advanced cyber security strategies for the creation of a layered cyber defence, Cyber Resilience: A New Perspective on Security shall explore the establishment of a comprehensive defence from contemporary cyber threats to critical national infrastructure
As well as the strategies and architectures necessary for the establishment of this protection, the master class will explore optimal protocol for organizations of all sizes to take the necessary steps to prepare for the worst-case scenarios. Specifically, the ability to recover quickly in the event of a cyber-attack on their network and deal with the fall out of such an attack
Benefits of attending:
Understand the contemporary threats to critical national infrastructure, the approaches of attackers and their intentions
Master cyber security strategies and architectures for a thorough 1st line of defence
from cyber threats, in doing so, build a more cyber resilient enterprise
Prepare for the event in which your organisation's cyber security is breached, effectively respond and recover by minimizing its impact and restore the functions of your people, processes and systems as soon as possible
REGISTER BY 29 JANUARY AND SAVE £100!
For more information and to register, please visit www.smi-online.co.uk/2016cyberresilience.asp.
---
---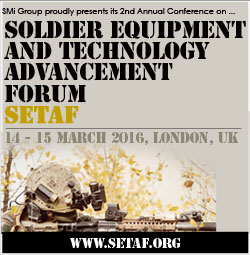 Soldier Equipment Technology Advancement Forum
14 – 15 March, 2016. London, United Kingdom
Building on the positive feedback and success of our previous meeting in Oslo, the second instalment of SETAF shall seek to bring together soldier modernisation program managers, technical leaders from industry, leading researchers and end users, to proactively advance and develop optimum approaches to dismounted soldier capability.
With its unique and interactive format, we maintain our original belief in "No Attendees only participants", with the entirety of our attendees playing an active role in the development of ideas. Unlike other events, SETAF is designed around a combination of panel discussions and focused discussion groups, run by co-chairs who are experts in their respective subject matter. With no PowerPoint presentations or keynotes, SETAF will dedicate the precious time of participants to networking and interactive discussions, making it a complementary part of the soldier modernisation communities' annual training and development programme.
Military experts confirmed from the UK, United States, Germany, Sweden and Netherlands.
Industry experts confirmed from Rheinmetall Defence Electronics, BAE Systems, Thales, Sagem/Safran, 3M Svenska AB, DNV GL Energy, Otis Technology, Thales Norway AS.
REGISTER BY 29 JANUARY AND SAVE £100!
For more information, please visit www.setaf.org or contact Guy Hippisley Cox on +44 20 7827 6197 or ghippisleycox@smi-online.co.uk.
---
---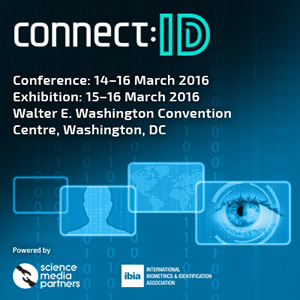 Connect:ID 2016 – An Exploration of Physical & Digital Identity in the 21st Century
14 – 16 March, 2016. WEWCC, Washington, DC
connect:ID is a visionary event, powered by Science Media Partners and the International Biometrics & Identification Association (IBIA), that focuses on all aspects of human identity and the opportunities for its management in the physical and digital worlds.
In an era where identity is increasingly mobile, global and transactional, this international conference and associated expo will explore the development and fusion of multiple advanced identity technologies – including secure credentials, biometrics, and digital identity systems.
Government, commercial and consumer markets are in search of answers to the growing challenges associated with managing and securing human identity. connect:ID will explore these real world requirements in an engaging, thought-provoking and holistic environment that brings together all the stakeholders under one roof.
---
---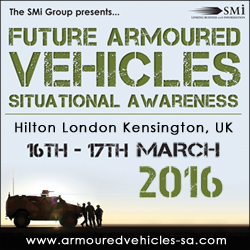 Future Armoured Vehicles Situational Awareness
16 – 17 March, 2016. London, UK
Future Armoured Vehicles Situational Awareness 2016 is the only dedicated meeting that aims to develop capability in this critical area. Combining senior military representation with leading solution providers from industry, Future Armoured Vehicles Situational Awareness 2016 shall draw on operational case studies, strategy, training protocol and the development of cutting edge sensors, communications and optronics equipment.
The speaker line-up features:
Colonel William Nuckols, Director, Mounted Requirements, Manoeuvre Centre of Excellence, US Army
Colonel Fredrik Stahlberg, Commander of the Skaraborg Regiment, Swedish Army
Lieutenant Colonel Mark Cornell, Royal Signals, SO1 Requirements Manager, Battlefield and Tactical CIS Delivery Team, ISS, JFC, UK MoD
Lieutenant Colonel Klein Schaarsberg, Head of Training Branch, Land Training Centre, Netherlands Army
Lieutenant Colonel Peter Nielsen, Commander, Armoured Division, Danish Army Combat and Fire Support School
Major Wouter Alexander Samson, Maneuverer Centre of Knowledge, Department of Defence, Royal Dutch Army
Major Per Kleiven, CV90 Programme Manager, Norwegian Armed Forces
Mr Henk Van Omme, Project Manager, Joint IT Command Netherlands Defence Material Organization
Mr Hans Marrs, AFV Vetronics Project Leader, Federal Office of Bundeswehr Equipment, Information Technology and In-Service Support
Mr Ian Burch, Assistant Head Open Systems, Land Equipment, DE&S
Mr Jos Bormans, Head of Product Management and Innovation, Thales
Mr Guy Davis, Capability Manager, Vehicle Systems, Optronics, Selex ES
Don't miss the pre-conference workshop:
Accessing Vetronics Architectures for the Creation of a Fully Networked and Interoperable Vehicle.
Hosted by Professor Elias Stipidis, Director, Vetronics Research Centre
For further details visit www.armouredvehicles-sa.com
Contact the team on +44 (0) 20 7827 6000 or email: events@smi-online.co.uk
---
---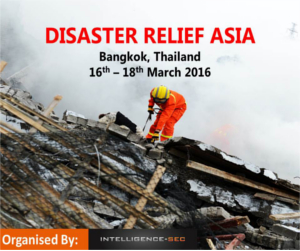 16 – 18 March, 2016. Bangkok, Thailand
With more natural disasters occurring in Asia there is now a greater need for governments and international agencies to put in place the appropriate warning systems and response procedures to deal with the different disasters that take place in the region.
Our inaugural Disaster Relief Asia conference and exhibition will explore different areas of a disaster. There will be a key focus on the following areas during the two day conference: Search and Rescue operations and cooperation amongst agencies, the importance of airlift support, Humanitarian Aid and planning for displaced civilians and future warning systems being developed for different disasters.
Disaster Relief Asia will look at recent natural catastrophes that have happened in Asia and evaluate the response and humanitarian efforts that took place. You will meet with organisations that deal directly with natural disasters who will discuss the current procedures used and what is needed to improve the response to a disaster.
To be part of our inaugural Disaster Relief Asia either as a speaker, sponsor, exhibitor or delegate please email us at events@intelligence-sec.com or call us at +44(0)1582 346 706.
---
---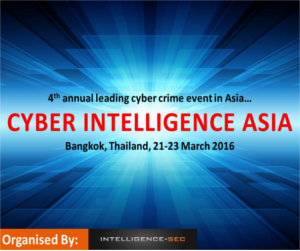 21 – 24 March, 2016. Bangkok, Thailand
Cyber Security is still a key initiative for many governments as many are still vulnerable to Malware, Phishing, Trojans and Website Defacing attacks. Our 4th annual Cyber Intelligence Asia event will focus on the different types of attacks being faced to government computer systems.
Asian nations are becoming much more advanced in dealing with cyber security threats and will demonstrate this during the event with case studies of recent attacks on their government computer network. Our government representatives will also discuss how they dealt with the threat/attack and talk us through their crisis management response to a cyber breach.
With the complexity of cyber security and the sophistication of cyber-attacks it is important for governments to share information amongst themselves to be ahead of the criminals. There is also a need for the public sector to share information with private sector organisations such as banks, telecoms and utility firms who are also being targeted by cyber criminals.
Our 4th annual Cyber Intelligence Asia conference and exhibition will take place in Bangkok, Thailand. The Thai government have been actively improving their critical infrastructure from attacks and be hosting the event in Bangkok will allow the region to hear how Thailand have developed a strong cyber security system for their government agencies.
To take part in our international Cyber Intelligence Asia event either as a speaker, sponsor, exhibitor or delegate please email us at events@intelligence-sec.com or call us on +44(0)1582 346 706.
---
---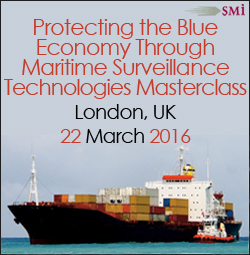 Protecting the Blue Economy Through Maritime Surveillance Technologies
22 March, 2016. London, UK
Over 90% of global trade is conducted on the world's oceans. To ensure this 'Blue Economy' is kept safe form a variety of threats such as piracy; governments, militaries and, increasingly, commercial operators are looking to a whole range of Maritime ISR technologies. In particular space-based surveillance has become a huge factor in how we monitor our seas.
This Masterclass will consider how the military and commercial sectors need to work together more and more to protect their interests at sea, particularly as new technologies, especially those in space begin to emerge.
EARLY BIRD OFFERS:
BOOK BY JANUARY 29TH AND SAVE £100
BOOK BY FEBRUARY 29TH AND SAVE £50
For more information or to register visit the event website www.smi-online.co.uk/maritime-surveillance-technologies.asp or call Salim Al-Souss on +44 20 7827 6056 or email: salsouss@smi-online.co.uk
---
---

29 – 31 March, 2016. Tampa Convention Centre, Florida, USA
The 2016 program will feature some of North Americas most knowledgeable maritime security experts from major ports, private terminals, government departments, and private security solution providers. Conference participants will discuss many topics including global trends in port and maritime security, regulatory impacts, security training, TWIC, and best practices for supply chain security and resilience.
PSOCE – Tampa, Florida developed out of a need for professional development and technical education in the area of maritime security and has made a significant contribution to the exchange of information and best practices over the course of the past seven years. The conference is a forum for practical discussions on how to most effectively implement security in a port environment. Getting the regional picture and any recent initiatives is of great interest to our delegates, as is the evolving regulatory framework that affects millions of seaport workers.
---
---

Southwest Border Security Week
30 March – 1 April, 2016. McAllen, Texas
Don't miss the only border security event located on the border as we head to McAllen, TX to discuss requirements for developing the tools, technologies, and techniques that will support our state, local, and federal law enforcement leaders in the field as they tackle one of our nation's most difficult challenges!
---
---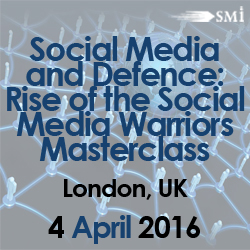 Social Media and Defence: Rise of the Social Media Warriors Masterclass
4 April, 2016. London, UK
The rise of social media has completely transformed the way the Armed Forces conducts operations. No longer are wars just fought with bombs and bullets but also words and information. Armies need to win over the hearts and minds of the people living in theatres of operation while at the same time removing the narrative for support of their enemies. Concurrently, they need to keep the people at home informed of their missions and why they are necessary.
This masterclass considers social media from the perspective of organisations within the defence industry. How can defence organizations best take advantage of the opportunities afforded through social media, while winning the support they need to conduct operations that keep us safe?

EARLY BIRD OFFERS:
BOOK BY JANUARY 29TH AND SAVE £100
BOOK BY FEBRUARY 29TH AND SAVE £50
For more information or to register visit the event website www.smi-online.co.uk/socialmedia-defence-warriors.asp or call James Hitchen on +44 (0) 20 7827 6054 or email: jhitchen@smi-online.co.uk
---
---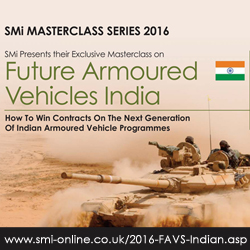 6 April, 2016. London, UK
The armoured vehicle is at the heart of all ground based defence operations and continues to be an essential asset of the Indian Armed Forces. With ongoing modernisation announced, and the likelihood of 2,500 new Armoured Vehicles being procured in the coming 18 months, never has there been a more exciting time for international defence industry to try and get into this highly active market place.
Whether it be pitching for midlife upgrades of the BMP-2 vehicles or seeking to be selected as a partner or component provider for the new FUTURE INFANTRY COMBAT VEHICLE (FICV) and FUTURE READY COMBAT VEHICLE (FRCV), this master class will provide you access to key information on who to contact and how best to engage with the Mechanised Forces, the team behind the Armoured Vehicle fleet of the Indian Army.
Not only will our expert leader describe in detail the existing and forthcoming offset arrangements needed to enter this lucrative market, but he will also outline how the various stakeholders collaborate to make decisions on procuring Armoured Vehicle Systems and Technology.
REGISTER BY 29 JANUARY AND SAVE £100!
For more information and to register, please visit www.smi-online.co.uk/2016-FAVS-Indian.asp
---
---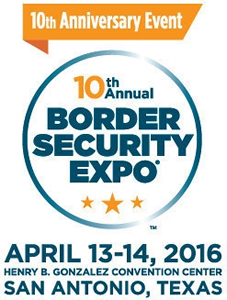 13 – 14 April, 2016. Henry B. Gonzalez Convention Center. San Antonio, TX, USA
Now in its 10th year, Border Security Expo is the only major conference and expo fully addressing border security and has become the go-to destination for federal, state and local government leaders and law enforcement personnel. Taking advantage of the confluence of federal and state events over the past year on the southwest border, including the newly formed Joint Task Force -West, Border Security Expo 2016 will take place in San Antonio, Texas (April 13th -14th, at the Henry Gonzalez Convention Center).

Why Attend?
Find out what's new in border security
Learn from global leaders at the acclaimed two-day conference
Network with peers and colleagues from the US and abroad
See, test and compare the latest equipment, technology and services
Visit the largest exhibition of its kind anywhere in the world from 150+ exhibiting companies
Attend awards ceremonies, memorial services, and networking receptions.
2015 Conference Highlights Included:
Interagency and Cross-Agency Collaboration: DHS State Directors/State/Local Law Enforcement
Port of Entry Technologies
Optimizing Interagency Operations and Intelligence
Keynotes from:
Mark S. Borkowski, Assistant Commissioner and Chief Acquisition Executive, Office of Technology Innovation & Acquisition, U.S. Customs and Border Protection
Elizabeth A. Michelsen, Executive Director, Field Support, Office of Information Technology, U.S. Custom and Border Protection
Daniel Ragsdale, Deputy Director, U.S. Immigration and Customs Enforcement
Vice Admiral Charles W. Ray, Commander, Pacific Area, Commander, Defense Force West , U.S. Coast Guard
Ronald D. Vitiello, Deputy Chief Border Patrol, U.S. Customs and Border Protection
To stay up to date with the 2016 conference schedule as it is announced, visit http://www.bordersecurityexpo.com/con-expo-info.php

Event details:
For more information and to register visit: http://www.bordersecurityexpo.com/
For Exhibits & Sponsorship information contact: John.Moriarty@ClarionEvents.com
---
---

APAC Cyber Security Summit 2016
14 – 15 April, 2016. JW Marriott, Kuala Lumpur, Malaysia
Cyber security is a volatile issue in APAC. APAC is the home for some of the world's least networked countries such as Myanmar and Cambodia plus some of the most networked countries including South Korea, Japan, Malaysia & Singapore. Lack of Infrastructure and weak supporting legislation severely impedes the growth in the information security sector.
The cyber security market is estimated to witness a growth of $170 billion (USD) by 2020, with the increasing awareness from the private sector, military competition in cyber space, political turmoil, and increasing cybercrime, APAC organizations will spend $22 billion on critical infrastructure technologies by 2020. Emerging economies such as China, India and South East APAC countries are one of the most potential destinations for Cyber security solution providers with an inducing need to safeguard cyber space. Sectors such as aerospace, defence, financial institutions, telecom companies are facing cyber attacks on a day to day basis making APAC as one of the most vulnerable and easiest to hack
---
---
Military Space Situational Awareness
18 – 19 April, 2016. London, UK
Military Space Situational Awareness will bring together military space users and private industry specialists from around the world to discuss the challenges of gathering information in space and how they can be overcome through intimate cooperation and research and development.
The speaker line-up features:
Brigadier General Carlos de Salas, Head of C4ISR & Space Programs, Spanish MoD
Colonel Thomas James, Commanding Officer, 1st Space Brigade, US Army Forces Strategic Command
Colonel Franck Schrottenloher, Commander, Environmental Control Office, French Joint Space Command, DGA
Colonel Pierro Serra, Chief of Air and Space Policy, Italian Air Force
Lieutenant Colonel Jaime Sanchez Mayorga, Espace Unit/ C4ISR Area, Spanish MoD
Colonel Helcio Vieira Junior, Commander Space Operations Centre, Brazilian Armed Forces
Colonel Larry Gunn, Program Manager, DARPA USA
Dr Eva Bernhardsdotter, Head of Space Programs, FMV (Swedish Defence Material Administration)
Paul Andrus, Instructor National Security Space Institute, Air University
Professor Sa'id Moteshar, Director, London Institute of Space Policy and Law
Benefits of attending
Gain a unique focus on space situational awareness as the centre of securing current and future space operations
Discuss emerging technologies and operational approaches to SSA as militaries continue to learn and develop their capabilities
Understand how emerging space nations are striving to enhance national security in the Space Domain
Hear and network with experts from major national Armed Forces operating in Space with dedicated SSA roles
HOW TO REGISTER
Book before 29th JAN to save £200
Book before 29th FEB to save £100
Register online at: www.military-space.com/hsrc
Contact James Hitchen on: +44 (0) 20 7827 6054 or email jhitchen@smi-online.co.uk
---
---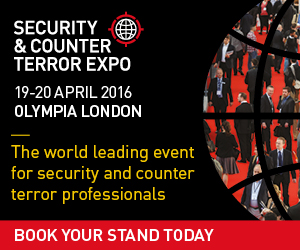 Security and Counter Terror Expo
19 – 20 April 2016, Olympia, London, UK
Security & Counter Terror Expo is the event for any professional tasked with protecting assets, business, people and nations from terrorism. It brings over 9000 attendees from across the globe together to see the latest technology, hear about the latest developments, share best practice and ensure that their threat mitigation strategies are effective.

The free-to-attend exhibition features over 300 leading suppliers, many of whom are showcasing some of the most technologically advanced solutions in preventing terrorism. Running alongside the exhibition are several free-to-attend conferences and seminar areas.

A high-level strategic paid-for conference also sits alongside SCTX, attracting hundreds of senior security, police, government and military professionals. Thought-leading speakers present on some of the most pressing issues we are currently facing.

Registration is now live on the event website – click here
---
---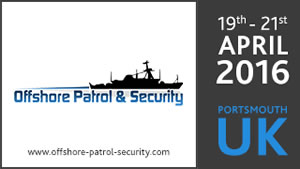 19 – 21 April 2016, Marriott, Portsmouth, UK
Over recent years there has been a consistent evolution of threats being faced by navies and coast guards globally. The volume and variety of missions, whether nationally or internationally focused, has placed an increased emphasis on having a greater number of multi-mission capable platforms with affordable technological advancements.

Offshore Patrol Security provides the naval and coast guard community with the unique opportunity to gain a clear understanding of future requirements and capabilities for multirole platforms.

Offshore Patrol Security will act as the international hub for the naval community and provide an in-depth analysis of emerging markets, future requirements and industry capabilities.

Key Focus Areas
Destroyers, Frigates and OPVs
ISTAR and Combat Information Systems
Coastal Surveillance and Reconnaissance
Freedom of Manoeuvre (MCM and ASW)
System Automation and Lean Manning
Weapon Systems and Survivability
Unmanned Systems
---
---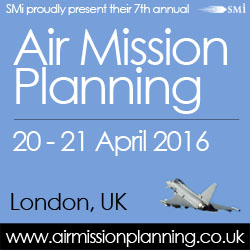 20 – 21 April 2016, London, UK
Building on the successes of our previous Air Mission Planning meetings, next year's event will bring together those at the forefront of the domain, ranging from leading operators, system integrators, technical engineers, chief scientists and the leading industry providers. Air Mission Planning 2016 will explore the strategies and technologies required to develop next generation capability in this vital area.

Air Mission Planning 2016 line-up includes:
UK Ministry of Defence
Royal Air Force, UK
French Air Force
U.S. Air Force, United States
Netherlands Aerospace Centre
NATO
BAE Systems, UK
Saab, Sweden
NATO
Task Team 7 Defence Geographic Centre
RAF, UK
Benefits of attending:
Deliberate the requirements of the contemporary operational environment
Develop advanced strategies for the planning process
Explore Interoperability for coalition operations and joint fires
Hear the very latest technological developments from research and industry, that are enhancing mission support, reducing workload and improving combat effectiveness
Early bird places are strictly limited so register by 18th December to save £400.
To register visit the event website at www.airmissionplanning.co.uk/homelandsecurityresearch or contact Guy Hippisley Cox on +44 (0) 207 827 6197 or email to ghippisleycox@smi-online.co.uk
---
---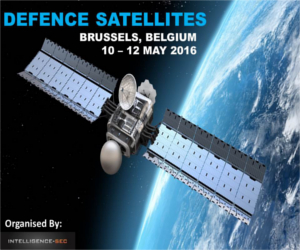 10 – 12 May 2016, Brussels, Belgium
With an increase in the use of satellites being used by the armed forces to support combat operations and intelligence missions overseas Defence Satellites will provide you with an in-depth view of European Space capabilities.
With many military budgets being cut it is becoming tougher for nations to support allies in overseas missions. Many governments support military satellite imagery and surveillance operations to assist allies in combat missions overseas. This is a large shift in previous support militaries used to do as the cost to too high to send troops on the ground and provide air support. Military Satellites are now the first option many governments offer. With this shift there is a greater need for nations to have the most efficient space capabilities and security.
Our inaugural Defence Satellites conference and exhibition will also discuss how leading European Agencies are advising and supporting EU Space Programs and Missions. With military budgets being stretched to the limit there is now more collaborations taking place in space programs, which will be discussed with a focus on the smaller European nations who are working together to build their space programs and capabilities.
With more satellites in orbit many European agencies have to monitor national satellites from colliding, meaning situational awareness is a pivotal part when launching new satellites into orbit.
To take part in our international Defence Satellites event either as a speaker, sponsor, exhibitor or delegate please email us at events@intelligence-sec.com or call us on +44(0)1582 346 706.
---
---

Data Risk Management in Financial Services
10 May, 2016. London Stock Exchange
The 4th annual edition of the Data Risk Management in Financial Services, 10th of May 2016, at the London Stock Exchange brings CISO's and security experts together to debate the threats to data security in the Financial Services sector both internal and external. The summit is organised under The Chatham House Rule, offering a safe and secure environment in order to encourage openness and the sharing of information.
The summit, ranked by the FSI sector as a top FS industry event, will be once again chaired by Don Randall MBE, Cyber Ambassador (former Head of Security), Bank of England, and keynoted The Baroness Neville- Jones, DCMG, PC.
WHY ATTEND?
Learn about the latest regulatory and legislative changes
Discuss Best Practices in FS Data risk assessment and management as well as advanced security models
Learn about the latest solutions and tools in Data Protection
Hear of the new risks in fraud and malicious incidents and discuss the latest tactics and tools for cybercrime prevention
Attend and participate in specially designed DRMF Master classes for enhancing advanced risk management and protection against internal or external threats
KEY THEMES INCLUDE:
Data Risk Management in Financial Services: Existing and Future Challenges
Enhancing Cooperation: Collecting and Sharing Advanced and Detailed Threat Intelligence with Law Enforcement Agencies
Managing Risk, Integrity and Security – Identifying Key Operational Vulnerabilities
The Miracle of Solving All Your Security Issues
Contact George Yankov for more information: +44 (0) 207 352 4356 / george@drmfsummit.com
---
---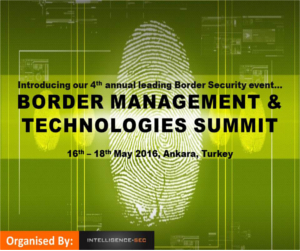 Border Management & Technologies Summit
16 – 18 May, 2016. Ankara, Turkey
Now in its 4th year we are pleased to announce that our Border Management & Technologies Summit is heading to Ankara for the first time. The event will allow you to analyse the latest migration issues being faced in Europe and Turkey's southern border.
There is an argument that the European Union needs to evaluate and review the Schengen Agreement and the free border movement within the EU. It is becoming harder for governments to monitor each migrant and refugee crossing through their borders and identity management is now a critical tool that many governments are looking into improving.
In Eastern Europe many nations are building up their Integrated Border Management (IBM) systems to a similar level to Western European nations. Border Management & Technologies Summit will review where individual countries are with their IBM strategies and their current roadmap.
Our 2016 event will discuss the importance of international cooperation in combating organised crimes across borders and resolving the migrant crisis in Eastern Europe focusing on land borders and the Mediterranean Sea.
You will have the chance to meet with government officials from Turkey, Hungary, Croatia, Kosovo, Albania, Romania, Bulgaria, Georgia and many more
To take part in our international event either as a speaker, sponsor, exhibitor or as a delegate please contact us at events@intelligence-sec.com or call us on +44 (0)1582 346 706
---
---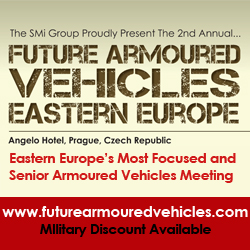 Future Armoured Vehicles Eastern Europe
17 – 18 May, 2016. Prague, Czech Republic
Due to the huge success of our inaugural Future Armoured Vehicles Eastern Europe conference in Prague, June 2015, we are delighted to announce the dates of our 2016 event. The conference will once again be in Prague and will take place on the 6th and 7th of June.
The participants of Future Armoured Vehicles Eastern Europe 2016 will cover the whole value chain of the armoured vehicle equipment market. The speakers and invited participants will be carefully selected to bring together those with active requirements for armoured vehicles and will ensure that as well as military leaders, the OEMS and prime contractors participate. We will also make sure that the very latest technology innovators will be present to share their ground breaking equipment with a captive audience all looking to advance their combat vehicle programmes.
Benefits of Attending:
Launch new products or services at AVTAF and give your company the opportunity to
Educate the market on your company's capability and make the business case for how they can solve your potential customers challenges and requirements
Build your brand so your solutions are front of mind when your prospects are putting potential solution providers on their short list
Meet and network with active buyers while there is still a chance to influence their purchase decision
Generate new leads through meeting new prospects from a variety of new countries and programmes
Learn how to do business in Eastern Europe from procurement and high level military decision makers
REGISTER BY 29 FEBRUARY AND SAVE £400!
REGISTER BY 31 MARCH AND SAVE £200!
For more information and to register, please visit www.futurearmouredvehicles.com
---
---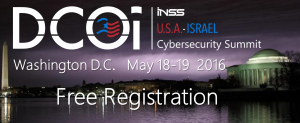 18 – 19 May, 2016. Washington D.C.
DCOI, a cybersecurity conference & exhibition is an effort of the State of Israel, led by the Institute for National Security Studies (INSS)

DCOI 2016 will showcase Israel as the Cyber-Nation, and present Israel's best technological and creative skills, as well as the Israeli industry with some of the most innovative entrepreneurs in the world.

Other than panels and exhibition, the focus at DCOI 2016 will be on enhancing Israel-U.S.A. business relations and technology cooperation through pre-planned one-on-one meetings that will be held between American and Israeli technology experts, business leaders and entrepreneurs.

The pre-planned meetings will be conducted in collaboration with the Trade Mission, Embassy of Israel in Washington D.C. For meeting request please contact Mr. Gil Sela: gil.sela@consanet.com

Be part of this important CYBERSECURITY summit that will be held in Washington D.C. JOIN THE CONVERSATION – MEET THE EXPERTS – REGISTRATION IS FREE – SPACE IS LIMITED!

Visit our web-site for more details: www.dcoi-conference.org
---
---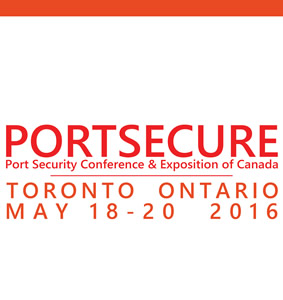 Port Security Conference & Expo (PORTSECURE)
18 – 20 May, 2016. Toronto, Ontario
The Port Security Conference & Expo (PORTSECURE), provides seaport security officials with current information in the key areas of technology, human resources, regulations, and best practices for maximizing the effectiveness of security operations.
The conference is a forum for professional development, technical education and practical discussion of how to effectively implement security and prepare resilient communities, ready to respond to and recover from unplanned events.
The Port Security Conference& Expo (PORTSECURE) will take place on May 18-20, 2016, in Toronto, Ontario.
---
---
2nd Annual Helicopter Technology Eastern Europe Conference
19 – 20 May, 2016. Budapest, Hungary
Helicopter Technology Eastern Europe 2016 returns for a second successful year, this time to Budapest Hungary in May 2016.
Last year's inaugural event was recognized for excellence by many leading defence forces in both central and Eastern Europe and hosted more senior heads of Air Force and Helicopter Commands than any other event in Europe.
As Central and Eastern Europe continue to be a key focus for defence equipment upgrades, the rotary fleet remains a key asset in both domestic and international military operations and therefore a focused conference is essential to ensure continued advancement of capability, equipment and joint interoperability.
The speaker line-up features:
Major General Richard Felton Commander, Joint Helicopter Command, UK MoD
Major General William Gayler, Deputy Commanding General, US Army Europe
Major General Pistriuha Valentyn, Chief of Army Aviation, Ukraine Armed Forces
Major General Antonio Bettelli, Commander Italian Army Aviation, Italian Armed Forces
Brigadier General Miroslav Korba, Commander, Slovak Air Force
Colonel Jiri Vavra, Head of the Air Force Development Department, GS CZE
Colonel Steen Ulrich, Head of Helicopter Wing, Royal Danish Air Force
Colonel Peder Söderström, Chief of the Swedish Helicopter Wing, Swedish Air Force
Colonel Harold Boekholt, Head of Helicopter Branch, Royal Netherlands Airforce
Colonel Domenico Fanelli, Project Manager, EPRC
Major Igor Lanisnik , Commander of 151, Helicopter Squadron, Slovenian Air Force
Cyril Goutard, Tiger Programme Manager, Tiger Programme Division, OCCAR-EA
Major General (Retd) Dimitrios Petridis, Aviation Support Programme Manager, NSPA
Mr Andy Gray, Helicopter Programme Manager, European Defence Agency
Major General Bohuslav Dvorak, Former Deputy Chief of the General Staff, Czech Armed Forces (Event Chairman)
2016 Event Highlights
NEW LOCATION – Budapest, Hungary
Senior Briefings from Heads of Air Force, Helicopter Programmes and Rotary Modernisation Projects
15 High Ranking Military Helicopter Expert Briefings
Real Solutions presented and offered within the exhibition area
The only regionally dedicated military helicopter conference in 2016
HOW TO REGISTER
Special rates available to government and military representatives.
Register online at: www.helitechconf.com/hsrc
Contact Guy Hippisley Cox on +44 (0) 20 7827 6197 or email ghippisleycox@smi-online.co.uk
---
---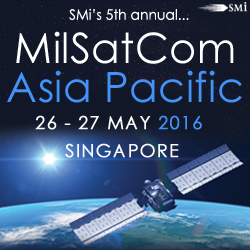 26 – 27 May, 2016. Singapore
SMi Group are delighted to announce the 6th annual MilSatCom Asia-Pacific, which convenes in Singapore on 26th-27th May 2016. This year's conference will provide national updates on space and MilSatCom programmes and how the development of these programmes is satisfying current critical regional requirements.
Space is becoming more apart of modern and political warfare and the current climate is rapidly evolving in Asia-Pacific. Japan have recently changed their overall defence policy and space will be a key component for national security and the likes of Malaysia and India are developing their national space programmes. In this backdrop, MilSatCom Asia-Pacific will prove to be a critical conference that will allow for greater regional collaboration to both combat external threats but also enhance disaster response with effective use of regional space assets.
Benefits of Attending:
Meet and network with the Singapore Armed Forces
Hear the latest developments in national MilSatCom and space programmes
Learn how the US Armed Forces are optimising space assets in disaster response and ensuring a strategic advantage
Discuss current allied partnerships and how these can be developed to maximise common goals and initiatives
REGISTER BY 29 FEBRUARY AND SAVE $800!
REGISTER BY 31 MARCH AND SAVE $400!
For more information and to register, please visit www.milsatcomasia.com
---
---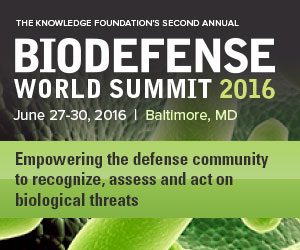 27 – 30 May, June. Baltimore, MD
The Knowledge Foundation's Second Annual Biodefense World Summit brings together leaders from government, academia, and industry for compelling discussions and comprehensive coverage on pathogen detection, sample prep technologies, point-of-care, and biosurveillance. Across the four-track event, attendees can expect exceptional networking opportunities in the exhibit hall, across panel discussions, and shared case studies with members of the biodefense community from technology providers to policy makers. The 2015 summit saw more than 400 participants from 21 countries. Keynote presenters for 2016 include:
Aaron M. Firoved, Ph.D., Director, National Biosurveillance Integration Center, U.S. Department of Homeland Security
Peter Gerner-Smidt, M.D., DMS, Chief, Enteric Disease Laboratory Branch, Division of Foodborne, Waterborne and Environmental Diseases, United States Centers for Disease Control (CDC)
Timothy D. Minogue, Ph.D., Chief, Molecular Diagnostics Department, Division of Diagnostic Systems, U.S. Army Medical Research Institute of Infectious Diseases (USAMRIID)
Lt. Col. Kurt Schaecher, Ph.D., Deputy Director, Division of Medicine, USAMRID, U.S. Army Medical Research Institute of Infectious Diseases
Heike Sichtig, Ph.D., Principal Investigator/Team Lead, Microbiology Devices, Center for Devices (CDRH), US Food and Drug Administration
---
---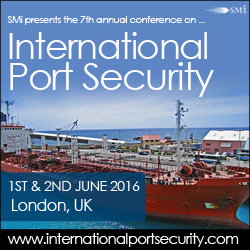 7th annual International Port Security Conference
1 – 2 June, June. London, UK
The SMi Group is proud to announce the 7th annual International Port Security Conference. The event will be held in London on the 1st and 2nd of June 2016.

The conference aims to bring together key decision makers in the industry to discuss modern methods of port security and provide effective learning experiences for all delegates through the carefully selected expert speaker line up.

Interacting with delegates from across the globe and hearing from industry leading experts will ensure delegates are up-to-date with high priority information that enables you to best secure your seaports, civilians and means of trade.

Topics to be discussed include terrorism, cyber security, resolving external threats, optimisation of technological systems, regulatory systems and change and case studies featuring some of the busiest ports from across the world. Our diverse range of topics will allow delegates to learn best practices for port security and understand further how other ports are resolving core challenges.

For further information or to register visit the event website www.internationalportsecurity.com/HSRC, contact Paul Deller on +44 (0) 207 827 6194 or email
---
---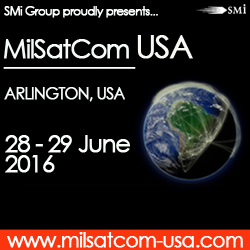 28-29 June, 2016. Arlington, Virginia, USA
SMi Group are proud to announce the launch of the inaugural MilSatCom USA which will take place in Arlington, Virginia on 28th-29th June 2016.
With growing external threats to US Space Assets, greater focus on streamlining the MilSatCom acquisition process and a greater desire for international partnering in the US, this event will be a great opportunity for the US SatCom community and allies to meet and discuss how greater progress can be made. This forum will bring together the key government and military personnel as well as industry and this will ensure a highly productive and beneficial meet for all parties.
Topics addressed include key aspects of protected SatCom, such as the protected tactical waveform, jam resistance, low probability of intercept, and the integration of ComSatCom for military communications. In line with the need to ensure greater resiliency, also addressed will be robustness of networks and the strengthening of MilSatCom architectures.
Confirmed Speakers for 2016:
Congressman Jim Bridenstine, Rep. Oklahoma District
Brigadier General Nina Armagno (Selected for Promotion to Major General), Director of Strategic Plans, Programs, Requirements and Analysis, Headquarters Air Force Space Command
Jessie (Jess) L. Showers, Jr. , Infrastructure Executive, Implementation and Sustainment Center, Defense Information Systems Agency (DISA)
Ms. Deanna L. Ryals, Chief of the International Military Satellite Communications (MILSATCOM) Division, U.S Air Force
Colonel Jonathon R. Moelter, Director, J6, Chief Information Officer, United States Southern Command
Michael Laney, Lead International Engagement for MILSATCOM, Deputy Under Secretary of the Air Force, International Affairs
Colonel Jeff Dooling, Director of Space Requirements for Director-General Space, Canadian Armed Forces
Dr Gregory Edwards, Director of Infrastructure Services, NATO NCIA
Winston A Beauchamp, Deputy Under Secretary of the Air Force for Space, and the Director, Principal DoD Space Advisor Staff, Department of Defense
Benefits of Attending:
Meet and network with senior US officials who are actively involved in the MilSatCom procurement process
Learn about the implementation of key strategies which will transform next-generation MilSatCom in the US
Hear from the long-standing US partners as well as the countries who have recently formed partnerships
Discuss the potential for ComSatCom to be optimised in the MilSatCom arena
Hear about the MUOS and WGS constellations and what may follow
HOW TO REGISTER:
Register online at: www.milsatcom-usa.com/hsrc
Contact James Hitchen on +44 (0) 20 7827 6054 or email jhitchen@smi-online.co.uk
---
---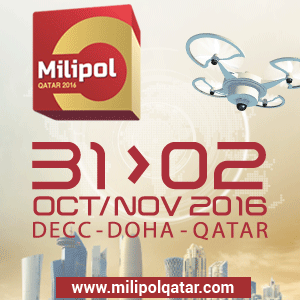 31 October – 2 November, 2016. Doha Exhibition & Convention Center
11th International Exhibition of Homeland Security – The Middle East Security Pass.
In 1996, the State of Qatar has chosen the Milipol trademark for its international references. The Milipol Qatar exhibition is being held under the aegis of the Ministry of Interior of Qatar, who has appointed a "Milipol Qatar Committee", made of four high ranked officials. They are responsible for the organization in Doha of the event, under the authority of the Prime Minister and Minister of Interior H.E. Sheikh Abdullah Bin Nasser Bin Khalifa Al-Thani.
For 19 years, the teams in Paris and Doha have been working in close relationship. As for Milipol Paris, Milipol Qatar is a biennial exhibition but is held on even numbered years. With the passing editions, Milipol Qatar has become the biggest international exhibition in the Middle-East, dedicated to internal State Security. It has made a name of itself through the professionalism and the quality of its exhibitors and visitors, all linked to the public and industrial security sectors.
Milipol Qatar attracts the biggest companies in the world which showcase their latest products and innovations in the fields of security, safety, detection and prevention equipment and systems as well as various other defence supplies.
Milipol Qatar 2014 easily surpassed all achievements from its previous editions: 6,583 visitors from 63 countries – 93% of them were satisfied with their visit, 261 exhibitors from 36 countries – 85% of them were satisfied with their participation, 146 Official Delegates and 213 journalists.
For additive information, please refer to the Milipol Qatar website , Milipol Qatar 2014 Statistics , Milipol Qatar 2014 exhibitor list , Milipol Qatar visitors profile and 2014 video.
Attend the 11th edition of Milipol Qatar
31 Oct. / 2 Nov. 2016 – Doha Exhibition & Convention Center
www.milipolqatar.com – sales@milipol.com – T. +33 1 76 77 13 14
---
---