Featured Events
---
---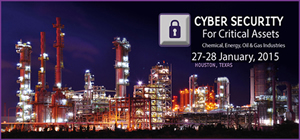 Cyber Security for Critical Assets
27-28 January, 2015. Houston, Texas
The Cyber Security for Critical Assets Summit is the fourth in a global series of summits looking at the rise of cyber-attacks on critical infrastructure. The conference will serve to provide a unique platform bringing together top corporate security professionals with process control professionals from North America. It will provide the necessary tools, insights, and methodological steps in constructing a successful and secure policy.



---
---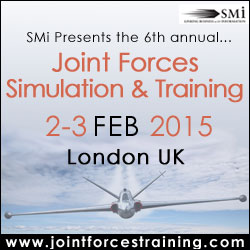 Joint Forces Simulation and Training
2-3 February, 2015. London, UK
The 6th annual conference on Joint Forces Simulation and Training, taking place on the 2nd and 3rd February, London, UK, will showcase in depth discussions on joint forces training initiatives, plus a spotlight on current training tools which allow the development of strategic alliances and knowledge transfer, such as computer games and smart devices. As militaries focus on collectively implementing innovative simulation and virtual training systems that are both cost effective and successful in the delivery of training.
The exceptional speaker line-up includes:
Brigadier General Dzintars Roga, NATO
Brigadier General Recep Unal, Turkish Air Force
Wing Commander Matt J Grafton BEng RAF, RAF Waddington
Major Roar Wold, Norwegian Army
Captain Bjorn Persson, Swedish Armed Forces
Colonel Andrew Cuthbert, BMATT (CZ) (Vyskov)
Colonel Uwe L. Heilmann, NATO Joint Air Power Competence Centre
Jonathan Read, Bohemia Interactive Simulations
Key reasons to attend:
New for 2015 – Presentations from Estonia, Turkey and Czech Republic
Learn how to create a warfighting capability that can rapidly react as a collective force
Examine the impact of utilising virtual training programs in a single environment to maximize benefits and keep costs down
Discover how future capabilities will be implemented and how military simulation & training will be affected
Hear cutting edge presentations spotlighting operational experiences from militaries across the globe
HOW TO REGISTER
Book before 31st October to save £00 Register online at: www.jointforcestraining.com Contact James Hitchen on: +44 (0) 20 7827 6054 or email: jhitchen@smi-online.co.uk
---
---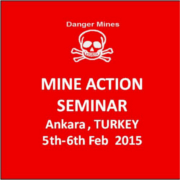 5 – 6 February, 2015. Ankara, Turkey
Landmine clearing continues to be a priority in Turkey. Some clearance activities had taken place by military itself and by some private companies.
Turkey acceded to the Ottawa Convention in 2003, and the Convention entered into force for Turkey on 1 March 2004. Turkey undertook to destroy or ensure the destruction of all anti-personnel mines in these areas as soon as possible but not later than 1 March 2014. On 28 March 2013 Turkey submitted a request to extend its mine clearance deadline. The request was granted and a new deadline was set for 1 March 2022. There are three major Mine Action and Explosive Ordnance Clearance projects in Turkey now:
Socioeconomic Development through Demining and Increasing the Border Surveillance Capacity at the Eastern Borders of Turkey Phase 1 & 2

Southern Border Mine Clearance Project.

Military Firing Range Explosive Ordnance Clearance Project.
Our 2015 event will allow you to hear in-depth presentations from a range of high profile and influential speakers, authorities about Mine Action in Turkey covering Current Status, Legislation, Mine Clearance Projects (Eastern Border, Syrian Border) and Military Firing Ranges Explosive Ordnance Clearance Projects. You meet your future friends, partners and customers especially from Turkey and make connections and impression in region. Turkey invests heavily in demining with international support such as UN, EC and NATO.

To be part of this annual international event please contact us at info@intelligence-sec.com,+44 1582 346 706, or gkeskin@msn.com, +90 532 742 66 89
---
---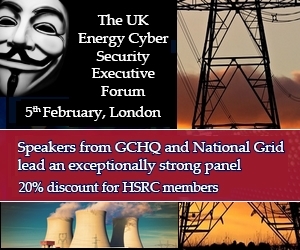 The UK Energy Cyber Security Executive Forum
5 February, 2015. London, UK
20% discount for HSRC – see below
6 CPD Points
GCHQ and National Grid speakers lead an exceptionally strong panel
Protecting and strengthening your business with the right approach to cyber security
The energy sector is increasingly becoming a prime target for organised cyber security crime. Globally, it is estimated that cyber security breaches in oil & gas and power will cost owners $1.87billion by 2018. Cyber-attacks on industrial control systems reported to ICS-CERT jumped from 34 in 2010 to 257 in 2013. The European Union's adoption of new data protection rules and a new cyber security network by 2015 increases the challenge faced by energy companies in Europe.
With energy companies in the UK already losing approximately ô00 million every year, the sanctions for security breaches will increase the maximum fines from 2% to 5% of a company's global annual turnover. Despite all the evidence and with such high costs at stakes, many companies do not fully appreciate the risk posed by cybercrime. Their existing security measures often prove to be inadequate and energy firms are routinely refused insurance cover for business interruption. Additionally, the current mainstream cyber insurance market neither fully addresses the needs of the energy sector, nor provides coverage for physical loss or damage.
Furthermore, the waiting periods for cyber security coverage can be significant in terms of energy networks. With significant numbers of employees having insufficient knowledge of corporate cyber threats, such as SpyEye, Zeus, Stuxnet and Flame, the nation's critical energy infrastructure remains extremely vulnerable. Energy companies, while struggling with the complexity and size of the networks they manage, need to meet the challenge of surviving and growing in the current cyber security climate now.
City & Financial Global's Energy Cyber Security Executive Forum is a strategic and practice-driven summit, which will give attendees an excellent opportunity to network with the best of the energy cyber security sector and learn how to actively engage with the cyber security issues. This timely conference will offer participants guidance to minimise the risks, avoid cyber security breaches through internal controls and proper adherence to standards, develop resilience, protect and strengthen your business in the UK and globally.
Join us for a day of:
Keynote presentations
In-depth focus sessions
Technology updates
Panel discussions focusing on the most pressing cyber security issues in oil & gas and power industries
Attend this forum to understand:
What the UK Government is doing to improve security skills and awareness within the energy sector
How to educate your employees to deal with the new realities of cybercrime in the oil & gas industry
Why energy companies fail to effectively manage data security breach incidents and how you can enhance your incident management detection and response capabilities
What coverage cyber risk insurers provide for business interruption and how to deal with the 'cyber risk gap' in the energy sector
You will also learn about:
EU response to the increased cyber threat in the energy sector. How does the United States currently manage cyber security?
Recent cyber security incidents that have the most profound impact on the oil & gas industry. Step by step analysis and the lessons learned
Effectively responding to real-time operational security concerns of SCADA devices and networks for power and utilities. Retesting vulnerabilities to eliminate threats
The trends in the type, volume and calibre of cybersecurity attacks in the energy sector. The most effective risk mitigation strategies and commercially viable cyber security policies
Who should attend
CEOs, CISOs, Heads of Digital Risk, CIOs, General Counsel, Data Protection Officers/Managers, Cyber Security Managers, Cyber Security Architects, Heads of Legal, Heads of Privacy, Heads of Cyber Threat, Heads of Resilience, Heads of IT/ Directors, Chief Risk Officers/Risk Managers, SCADA Control Operators
Cost (after discount) ô76 + VAT Cost (after discount) if booking before 10th January 2015 £96 + VAT
To find out more and book visit the website www.cityandfinancialconferences.com/CyberEnergy2015 quoting discount code CYSEN1HSRC. Alternatively email bookings@cityandfinancial.com or call +44 (0) 1483 479331 quoting the code in either instance.
---
---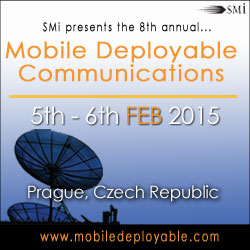 Mobile Deployable Communications
5-6 February, 2015. Prague, Czech Republic
The 8th annual conference on Mobile Deployable Communications 2015 will address the key topics of CIS networks and tactical communications, C4ISR standardisation, interoperability across the global armed forces, operational experiences and future technologies. As well as this it will discover strategies to overcome ever-present threats such as cyber-attacks and enable us to hear about the potential of information superiority in European security & defence.
The exceptional speaker line-up includes:
Brigadier General Jan Kase, Czech Ministry of Defence
Michael McCarthy,US Army
Colonel Jan van de Pol, NLD Defence Materiel Organisation
Major Aurel Sabo, Armed Forces of the Slovak Republic
Giuseppe Curro, NATO Communications and Information Systems School
Krasimir Yordanov, EU Military Staff
Justin O'Neill, Comtech Systems
Paul Hutchings, Thales
Benefits of Attending:
Discover strategies to overcome ever-present threats such as cyber attacks
Hear about the potential of information superiority in European security & defence
Listen to operational case studies, allowing you to develop your communication systems
Evaluate and discuss the US Army Mobility Project
Hear how the challenges of SOA – based communications in the tactical domain will effect ongoing operations from the Military Communications Institute
Don't miss the chance to attend two workshops:
Workshop A: Tactical Communications Overview Hosted by: Dr. Clayton Stewart, Visiting Professor, University College London
Workshop B: Enabling SOA in the tactical domain Hosted by: NATO STO Group – NATO IST -118

HOW TO REGISTER
Book before 31st October to save £00 Register online at: www.mobiledeployable.com Contact James Hitchen on: +44 (0) 20 7827 6054 or email: jhitchen@smi-online.co.uk
---
---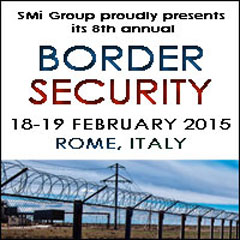 8th annual Border Security Conference
18-19 February, 2015. Crowne Plaza St Peter's Hotel & Spa, Rome, Italy
Prices: from £99 Contact: James Hitchen, defence@smiconferences.co.uk , +44 (0) 207 827 6054
This year's meeting will focus on European Border Security and current operations in the region. Event programmes includes case studies from the European nations and leading security organisations about land, port and air borders, biometrics as part of border control and much more. These topics will be addressed by a wide range of recognized and respected speakers from Italy, UK, Germany, Austria, Spain, Poland, Ukraine, Belgium, France and many more.
The key areas of discussion will be:
Presentation concerning UAVs used on the US-Mexico border and the potential for space assets being a part of your border security.
Case studies on successful system implementations from both Europe and America.
A wide range of highly respected speakers talking about diverse and relevant issues.
Hear relevant information from reputable organisations combatting national and international security issues at borders
Discover solutions to critical border security issues, such as trafficking and irregular migration
Network and learn from key opinion leaders from the Border Security industry
Evaluate the developments of modern technology designed to improve border efficiency and security
Speakers will include:
Adriano Baptista, Head of Operations Division, EU Satellite Centre
Bernhard Strobl, Project Coordinator MobilePass, European Union
Chris Woodroofe, Head of Security and Business Continuity, Gatwick Airport (L G W)
Daniel Cuesta Canterero, Project Coordinator ABC4EU, european union
Danielle Sharp, Border Force Lead, Gatwick Airport (L G W)
Javier Quesada, Head of Risk Analysis Unit, Frontex
John Vine, Independent Chief Inspector of Borders and Immigration
Krum Garkov, Executive Director, EU lisa, EU-lisa
Laurens Jolles, Regional Representative for Southern Europe, UNHCR Rome at UNHCR UNHCR
Neil Hall, AFNI, Assistant Commissioner (Retired)
Peter Waldbauer-Hable , Criminal Police Department
Petya Nesterova, Secretariat of the Council of Europe Convention on Action against Trafficking in Human Beings, Council Of Europe
Roberto Mugavero, Faculty of Engineering Professor, University of Rome
Sjaak de Koning, Sniffles project, European Commission
Ulrich Weynell, Head of ISN Security Technology, International Security Network
For more information, please go to http://www.smi-online.co.uk/2015border-security24.asp Alternatively, contact: James Hitchen, defence@smiconferences.co.uk, +44 (0) 207 827 6054
---
---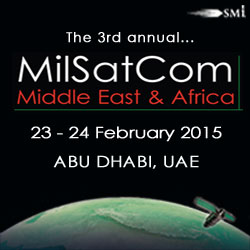 MilSatCom Middle East & Africa
23-24 February, 2015. Abu Dhabi, UAE
Join SMi at the 3rd annual MilSatCom Middle East & Africa conference, taking place in Abu Dhabi for the first time after having been highly recommended by our strategic partners.
The must-attend two day conference will boast a tailored programme based on current issues across MilSatCom covered by a series of international speakers. In addition to having representatives from the Middle East, the conference will have African representation too as we explore the challenges of using SatCom across difficult terrain. We will also be hearing from nations outside the region sharing their experiences as end-users and the latest technologies in the SatCom industry.
Event highlights include:
3 industry-leading keynote addresses:
Colonel Atogeba Alobawone, Director Communication, Directorate of Defence Communication and Information Systems, Ghana Armed forces
Colonel Kattala, Tanzania People's Defence Forces
Colonel Thabo Ntoni, Senior Staff Officer Product Systems Management of the Command and Management Information Systems Division, South African National Defence Force (SANDF)*
An exceptional speaker line-up featuring:
Saeed Al Mansoori, Senior Engineer, Emirates Institution for Advanced Science and Technology (EIAST)
Yahaya, Isah Akor, Legal Adviser, National Space Research and Development Agency
Her Excellency Mrs Nicole Bintner-Bakshian, Ambassador of the Grand Duchy of Luxembourg in the UAE
Maria Mateo Iborra, Project Manager, Ground Segment Solutions, SES
Dr Ayman Ahmed,Satellite System Engineer, National Authority for Remote Sensing and Space
Laith Hamad, Director of Middle East and North Africa, Access Partnership
Speaker name to be Confirmed, NigComSat
Khalid Al Awadhi, Manager Space Services, Telecommunications Regulatory Authority
HOW TO REGISTER Book before 31st October to receive £00 discount Register online at: www.milsatcom-mea.com Contact James Hitchen on: +44 (0) 20 7827 6054 or email: jhitchen@smi-online.co.uk
---
---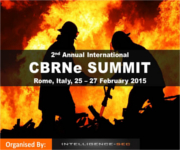 25-27 February, 2015. Rome, Italy
Our 2nd annual CBRNe Summit will provide attendees with unrivalled access to international first responders from the Armed Forces, Emergency Services and Law Enforcement Agencies.
Many CBRNe stakeholders are well drilled when it comes to countermeasures and decontamination response to a Chemical, Radiological, Nuclear or Explosive attack. However, if a Biological attack was to happen at a major event or international travel hub the response is much more complex and sophisticated as each biological attack is different and can be spread in many different forms and speed.
CBRNe Summit 2015 will have a key focus on biological outbreaks/terrorism and discuss the best and most appropriate way to address these types of attacks. There will also be case study presentations from many military and civil organisations discussing their first responder techniques to any CBRNe attack,
Threat Intelligence of a CBRNe threat, International Cooperation, Medical Intelligence, CBRNe Forensics and Countering-IEDs.
Our 2015 event is officially supported by the NATO JCBRN Defence Centre of Excellence, NATO EOD Centre of Excellence, Observatory on Security and CBRNe Defence (OSDIFE), University of Rome "Tor Vergata" and the University of the Republic of San Marino.
Highlights
2 day conference with 30+ high level international speakers
Live CBRNe Capability Demonstration
Official Government Support
Exhibition with 15-20 companies showcasing their CBRNe countermeasures
150+ attendees
Our 2014 CBRNe Summit attracted 140+ attendees from across the globe and we expect this number to continue to grow for our 2015 event.
To Register
There are three easy ways to register your place onto our CBRNe Summit
---
---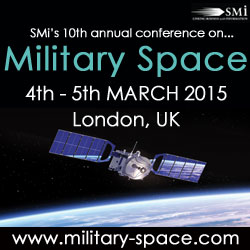 4-5 March, 2015. London, UK The 10th annual Military Space conference will bring together leading experts in the field of space technology. Topics to be addressed will range from satellite communication, surveillance, missile defence as well as national updates. Hear up-to-date presentations from an international panel of speakers and learn how the militarisation of space is evolving; including military cooperation, utilisation of space data, missile defence and European approaches to space operations and the operational challenges which lay ahead.
Hear keynote addresses from:
Group Captain Martin Johnson, Director, National Air Defence and Space Operations, Royal Air Force
Professor Richard Crowther, Chief Engineer, UK Space Agency
Kenneth Hodgkins, Director of Space and Advanced Technology, US Department of State
Peter Woodmansee, HQ U.S European Command Missile Defense Program Manager, EUCOM
The 2015 expert speaker line-up includes:
Air Commodore Peter Round, Capabilities, Armament and Technology Director, European Defence Agency
Colonel Jerome Bernier, Chief of Staff at Joint Space Command, French Ministry of Defence
Commodore Christian Anuge, Director ICT, Training and Operations, Nigerian Navy Headquarters
Colonel Olaf Holzhauer, Director, Space Situational Awareness Centre, German Air Force
Jakub Cimoradsky, Officer, BMD Section, NATO
Don't miss the interactive pre-conference workshop, held on the 3rd March 2015 Advanced Distributed Missile Defence with Spatial Grasp Technology Workshop Leader: Dr Peter Sapaty, Chief Scientist, Institute of Mathematical Machines and Systems, Ukrainian National Academy of Sciences
HOW TO REGISTER
Book before 28th November to save £00 Register online at: www.military-space.com Contact Adam Keevash on: +44 (0) 20 7827 6002 or email: akeevash@smi-online.co.uk



---
---

10 – 12 March, 2015. Pak-China Friendship Centre, Islamabad, Pakistan
Safe Secure Pakistan 2015 is the only premium b2b exhibition of Pakistan which provides an excellent opportunity for international safety & security equipment manufacturers to reap the benefits from this potential market. Over the years, the event has reinforced its position as a one stop solution for the regional Safety & Security industry with optimum networking. SAFE SECURE PAKISTAN 2015 will focus to attract key industry stakeholders from all across the world to showcase latest technology, innovations and advancement of internal security, fire fighting, policing, emergency & rescue, transport safety.
Safe Secure Pakistan has successfully concluded its 10 YEARS of existence. Since its inception, the show has been facilitating its participants to explore the potential market of Karachi. Continuing its legacy of serving the key industry players, Safe Secure Pakistan will again open avenue for its exhibitors offering a platform in an UNEXPLORED MARKET of Pakistan. The exhibition is attended by over 5,000 business professionals from across Pakistan.
---
---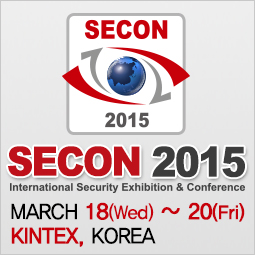 SECON (International Security Exhibition & Conference) 2015
18 – 20 March, 2015. KINTEX, Republic of Korea
SECON 2015 is Asia's Leading Exhibition that Covers Everything about Security. SECON 2015 is Korea's number one Security Exhibition featuring over 450 exhibitors and 900 exhibition booths in one place in just 3 days. SECON 2015 is where 45,000 visitors such as manufacturers, dealers/installers, system integrators, and corporate end-users of security products and services from around the world gather to connect with the security industry.
1. An All-in-one Event for both IT and Physical Security International Security Exhibition and Conference(SECON 2015) is a security exhibition which covers all security-related equipments and systems. You can find all sorts of safety and protection solutions, from the cutting-edge IT solutions, video security systems, biometric systems, access controls through homeland security and disaster response solutions to traffic safety controls, for each individual and the whole society.
2. Co-hosted by Gov't Offices, Institutions, Organizations and Companies About every security-related organization from various fields and of different nature is not only participating in the exhibition but also co-hosting it to found a common ground and yearly festival for security experts.
3. A Contributor to the Security Industry and Market Vitalizer Users get to experience up-to-date security technologies, which heightens the possibility of actual purchase. Such activities, from mere experiencing to purchase, add up to the economic vitality and better national competence.
4. The History of Korea's Security Industry Itself SECON 2015, formerly known as Security World Expo, has been the only one security-devoted exhibition in Korea since 2001. Having been a close observer and trend setter of the industry, the history of the exhibition itself equals that of the whole industry.
5. Supervised by Security World and Boannews SECON 2015 is staffed with the members of Security World, an 18-year-old security magazine, and Boannews, a 10-year-old online infosec news feeder. No wonder it is filled with overflowing contents and expertise.
For more Information: www.seconexpo.com/2015/eng/main/main.asp Contact: +82- 70-5031-5309 / secon@boannews.com



---
---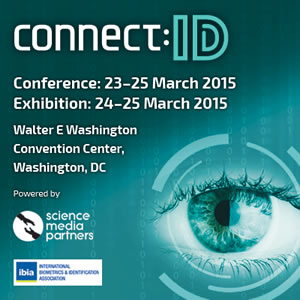 Connect:ID – An Exploration of Physical & Digital Identity in the 21st Century
23 – 25 March, 2015. Washington, DC, U.S.A
Science Media Partners Ltd and the International Biometrics & Identification Association (IBIA) will power the visionary, international conference and exhibition – connect:ID – that focuses on all aspects of personal identity and the opportunities for its management in both the physical and digital worlds.
Taking place on March 23-25, 2015, in the heart of Washington, DC, connect:ID will unite solutions adopters and stakeholders from the four corners of the globe and will explore the development and fusion of multiple advanced identity technologies – including biometrics, secure credentials and digital identity systems.
Contact: Janine Bill, Exhibition Sales & Sponsorship Manager at Tel No: +44 (0) 1189 843209 or by email at: j.bill@sciencemediapartners.com. www.connectidexpo.com



---
---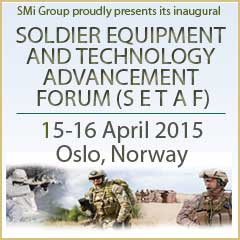 Soldier Equipment and Technology Advancement Forum – SETAF
15 – 16 April, 2015. Scandic Solli Hotel, Oslo, Norway
SETAF Norway 2015 is a meeting for the soldier modernisation community that is designed around a series of focused discussion groups run by co-chairs who are selected experts on vital subject matter. With no PowerPoint presentations, the SETAF meeting will dedicate the precious time of its participants to in-depth learning, networking and discussions, making it a complementary part of the soldier modernisation communities' annual training and development programme.
5 reasons you should attend SETAF Norway 2015
No attendees, only participants. SETAF is an event where everyone gets involved in technical discussions
Speakers and participants confirmed from soldier system experts from Norway, Sweden, Finland, UK, US, Canada, Austria, Germany, Poland, Romania and the Netherlands
Hear direct operational feedback from soldier systems tested in theatre and how this real life experience is redesigning the next phase of national programmes
Real solutions uncovered in the SETAF exhibition zone: the very latest technologies will be showcased to help advance the next generation of soldier system
Take advantage of over 20 hours of informal networking-more than at any other soldier system meeting in 2015!
Expert Leaders and Participants include:
Brigadier Asle Johan Kjeldsberg, Former Quartermaster General, Norwegian Defence Staff
Rune Lausand, Chief Scientist, FFI, NORMANS, NORWAY
Colonel Johannes Bogner, Head of Project Team, Soldat de Zukunft, Austria MoD
Lieutenant Colonel Pawel Sweklej, Project Manager, Soldier System TYTAN, General Command of the Polish Armed Forces
Lieutenant Colonel Tiberius Tomoiaga, Military Equipment and Technological Research Agency – METRA, Romania
Major Jonathan Herbert, Project Director Integrated Soldier System, Canadian Department of National Defence
Lieutenant Colonel (Ret.) Christopher Woodburn, Infantry Weapons and Optics, Maneuver Branch, Fires and maneuver Integration Division, United States Marine Corps
Ross Jones, Programme Leader, Dismounted Soldier Systems Programme & Delivery Directorate, DSTL
Darren Browning, NATO LCG DSS / Power Group Chairman, DSTL, UK
Steven Savage, Research Director, Division of Sensors & EW Systems, FOI, Swedish Defence Research Agency
Ed Andrukaitis, Project Manager, Advanced Electrical Power Sources, Defence R&D Canada, Department of National Defence
Dr. Adelbert Bronkhorst, Principal Scientist, TNO Netherlands
Col Richard Hansen (Retd), Former Programme Manager, Soldier Warrior, PEO Soldier, US Army (chairman of the SETAF Steering committee)
Magnus Lifgren, Project Manager Soldier System, MARKUS, FMV, SWEDEN
John Foley, Technical Director, FIST, THALES UK
Mr Olaf Aul, Chief Technical Leader, IdZ -ES, Rheinmetall Defence Electronics
Plus, don't miss pre-conference Winter Warfare Soldier Equipment Briefings Day (08.30 – 15.00, 14 April, Scandic Solli Hotel) and the post-conference SETAF Programme Acquisition and Integrated Masterclass (14.00-17.00, 16 April, Scandic Solli Hotel. Free for Military/Government and Public sector).
For more information please contact Adam Keevash, +44 (0) 207 827 6002, e-mail: defence@smiconferences.co.uk Event website: http://www.smi-online.co.uk/2015setaf21.asp
---
---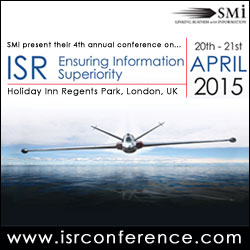 20 – 21 April, 2015. London, UK
SMi's 4th annual ISR conference will feature an exceptional line-up of European military speakers which will provide the ideal platform to discuss the latest developments in airborne, land and naval ISR in addition to operational case studies, national updates and information about ISR training programmes.
This is the perfect opportunity to have the chance to listen to international military updates on current and future ISR capabilities and discuss the development of NATO's Joint ISR and the issues it faces.
EVENT HIGHLIGHTS INCLUDE:
5 Host Nation Keynote Speakers:
Brigadier Simon Deakin OBE, Director Force Development, HM Forces
Major Alexander Gray, SO2 Plans, Army Headquarters
Squadron Leader Rob Farrant, Sentinel Requirements Manager, Air ISTAR Project Team, Royal Air Force Waddington
Squadron Leader Daniel Hill, Air Battle Manager, 92 (R) Sqn, Air Warfare Centre
Sergeant Simon Rees, AirScape (ISTAR MSS) System Administrator, Royal Air Force
An Exceptional Military Speaker Line-Up:
Robert Murray, Head of ISR, Defence Investment Decision, NATO
Brigadier General Friedrich Teichmann, Director, Geospatial Department, Austrian Armed Forces*
Major Jacob Bos, Airstaff, Defense Command Denmark*
Captain Halil Ibrahim Tokus, Student Officer, Turkish Air War College
Lieutenant Colonel Jan Mazal, Chief Scientist in Military Tactics Department, Military Intelligence and ISR, University of Defence, Czech Republic
Don't miss the interactive post-conference workshop, held on the 19th April 2015 Tactical ISR Workshop Leader: Dr Clayton Stewart, Visiting Professor, Department of Electronic and Electrical Engineering, University College London
Visit www.isrconference.com to register or contact James Hitchen at +44 (0) 20 7827 6054 for more information.
---
---

21 – 24 April, 2015. Manila, Philippines
Cybercrimes are continuing to increase across the world and still many governments are still struggling to identify the threat until it is too late. Cyber Intelligence Asia is now in its third year and will provide attendees unrivalled opportunities to meet with the regions senior government officials who deal with cyber security.
The regions computer network infrastructures are becoming more sophisticated but with this become more vulnerabilities and avenues for cyber criminals to breach through the security firewalls of government computer networks.
Our 2015 event will be taking place in Manila, Philippines where the government have been working efficiently to create a strong and secure computer network system. This event will provide you unrivalled opportunities to meet with leading Philippine Government officials who are improving their computer network systems from cyber threats.
Cyber Intelligence Asia 2015 will also focus on the following topics: Combating cybercrimes in the region against government computer networks, regional cooperation on cyber security, open source security, threat intelligence and identifying vulnerabilities, protecting government infrastructures and internet security.
For more information about our Cyber Intelligence Asia conference & exhibition please visit http://www.intelligence-sec.com/events/cyber-intelligence-asia-2015
To participate at our 3rd Cyber Intelligence Asia event please contact us at events@intelligence-sec.com or call us at +44(0)1582 346 706.
---
---

29 April – 1 May, 2015. Washington, DC, U.S.A
The leading international The Non-Conventional Threat CBRNe event series is finally making its debut in the United States of America. NCT CBRNe USA 2015 will take place 29 April – 1 May 2015 in Washington, DC, providing a forum for armed forces, government agencies, civil first responders and the industry to discuss crucial challenges of CBRNe.
NTC is the #1 CBRNe event series in the world, globally established and known as prime regional CBRNe summits in Southeast Asia, Europe, and the Middle East. For the first time the world's most prestigious CBRNe event will be hosted in the USA. With its well-established experience and expertise in Europe, the Middle East and Asia, the NCT event series constitutes the perfect forum to gather relevant experts on CBRNe matters. Its high-ranking speakers, high-class venues, and outstanding networking opportunities make NCT CBRNe USA an event not be missed in 2015.
The conference will include high-level speakers and governmental delegations from all over the USA.
Topics of discussion will include an American perspective on the requirements of international CBRN defense, CBRN operations in a military environment, threat mitigation and decontamination, international threat reduction, critical infrastructure and urban security – challenges for CBRN detection, nuclear and radiation monitoring and surveillance, mass diagnosis and forensics, as well as CBRN preparedness and protection.
NCT CBRNE USA 2015 HIGHLIGHTS
2-day conference with high-level speakers and up to 500 attendees from all over the Americas, Asia, and Europe
Live CBRN demonstration on day 1
Vibrant exhibition showcasing the state of the art technology and equipment
Networking reception
THE USA AND CBRNE
The USA are without a doubt the world's leading nation for CBRNe related innovations, solutions, and approaches. In the face of relentless terrorist threats, CBRNe matters remain a focal point in the arena of homeland security. Through several government agencies such as DTRA and BARDA, the US is constantly upgrading its CBRN defense capabilities and preparedness for mass casualty incidents. Consequently, this leads to the necessity of sharing best practices, raising awareness of persisting challenges, and getting the most novel solutions and approaches out there.
---
---

10 – 12 May, 2015. Dhahran International Exhibition Centre, Dammam, Saudi Arabia

Saudi Safety & Security (SSS) Forum annually attracts the entire industry in the Eastern Province of Saudi Arabia, the industrial hub for the Middle East region. Launched in 2011, SSS has combined an international exhibition and strategic conference to serve this hugely important industry for the Middle East.

Saudi Safety & Security 2015 is officially endorsed by Asis Chapter 72, the global association for security professionals. This event brings together leading companies from all around the globe. They all have premier expertise in the safety, security and fire prevention and will test in a live environment the products, services and technologies that will shape the future of the industry. Vetted by a range of senior level industry professionals, including previous participants, SSS 2014 received exceptional feedback regarding its content in terms of its value to the wider community and general public and SSS 2015 looks to build on this. In parallel the international exhibition brings together leading companies from all around the globe and with premier expertise in the safety, security and fire prevention department to test in a live environment the products, services and technologies that will shape the future of the industry.

---
---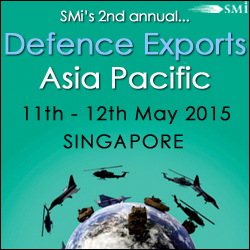 11 – 12 May, 2015. Grand Copthorne Waterfront Hotel, Singapore
Don't miss the 2nd annual Defence Exports Asia Pacific conference taking place on the 11th and 12th May 2015 in Singapore.
Take this opportunity to discuss and network with key government officials and industry leaders from the Asia Pacific region and understand and utilize the latest updates on APAC export control regulations whilst hearing about various ECR changes happening in 2015.
The 2015 speaker panel features:
Claire Willette, Director, Strengthening Export Controls, Australian Department of Defence
Ambassador Philip Griffiths, Head of Secretariat, Wassenaar Arrangement
Jun Kazeki, Director, Security Export Control Policy Division, Ministry of Economy, Trade and Industry (METI) of the Japanese Government

Jaeil Jo, Export Control Support Department, Korea Strategic Trade Institute

Faizal Yusof, Deputy Director, Strategic Trade Controller, Ministry of International Trade and Industry (MITI), Malaysia

Donald Pearce, Regional Export Control Officer, US Embassy Singapore, U.S Department of Commerce – Bureau of Industry & Security

Beth Ann Johnson, Director, Global Trade Management, Northrop Grumman Corporation

Iliyana Hristev, Director of Export and Trade Compliance, QinetiQ North America

Harry Patel, Head of Trade Compliance, Meggitt PLC

Julia Reed, National Director Export Controls (Australia Pacific), Airbus Group
In addition, there will be 2 interactive half-day workshops, both taking place on the 13th May:
Applying ECR in the Real World, Hosted by: Gary Stanley, President, Global Legal Services

The Definition of "Specially Designed", Hosted by: Donald Pearce, Regional Export Control Officer, U.S Department of Commerce – Bureau of Industry & Security
HOW TO REGISTER
Book before 27th February and save S$600
Register online at: http://www.smi-online.co.uk/2015defence-exportsasia.asp
Contact James Hitchen on: +44 (0) 20 7827 6054 or email: jhitchen@smi-online.co.uk
---
---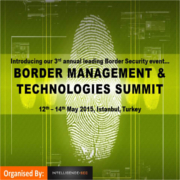 Border Management & Technologies Summit
12 – 14 May, 2015. Istanbul, Turkey
Now entering our 3rd year of our Border Management & Technologies Summit, we will look into emerging countries that are making significant improvements to their border security. The event will also look into the new technologies and paradigms being developed to create more efficient borders.
With Integrated Border Management systems becoming established across Europe we will be looking at case studies from Eastern European nations on their development of creating a strong IBM strategy and the importance of sharing information with neighbouring nations.
Passenger screening has leaped forward in terms of developments in recent years and our event will discuss the improvements in passenger screening at airports and analyse what else can be done to improve security.
Identity Management systems being developed at borders and are becoming more sophisticated, our event will look into the different techniques used by border forces across Europe. The EU is focused on creating Smart Borders and the use of biometrics such as new technologies such as Fly on the Finger are being pushed through to key travel hubs across the EU. Border Management & Technologies Summit will review the latest technologies and evaluate the improvements they will bring to travel hubs across Europe.
Meet with senior government officials from Turkey, Romania, Moldova, United Kingdom, Tajikistan, Georgia, Switzerland, The Netherlands, France and many more…
To take part in our international event either as a speaker, sponsor, exhibitor or as a delegate please contact us at events@intelligence-sec.com or call us on +44 (0)1582 346 706
---
---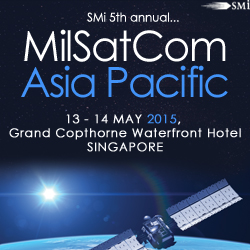 13 – 14 September, 2015. Grand Copthorne Waterfront Hotel, Singapore
MilSatCom Asia-Pacific 2015 will boast a tailored programme based on current issues across MilSatCom covered by a series of regional and international speakers. In addition to having representatives from the Pacific region, the conference will have Asian representation too as we explore regional military SatCom roadmaps and packages. We will also be hearing from nations outside the region sharing their experiences, partnerships initiatives as end-users and the latest technologies in the satcom industry.
The 2015 speaker panel features:
Mochamad Irwan Hariyono, Senior Staff, Geospatial Information Agency (BIG), Indonesia

Lieutenant Colonel Matthew Turpin, Chief of Asia-Pacific Strategy, Department of Defense

Nicolas D Ojeda Jr, Deputy Executive Director, Information and Communications Technology Office (ICT Office)

D D'Ambrosio,EVP, Government Services, O3b Networks

Airbus Defence & Space Speaker to be announced

Lieutenant Commander Bill Blick,Joint Commander Engineer, New Zealand Defence Force

Tom van der Heyden, CEO, Eur Asian Technology Holdings

Matthew Child, SVP Government Services, Eutelsat

Michael Pollack, CEO, The Traville Group

Nguyen Than Yen Huong, Vice President, Diplomatic Academy of Vietnam

Jen Pearce, PACOM Analyst, ProSol, UMSC

Hendriatiningsih Sadikin, Associate Professor, Geodetic & Geomatica Engineering, Institute of Technology Bandung
In addition, there will be an interactive half-day workshop, taking place on the 12th May:
Data Everywhere – And We Still Want More! The Evolution and Future of FSS and MSS MilSatCom Data Services. Hosted by: John Yates, Satellite Communications Consultant

HOW TO REGISTER
Book before 27th February and save S$600
Register online at: http://www.smi-online.co.uk/2015defence-exportsasia.asp
Contact James Hitchen on: +44 (0) 20 7827 6054 or email: jhitchen@smi-online.co.uk
---
---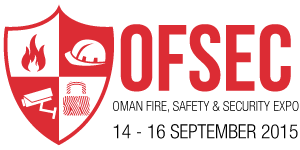 14 – 16 September, 2015. Muscat, Oman
Ofsec: Oman's Only And Most Comprehensive Exhibition On Fire, Safety And Security
OFSEC 2015 will bring together local and international exhibitors who will showcase their avant-garde solutions, specific transverse and latest technologies, cutting edge innovations, cost-effective products and services to meet the requirements of governments, businesses, industrial & commercial entities, aviation, construction, infrastructure, transportation, manufacturing, oil and gas and utilities sectors.
OFSEC is designed to meet the needs of the local, regional and international markets by linking practitioners, suppliers, distributors and manufacturers from the fire, safety and security industry, with key decision makers from the government and private sectors, making it a definitive networking platform, where new projects and partnerships are initiated and visionary objectives are implemented. This event also aims to create synergy and strengthen the collaboration between the authorities and the industries.
The Exhibition will lay foundation and be the gateway to the current and future market trends in the fire, safety and security sectors, for the industry professionals to communicate, share ideas, identify solutions, to operate effectively and efficiently and stay abreast with the latest global trends. OFSEC will confluence and strengthen local and international business engagement and encourage investment.
---
---