Homeland Security Conferences

2nd Annual Airport Security Summit
20-21 April 2017 in Barcelona, Spain
We are pleased to announce the launch of the 2nd Annual Airport Security Summit, which will take place 20-21 April 2017 in Barcelona. The summit will delve into challenges within airport security operations, and it will offer a fresh overview of issues faced in today's technology-driven security solutions. The summit will offer deeper insights into issues, such as airport security strategy, data security improvements, risk management and threat assessment, security trainings and staff development. The 2nd Annual event will provide an excellent opportunity to learn more about recent projects and advances from inspirational speakers. Besides individual case studies and panel discussions, networking breaks will give a possibility for industry leaders to gather together and discuss about potential risks and improvements in security and how to successfully implement new security strategies and benefit from new technology.
To receive a 25% discount on registration fees ender promo code LuxAvsec25 at: http://www.luxatiainternational.com/Events/2nd-annual-airport-security-summit/ 
---
---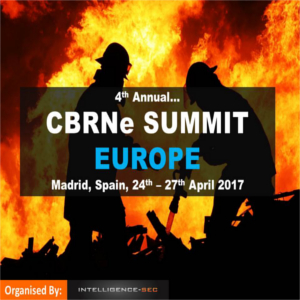 4th annual CBRNe Summit Europe
24-27 April, 2017. Madrid, Spain
We are pleased to announce that our 4th annual CBRNe Summit Europe conference & exhibition will be taking place in Madrid, Spain on the 24-27 April 2017. Our leading event will allow you to meet with the region's leading CBRNe officials to discuss the latest CBRNe threats and techniques used to respond to attacks.
CBRNe Summit Europe is the leading CBRNe event in Europe with 200+ participants from across EMEA and the US. With many western European countries on high terror alerts due to recent attacks in Paris and Brussels, this event will allow participants to hear from leading first responders, military and government officials on how they are combating threats to their major cities and the techniques used in responding to attacks to civilians.
As well as the threat of IED's and WMD there is an ongoing threat of biological outbreaks across Europe with the latest threat coming from the Zika virus which many global agencies such as the ECDC and WHO are working to contain if the virus spreads into Europe.
CBRNe Summit Europe will provide an insight into Europe's CBRNe Capabilities and response to attacks. By participating at our leading event you will also hear presentations on the following topics; Medical Countermeasures, European CBRNe Capabilities, CBRNe Forensics, CBRNe Intelligence and Information Sharing, European Policies and Strategies to counter the threat of CBRNe attacks and Countering IED's.
Our CBRNe Summit is officially endorsed by the NATO JCBRN Defence Centre of Excellence who provides input into the agenda and assist with inviting key officials from NATO's member states to take part at the event. We also have the support of OSDIFE as our Scientific Partner who assist us with inviting senior speakers from across EMEA and the US.
We are also pleased to announce that on the 27th April 2017 you will have the opportunity to visit the Spanish Army Medical Brigade HQ where they will demonstrate their decontamination units as well as other CBRNe assets/capabilities they have.
To be part of our CBRNe Summit Europe conference & exhibition either as a speaker, sponsor, exhibitor or delegate please email us at events@intelligence-sec.com or call us on +44 (0)1582 346 706
---
---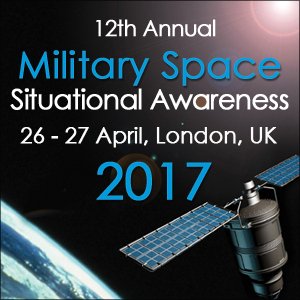 12th Annual Military Space Situational Awareness
26-27 April, 2017. London, UK
This year's highly anticipated event will focus specifically on key situational awareness challenges in an increasingly contested, congested and competitive space.
Delegates will hear innovative presentations by leading industry and military figures, working with active projects aiming to enhance Space Domain Awareness for the international community, on their current requirements and capabilities within the armed forces. Covering solutions for the future and how to develop ways in which projects and programs can produce better results.
Key focuses:
National updates on SSA
Command and control
Space weather
Traffic management
Optical and imaging sensors
Benefits of attending:
Hear from new countries seeking to develop their space programmes such as Poland, Denmark, the Netherlands and many more
Learn from leading nations such as USA, UK, France, Germany and Canada, on how they continue to enhance space security through Space Domain Awareness technologies
Discuss key topics that affect space situational awareness; from space-borne sensors to effective information management systems
Gain a unique insight in to the challenges we face beyond our atmosphere and how the armed forces and industry are striving to overcome them
Register by:
31st January to save  £200
28th February to save  £100
Register online at: www.military-space.com/hsrc
---

Critical Infrastructure Protection and Resilience Europe
9-11 May 2017
Crown Plaza Den Haag Promenade The Hague, Netherlands
Attacks on critical infrastructure sites are a favoured target for terrorist groups, for good reason. They offer what is seen by the terrorist as a soft target, that is, maximum effect with minimal chance of interdiction. The potential effects in terms of damage, the hugely detrimental economic impact, disruption of normal daily life and resulting publicity, can far outweigh the terrorist organisations commitment in both manpower and risk.
The European Commission has adopted a communication on Critical Infrastructure Protection in the fight against terrorism, enhancing European prevention, preparedness and response in the event of terrorist attacks involving critical infrastructures.
The European Programme for Critical Infrastructure Protection (EPCIP) considers measures that will enhance the level of protection of infrastructure against external threats, with the Operator Security Plan for all infrastructures designated as European critical.
Critical Infrastructure Protection and Resilience Europe brings together leading stakeholders from industry, operators, agencies and governments to collaborate on securing Europe. The conference will look at developing existing national or international legal and technical frameworks, integrating good risk management, strategic planning and implementation.
Critical Information Infrastructure Protection / Cyber Security
With the ever increasing threat from cyber attacks on critical infrastructure, the information and data stored and used by CNI systems and operators can be more crucial than the system itself. CIIP is becoming ever more important as part of the cyber security strategy of an organisation or CNI operator.
The European Union is developing its policy on critical energy infrastructures in relation to the European Programme for Critical Infrastructure Protection ("EPCIP") which considers measures that will enhance, where necessary, the level of protection of certain infrastructures against external threats.
The integrity of critical infrastructures and their reliable operation are vital for the well-being of the citizens and the functioning of the economy. The implementation of the EPCIP, under Council Directive 2008/114/EC on the identification and designation of European critical infrastructures and the need to improve their protection, has not been completely successful.
The ever changing nature of threats, whether natural through climate change, or man-made through terrorism activities, either physical or cyber attacks, means the need to continually review and update policies, practices and technologies to meet these demands.
Critical Infrastructure Protection and Resilience Europe is the leading conference and exhibition discussing the challenges and issues surrounding the ever increasing threats and solutions for securing Europe's critical infrastructure.
Neil Walker
Event Director
neilw@torchmarketing.co.uk
---
---
---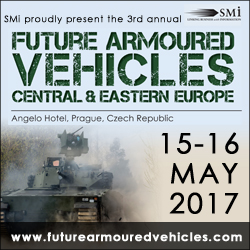 3rd Annual Future Armoured Vehicles Central & Eastern Europe
15-16 May, 2017. Angelo Hotel, Prague, Czech Republic
As Central and Eastern European nations continue to develop their land force mobility, fire support and protection, the armoured vehicle remains a vital capability area for development. Future Armoured Vehicles Central and Eastern Europe returns once more this spring to proactively discuss the key challenges and opportunities surrounding the combat vehicle.
With comprehensive support from the Czech MoD, this focused meeting for the mechanised community will aim to proactively discuss the tactics and technologies that will enhance future combat vehicle effectiveness within the Central and Eastern European region. By bringing you latest updates from the Czech Republic, Germany, Lithuania, Latvia, Romania, Bulgaria and US Army Europe, this year's conference will equip you with the tools to optimise combat vehicles development in this highly active and increasingly important region.
With the aim to provide a bridge between the end user's' needs, procurement and the solution provider, Future Armoured Vehicles Central & Eastern Europe is the perfect platform to facilitate collaboration between the key stakeholders, as well as to gain insight into the very latest active requirements and emerging technology.
Key Focuses:
Regional strategic updates from land force command and capability development including but not limited to: Austria, Bulgaria, Germany, Latvia, Lithuania, Romania, Slovenia and Turkey
A key focus on the Czech MoD and development of next generation infantry fighting vehicle, 8X8 and MBT platforms
An examination of the key combat vehicle capability areas and technologies enabling future lethality, survivability and C4I
Perspectives and feedback from mechanised operations and multinational training
Register by:
31st January to save £400
28th February to save £200
31st March to save £100
Click here to register online or contact us at:tchung@smi-online.co.uk
---
---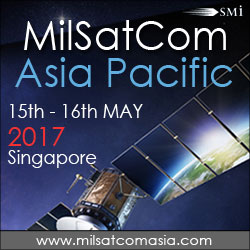 7th annual MilSatCom Asia Pacific
15-16 May 2017 Grand Copthrone Waterfront Hotel, Singapore
With the utility of space as a medium for war growing exponentially across the globe, the Asia-Pacific region is an area where rapid development and growth is particularly evident. This year's conference will provide national updates from key regional nations on their space and MilSatCom programmes.
Our unrivalled speaker line up will provide critical programme updates to look at how SatCom is utilised to gain the upper hand in the frontier that is crucial for future combat. In addition, this year's conference will look at other key topics including the management of space debris and the critical importance of space-based assets and satellite capabilities in assisting emergency communications and disaster response in the region.
Key nations you can expect to hear from include leading Asia Pacific militaries as well as the vital perspectives of strategic partners such as the USA and Canada. With military budgets being restricted globally, cooperation and interoperability between nations over key MilSatCom assets is more important than ever to ensure individual nations are able to satisfy national and regional.
Benefits of Attending:
Meet, network and hear from the Singapore Armed Forces and surrounding nations
Hear the latest developments in national MilSatCom and space programmes from leading Asia Pacific nations
Explore how key nations such as the US and Canada are assisting the growth of MilSatCom programmes in the Asia-Pacific region
Discuss and develop partnerships with allied nations to improve and enhance cooperation to effectively accomplish common goals
Hear from Republic of Korea Armed Forces, Indian Armed Forces, Hughes Network Systems, US Air Force, New Zealand Defence Force, Maritime Forces Pacific Headquarters, ASEAN Chief Information Officer Association, S. Rajaratnam School of International Studies, Ministry of Defence of the Republic of Indonesia, Indonesia Institute for Maritime Studies and much more…
Register by:
31st January to save $600
28th February to save $300
31st March to save $100
Click here to register online or contact us at:tchung@smi-online.co.uk
---
---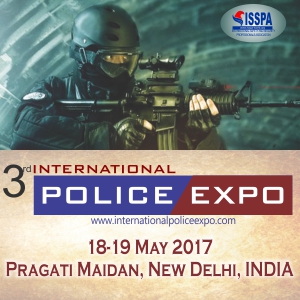 3rd International Police Expo 2017 (Co – Located Event 2nd Homeland Security Expo)
18-19 MAY 2017, Pragati Maidan, New Delhi ,India
India is among the world's top five defense spenders with its forces budget at $53.5 billion, India is one of the biggest defense spenders globally. The country has one of the world's largest armed forces – much of which requires modernization – and faces a range of external and internal security threats that drive investment into military personnel and equipment including terrorism, insurgencies, tensions with neighboring countries growing assertion in the region. India remains reliant on imports to meet much of its armed forces' requirements for technologically advanced equipment; however, amid efforts to develop and expand the local defense industry under Prime Minister Modi's 'Make in India' initiative, we expect the country's huge defense trade deficit to gradually narrow over the coming decade.
On the backdrop of huge demand in Asia, India in particular, we are organizing 3rd International Police Expo (Co – Located Event 2nd Homeland Security Expo) at Pragati Maidan, New Delhi, India during 18-19 MAY 2017.it is  India™s one and only exhibition & conference on Army, Police & other forces covering all segments like Defense, Homeland Security, Forensics, Law Enforcement, Surveillance, Protection,  Communication, Fire, Disaster and Rescue Management, Force Wellness and Fitness, Training, Investigation Technology, Traffic & Logistics, Modern equipment, technologies and inputs which are required by police, military , and allied forces for safety and  protection of society and all other necessities in day to day and special operations.
Attend two days International Conference along with exhibition on theme of "Internal Security a major challenge, despite border conflicts". Conference aims to gather researchers, technology developers, Senior Police Officers of State and Union Territories and International Police in order to discuss not only about the challenges of internal security, but also other related issues like Safety & Security, Cyber Security, Rescue, Forensics, Communication and Transmission Systems, Ballistic Protection etc.
3rd International Police Expo (Co – Located Event 2nd Homeland Security Expo) is going to be attended by the key officers of Army, Navy, Air force, Civil Police, Civil Defense Forces, Disaster Management and Rescue Authority and Forces, Fire Police, Traffic Police, Ministry of Public Security, Ministry of Home Affairs, Ministry of Defense, Coastal Forces etc. It will be one stop platform to meet the prospective buyers and officers of the industry. To do the business in these countries, Dealer and Distributor channel can also be developed through the event.
Besides this expo & conference, we are also organizing Police Excellence Awards on the evening of 18th May 2017. The aim of this award show is to honor the forces who perform their duties  24 X7  for safety & security of our society. We are also providing opportunity to create your own category /categories on the basis of company's Latest Products & Technologies. Sponsorship opportunities are also available. Kindly follow the link for same. http://award.policeres.org/#loginScreen.
HOW TO REGISTER:
Register by 15 February 2017 to save 300 USD
For Exhibits & Sponsorship information contact: ashish@nexgenexhibitions.com, info@internationalpoliceexpo.com
For more information and to register visit: www.internationalpoliceexpo.com
Consider reading HSRC Homeland Security Market Report before the event
---
---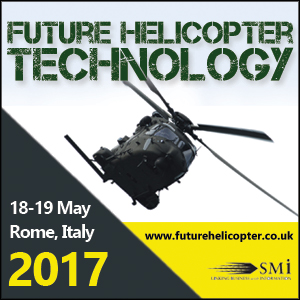 18-19 MAY 2017, Rome, Italy

Future Helicopter Technology 2017 will provide you with the very best opportunity to meet commanders and programme managers from diverse and exciting defence organisations.
The conference will provide a clear overview on major aviation capabilities, current and future challenges to joint operations and Special Forces, maritime deployment of rotary wing aircrafts, and even the latest technological developments regarding the most advanced helicopter platforms in the world.
NEW FOR 2017:
More helicopter platforms represented than any other 2017 military event: NH90, TIGER, Sikorsky UH-60, Bell UH-1D, cH-53E Super Stallion, Merlin Mk3
A detailed focus on Maritime Helicopter Optimisation with high level briefings from USMC, Royal Navy and Commander Italian Naval Aviation
Top military rotary commanders presenting from: Italy, Spain, Germany, Denmark and Belgium, giving you essential access to strategic and equipment decision makers
Key focuses: International Updates From Europe, Special Operations and Rapid Deployment, Fleet Modernisation, Naval Helicopter Perspectives, Updates on Global and Strategic Projects, Next Generation Rotary Development
Unrivalled host nation speakers:
Brigadier General (Ret'd) Roberto Quattrociocchi, Former Deputy MILREP NATO, Italian Air Force
Major General Fabio Molteni, Commander Flying Experimental Centre, Italian Air Force
Major General Antonio Bettelli, Commander Italian Army Aviation, Italian Army
Lieutenant Colonel Andrea Savina, Air Operations Branch Chief Italian Special Forces Operations Joint Command, Italian Air Force 
Rear Admiral Giorgio Gomma, Director of the Naval Aviation Dpt. (Italian Navy General Staff) and Commander of the Italian Fleet Air Arm, Italian Navy
Colonel (Ret'd) Massimo Bonesi, Former Chief of the Italian Army Aviation Test Centre – RW Development and Test Expert, Italian Army
Plus International Speakers from: German Army, Spanish Army, UK Royal Navy, Austrian Air Force, Royal Danish Air Force, NAHEMA, Belgian Air Component, European Personnel Recovery Centre, DGA, OCCAR and many more TBA.
Register by 31st March to save £100!
Register online at: http://www.futurehelicopter.co.uk/HSRC
---
---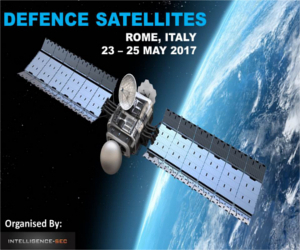 23-25 May, 2017. Rome, Italy
Take part in our upcoming Defence Satellites. The event will provide information from leading nations on the capabilities of their satellite systems.
With a greater need for satellite imagery to assist global armed forces on the ground when in combat missions, Defence Satellites is a timely event to discuss the latest capabilities from the leading nations who have developed strong satellite capabilities. There is also a greater need to share resources and many nations are now creating joint space missions to save on costs.
To participate please contact us at events@intelligence-sec.com or +44 (0)1582 346 706
---
---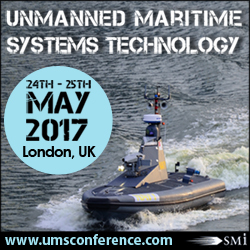 Unmanned Maritime Systems Technology
24-25 May, 2017. Leading and Winning Naval Warfare through the Technological Innovation of Maritime Robotic Systems, London, UK
SMi is delighted to announce the launch of the Unmanned Maritime Systems Technology conference taking place in London, UK on the 24th – 25th May 2017. Aimed at Unmanned Maritime System Program Managers, Heads of Surface/Underwater Warfare and Heads of Autonomous Systems Integration, UMS Technology 2017 will reflect on the future developments and technological innovation of maritime robotic systems.
Exercise Unmanned Warrior has shown the naval community that drones, both autonomous and remotely controlled will remain a permanent feature on todays and tomorrows naval theatre of operations. Unmanned Surface Vessels, Unmanned Underwater Vehicles and Unmanned Aerial Vehicles will continue to proliferate as they expand the range from which navies can operate, at a reduced cost and risk to personnel.
The Royal Navy which led the exercise are in the middle of reviewing the success and beginning to shape future concepts for unmanned platforms in naval warfare. In May the review will be completed and the Navy will be able to announce future concepts for maritime drones. Therefore this is the perfect opportunity to bring together leading unmanned maritime users to discuss the future role of drones and other innovative technology being developed in the industry.
2017 Speaker Line-Up:
Admiral Sir George Zambellas, Former First Sea Lord and Chief of Naval Staff, Royal Navy
Rear Admiral Keith Blount, Assistant Chief of the Naval Staff Aviation and Carriers, Rear Admiral Fleet Air Arm, Royal Navy
Rear Admiral Shepard Smith, Director of the Office of Coast Survey, NOAA: National Oceanic & Atmospheric Administration
Commodore Andreas Vettos, Commander Maritime Air Directorate, NATO MARCOM
Captain Zbiniew Gorniak, Deputy Chief of Staff Plans, Maritime Operations Centre, Polish Navy
Captain Jon Rucker, Program Manager Unmanned Maritime Systems, US Navy
Captain Clark Troyer, Commanding Officer, ONR Global
Mr David Burton, Director Strategy, NATO STO-CMRE
Dr Phillip Smith, Ship Systems & Integrated Survivability Programme Manager, DSTL
Morten Nakjem, Research Manager, Maritime Systems, FFI
Benefits of Attending:
Hear from senior naval officials on the latest advancements in unmanned technology
Learn how UMS are changing the nature of warfare above and below the water
Gain access to key military stakeholders all seeking to develop their unmanned capabilities
Discuss topics focused around key platforms and capabilities from UUVs for Mine Counter Measures to USVs for Anti-Surface Warfare
Informal networking time to talk to peers and colleagues also shaping and influencing Unmanned Maritime System programmes today
Registration & Early birds:
BOOK BY 31st JAN 2017 TO SAVE £400
BOOK BY 28th FEB 2017 TO SAVE £200
BOOK BY 31st MARCH 2017 TO SAVE £100
Click here to register online, contact James Hitchen on +44 (0) 207 827 6054 or by Email:jhitchen@smi-online.co.uk
---
---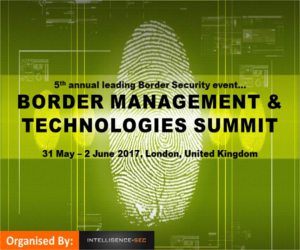 5th annual Border Management & Technologies Summit
31 May – 2 June , 2017. London, UK
With UK citizens recently voting to leave the European Union (BREXIT) this will have a huge impact on the UK Border Force operations and functions. There will also be implications for UK citizens and mainland European's wishing to travel back and forth between the UK and mainland Europe.
Our 5th annual Border Management & Technologies Summit will bring together leading border security officials from the UK and across Europe to discuss key issues regarding European border challenges, threats, organised crimes and EU policies and strategies.
To participate please contact us on events@intelligence-sec.com or +44(0)1582 346 706
---
---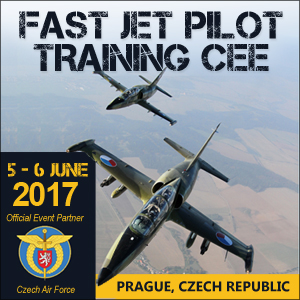 Fast Jet Pilot Training Central and Eastern Europe
5th – 6th June 2017 , Prague, Czech Republic
The Czech Air Forces 2nd annual Fast Jet Pilot Training Central and Eastern Europe (CEE) conference will return to Prague this summer, on the 5th and 6th June 2017.
With growing external threats to national and regional security, the Czech Air Force has begun talks with regional partners in the pursuit of a regional training centre for fast jet pilots where partners can pool their resources, knowledge and expertise to create a joint capability far greater than would otherwise be achievable independently.
The aim of this conference is to encourage improved cooperation and interoperability among the air forces of regional allies to enhance air force power in the region. This important meeting will also provide a forum for leading solution providers to exhibit and discuss recent developments in fast jet training technology as well as the activities, capabilities and requirements of participating powers.
Benefits of attending:
Hear expert briefings from Commanders and senior Officers delivering exclusive information on operational capabilities as well as current and future requirements
Discuss highly relevant aspects of fast jet pilot training including advanced simulation technology and the latest training aircrafts, such as the Alenia Aermacchi M-346 Master Jet Trainer and the Aero Vodochody L39 NG
Supported by the Czech Air Force, NATO, EDA as well as key regional and international Air Forces including Germany, Hungary, Canada and Italy
Dedicated solution zone where international industry leaders will showcase their latest pilot training technologies and programs
Early bird discounts!
Register by 31st March to save £200
28th April to save £100
Register online at: http://www.fastjettraining.com/HSRC
---
---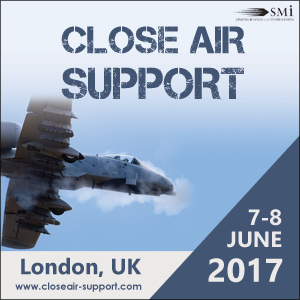 7 june – 8 June , 2017. London, UK
Close air support remains a core competency that underpins ground operations. For both conventional and asymmetric operations, it is imperative that this vital asset is maintained and built. The opportunities for increased agility, interoperability and combat effectiveness are greater than ever. A shift toward fully digitalized joint fires, with the ability to swiftly target and deliver air power now sets the standard.
SMi Group's 3rd annual Close Air Support (CAS) conference will focus on established and emerging technologies; placing ultimate emphasis on the needs of the solider, both on the ground and in the air. Highlighting the collaboration between military, research and industry, by inviting not only the leading operators at the forefront of air operations, capability development and training, but also the engineers, chief scientists and technical directors from research and industry, who are creating the platforms and technologies at the heart of future close air support.
Benefits of attending:
Deliberate CAS capability areas, including air land integration, joint ISR and targeting, C2 and battle space management, training, platforms and weapon systems
Hear national updates from the UK, NATO, US, French, German, Italian, Netherlands and Czech Armed Forces
Gain insight into the latest technology enabling next generation CAS, covering; advanced simulation, sensors, command and control and munitions at the heart of close air targeting and delivery
Examine live and synthetic CAS training with a dedicated pre-conference workshop covering future concepts and approaches to leveraging simulation
Learn about strengthening coalition environments, with feedback from NATO Air Commands ongoing efforts
Early bird discounts!
Register by 31st March to save £200
28th April to save £100
Register online at: www.closeair-support.com/HSRC  
---
---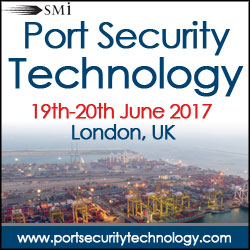 19th-20th June 2017 Holiday Inn Kensignton Forum, London, UK
http://www.portsecuritytechnology.com/hsrc
For more information, contact Theresa Chung at: tchung@smi-online.co.uk
Port Security Technology 2017 is a dedicated platform for optimising the protection of global sea ports through state-of-the-art security technology.
As 90% of trade move through major ports and sea lanes each year, sea ports remain the most viable access point for international trade. Hence, ensuring safety and security for individual ports are crucial to sustain the economic bloodline. Following this, Port Security Technology is a conference that you cannot afford to miss.  The 2017 show will bring together major sea port security operators alongside world leading solution providers to find the right solutions to the most important security challenges faced at major container ports.
The 2-day programme will provide a complete focus on security technology and its importance to the preservation of life and property in ports and at sea as well as enable you to explore the most important topics to date such as cyber resilience, security automation and counter-terrorism.
Notable presenters include BIMCO, Belfast Harbour Police, City University London, International Maritime Organisation, London Gateway, Malta Transport Authority , Marine Risk Management, MAROPS, Metropolitan Police Service, Milford Haven Port Authority, Port Authority of Vigo, Port Of Long Beach, Port of Rotterdam, Port of Santos – Santos Brasil, Salamanca Group, Transport for London, University Of Warwick.
Register by:
31st March to save £300
28th April to save £200
31st May to save £100
Register online at http://www.portsecuritytechnology.com/hsrc  
---
---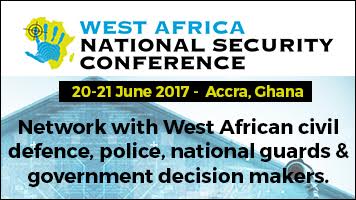 West Africa National Security Conference
20th-21th June 2017 Kempinski Hotel in Accra, Ghana
Join regional police forces, customs, border guards and homeland security officials at the West Africa National Security Conference from 20-21 June 2017 at Kempinski Hotel in Accra, Ghana, as they discuss strategies and ways to secure a tactical advantage with the sole aim of improving policing and homeland security standards in the region.
For more information email enquiry@iqpc.ae.
---
---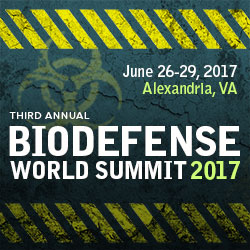 3rd Annual Biodefense World Summit
26 – 29 June 2017. Alexandria, VA, USA
The Knowledge Foundation's Third Annual Biodefense World Summit brings together leaders from government, academia, and industry for compelling discussions and comprehensive coverage on pathogen detection, sample prep technologies, point-of-care, and biosurveillance. Across the four-track event, attendees can expect exceptional networking opportunities in the exhibit hall, during panel discussions, and while sharing case studies with members of the biodefense community from technology providers to policy makers.
Hear Keynote Presentations from the following industry leaders, and more:
John Besser, Ph.D., Deputy Chief of the Enteric Diseases, Centers for Disease Control & Prevention
Kurt Schaecher, Ph.D., Deputy Director, Division of Medicine, U.S. Army Medical Research Institute of Infectious Diseases (USAMRIID)
Helen M. Moore, Ph.D., Chief, Biorepositories and Biospecimen Research Branch, Cancer Diagnosis Program, Division of Cancer Treatment and Diagnosis, National Cancer Institute
Bob Buchanan, Ph.D., Professor & Director, Center for Food Safety & Security Systems, University of Maryland
Register by:
March 31 and save up to $250
May 19 and save up to $100
Register online at: http://chidb.com/reg/bpm/reg.asp or by calling: +1-781-972-5400
---
---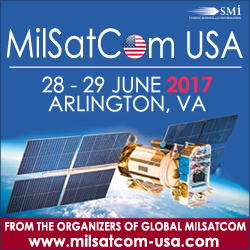 28-29 June, 2017. MilSatCom – Sheraton Pentagon City, Arlington, VA, USA
From the organizers of leading military satellite communications event Global MilSatCom, the highly anticipated MilSatCom USA conference returns stateside on 28th-29th June 2017 in Arlington, Virginia. Registration is now live on www.milsatcom-usa.com/hsrc.
With the space and cyberspace domains growing ever more congested, contested, and competitive, ensuring effective resiliency and protection on future MilSatCom systems is more crucial than ever before. The two-day conference will provide the ideal forum to discuss how further comprehensive collaboration can benefit all parties and stakeholders.
The event will explore key topics such as the USA's acquisition process, alongside contemporary and crucial issues such as the Wideband AoA and utilisation of ComSatCom, as well as assessment of threats facing the space domain such as space congestion and debris, EW, jamming, anti-satellite capabilities and cyber.
Featured speakers include key government and military personnel from US Army, Australian Defence Force, US Air Force, US Department of Defence, US NorthCom, NATO NCIA, NORAD, DISA, DARPA; and also key industry speakers from Airbus Defence and Space, Hughes Network Systems and more.
PLEASE NOTE: All active federal employees, including military personnel, will be FREE ADMISSION to our event. However, in order to attend this event pre-registration is required, which is subject to final approval by the conference organiser. Please visit www.milsatcom-usa.com/hsrc for more details.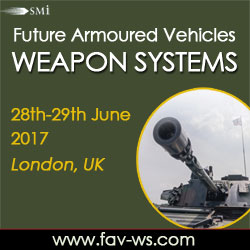 Future Armoured Vehicles Weapon Systems
28th-29th June 2017 Copthorne Tara Hotel, London, UK
For more information, contact Theresa Chung at: tchung@smi-online.co.uk
Future Armoured Vehicles Weapon Systems will return on the 28th and 29th June 2017 to London to discuss the very latest technological developments from research and the industry that are enhancing combat effectiveness and lethality.
Both within the conventional and asymmetrical environments, armoured vehicle lethality has always (and continues to offer), a vital means of boosting the combat effectiveness of ground forces. However, this conference is particularly timely. As the US Army increases its presence of heavy armour in Europe to the highest levels seen in years, there is a need to develop offensive assets and the deterrence capabilities that the armoured vehicle provides. In recent years hostile actors have increased their own combat vehicles protection, armament and fires to near peer status. There is therefore a need to re-examine and access the effectiveness of NATO fighting vehicle offensive capability and means of countering threats.
Drawing on experience from previous operations and ongoing activity in the capability development space, future requirements will be presented and discussed. Importantly, to increase awareness of the technologies and capabilities that might be leveraged, an examination of the latest weapon systems, vehicle configurations, smart munitions, high energy lasers, fire control, targeting, simulation and autonomous technology,  shall be just some of the areas covered.
Notable presenters include Slovenian Ministry of Defence, NSPA, British Army, Danish Army Combat and Fire Support Centre, Spanish MoD, US Army, Finnish Army, Vetronics Research Centre, Soucy Defence, UK Armed Forces, United States Marine Corps and United States Army.
Register by:
31st March to save £300
28th April to save  £200
31st May to save  £100
Register online at http://www.fav-ws.com/hsrc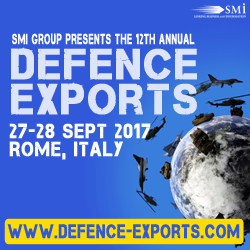 12th annual Defence Exports
Crowne Plaza St Peter's Hotel & Spa, Rome, Italy
27-28 September 2017
www.defence-exports.com/homesec
SMi Group's Defence Exports conference will provide essential updates from leading representatives of government and industry on their best practices for complying with export controls. A truly global event, delegates will hear from government speakers and senior international trade compliance professionals from around the world on regulation controls including ITAR, EAR, ECR, Dual-Use and the Wassenaar Arrangement.
As well as understanding how these leading organisations optimise their global trade compliance programmes to maximise efficiency, this year's 12th Annual event will deal with the critical developments of 2017 making a profound impact upon the defense trade including a new administration in the White House, Brexit and the growing threat of cyber.
Featured speakers will include: Italian Ministry of Foreign Affairs and International Cooperation, Italian ministry of Economic Development, Department of Global Affairs – Canada, UK MoD, Ministry of Defence – Israel, Wassenaar Agreement, German Federal Office of Economics and Export Controls, European Commission, Boeing, L-3 Communications, Hohmann Rechtsanwaite, Securus Strategic Trade Solutions, BAE Systems and more.
There will also be 4 workshops included in the agenda.
There will be more information updated on http://www.defence-exports.com/homesec.
---
---
For over 30 years the MILIPOL brand has been synonymous with high quality, international exhibitions covering the field of internal State security. Over the years, the brand has been proudly represented by Milipol Paris and Milipol Qatar. From 2017, the Global Security Asia exhibition and conference, is renamed Milipol Asia-Pacific, so creating the world's leading international network of exhibitions dedicated to solutions, technologies and innovations for homeland security.
Next events:
Milipol Asia-Pacific 2017, 4-6 April, Singapore – www.milipolasiapacific.com
Last session welcomed:
– 188 exhibitors coming from 32 countries
– over 5,000 visitors coming from 45 countries
Milipol Paris 2017, 21-24 November, Paris – www.milipol.com
Last session welcomed:
– 949 exhibitors coming from 55 countries – 89% of them were satisfied with their participation
– 24,056 visitors coming from 143 countries – 97% of them were satisfied with their visit
Milipol Qatar 2018, 29-31 October, Doha – www.milipolqatar.com
Last session welcomed:
– 230 exhibitors coming from 35 countries – 82% of them were satisfied with their participation
– 6,538 visitors coming from 103 countries – 91% of them were satisfied with their visit
Come and meet the key international players of the public and industrial security sector, and discover and discuss new trends, products and services of the market.
---
---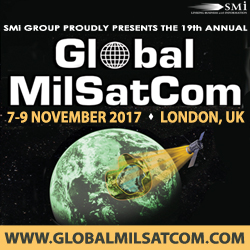 19th annual Global MilSatCom
7-9 November, 2017  Riverbank Park Plaza Hotel, London, UK
www.globalmilsatcom.com/homesec.
Described as Europe's leading forum for satcom professionals, Global MilSatCom has been running for nearly two decades and has grown in size and stature every year, attracting almost 500 attendees and 40 sponsors in 2016. The conference's reputation has been built on the high-level international speakers and decision makers it attracts and the fantastic networking opportunities offered during the 4 days of sessions and workshops.
This year's event will see developments and updates to MilSatCom programmes from around the world from leading figures and networking sessions throughout the 3-day event. Key themes and challenges at the core of the MilSatCom Community will be addressed, including the need for resiliency and robustness within SatCom systems, interoperability and flexibility within platforms, as well as the growing importance of allied collaboration.
More details can be found on www.globalmilsatcom.com/homesec.