Description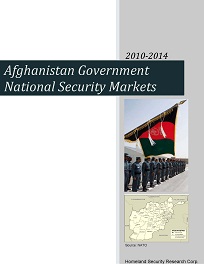 After eight years of training, Afghanistan's military and police have made progress, but there is still considerable work to be done. Presently, only a fraction of their forces are capable of confronting insurgents and maintaining law and order. President Obama's Afghan strategy is predicated on the assumption that the pace of ANA and ANP recruitment, training and deployment can be significantly accelerated.
According to this report, an Afghan "train and equip" program (2010 2014) will cost the US approximately $65 billion and present US businesses with over $37 billion of challenges and opportunities.
The Afghan military-security infrastructure is in need of everything from bullets and blankets to robots to counter IEDs and secure Intranet networking technologies to assure 24/7 inter-service communications.
Along with analyzing the institutions, agencies and services being developed, the report's 340 pages, 133 tables and 155 graphs, describes the market by:
Technology needs and challenges: e.g. Training technologies, personal protective gear, counter-IED technologies, simplified weapons systems and improved perimeter detection/security.
End Customer: e.g. Afghan government, ANA, ANP, Afghan Air Force, intelligence community, private sector.
Sub-Markets: e.g. Light weapons and ammunition rifles, machine guns, mortars, grenade launchers; Artillery; Military wheeled vehicles Humvees, MRAPs, line haul and semi tractors, 20T dump trucks; Critical infrastructure electric, transportation, telecommunications; Communications Manpacks, vehicle-mounted transceivers, satellite monitoring and intercept systems, secure voice/data technologies and switchboards; Security-related IT and Biometrics.
Mission: e.g. Training Kabul Military Training Center, National Military Academy, branch schools; Counter-IED technologies jamming technologies and equipment; Perimeter security construction, sensors, C3 systems.