Description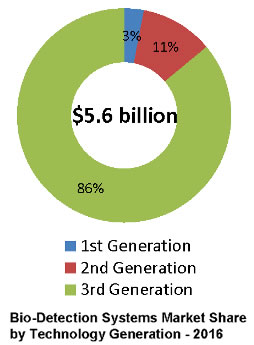 See also the latest version of this report
Over the next six years, Homeland Security Research Corporation (HSRC) forecasts that, led by the US, Germany, France, China, Japan and India, the annual global bio-detection market (including systems sale, service, upgrades and consumables) will grow to $5.6 billion by 2016 at a CAGR of 12%.
With terrorist organizations posting secure "how-to" bio-agent production manuals to the Internet for download by individual terorists, governments have an urgent need to upgrade their bio-defense infrastructure.
As President Obama stated: "Just as we must guard against the spread of nuclear terrorism, it is time for a comprehensive effort to tackle bio-terror". Meeting this challenge will require, among other things, shortening the bio-attack alarm response time at a reasonable cost of ownership.
Developed using HSRC's tested methodology, the report delves into:
Global bio-detection by systems, upgrade, service and consumables market segments
Global & regional markets by first, second and third generation technology
Global & regional markets by indoor, outdoor, hand-held and mobile labs segment
Leading global bio-security projects
Current and pipeline technologies: e.g., advanced collectors-concentrators, reagent-less triggers, DNA-based diagnostics, antigen/anti-body methods, signal analysis algorithms
Regional markets: e.g., USA, UK, Germany, France, Italy, Spain, China, Taiwan, Japan, India, Middle East
Business opportunities: e.g., emerging threats, human and animal sentinel surveillance, reagent-less detection assays, bio-detection IC3 systems
A comprehensive review of Bio-Detection vendors , products and prices
Market drivers and inhibitors
And much more…