Description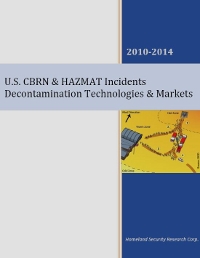 This report describes existing and pipeline technologies, as well as current markets and, business and funding opportunities related to producing, using, and/or stockpiling Chemical, Biological, Nuclear and Radiological (CBRN) decontamination equipment and materials.
The report's highlights include:
The Obama administration is committed to accelerating the spending on CBRN mitigation programs. The "2009 American Recovery and Reinvestment Act" alone provides funding for many CBRN mitigation goals. It includes over $2.7 billion for procurement and advanced development of CBRN and pandemic influenza medical countermeasures.
The economic slowdown is forecasted to accelerate federal funding for the decontamination industry, as indicated by President Obama's stimulus package, which includes provisions relating to job creation, counter-WMD terror and environment issues.
Preparing for the aftermath of a CBRN event is a high priority mission of U.S. HLS policy and decision makers. Accordingly to the Homeland Security Threat Assessment for the years 2010-2014, CBRN attacks are considered the most dangerous threats facing the U.S.
The research asks and answers, among others, the following questions:
What are the main drivers and inhibitors relevant to existing decontamination technologies and markets?
What are the business opportunities that arise from the distance between existing technologies and products and the technologies and products required to provide needed protection?
Who, in government, is involved with decontamination R&D, and what is the funding opportunities horizon through the end of the decade and the start of the next decade?
The systems reviewed in this report include the following modalities:
Contamination detection systems
Equipment, buildings and environmental decontamination systems (for sensitive and non-sensitive equipment and buildings, ground, infrastructure and environment decontamination, fumigation systems, foam/gel sprayers) – systems for decontamination of all contaminated objects, except people
People decontamination systems