Description
See also the latest version of this report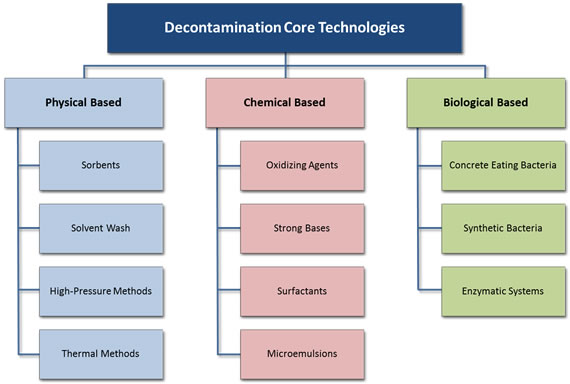 Decontamination Core Technologies
The threat of CBRN terrorism and HAZMAT incidences was demonstrated by the Fukushima 3/11 reactors meltdown, which left nearly 8% of the Japanese mainland contaminated and is expected to cost more than $40 billion to decontaminate.
Global public outcry drove governments to impose strict safety regulations and accident recovery funding, which will raise the market for decontamination equipment and materials.
HSRC forecasts that the global market for CBRN terror & Hazmat decontamination systems and equipment maintenance will reach $5.4 billion by 2016.
Our new market report is the most comprehensive review of the multibillion global decontamination market available today.
The report reveals more than twenty business opportunities, created, on the one hand, by the increasing recognition of the threat presented by HAZMAT accidents and CBRN terrorism, and on the other hand, by a growing environmental consciousness that is impacting public and political attitudes. Meeting both of these challenges has sparked a host of new, pipeline technologies and opportunities that have the decontamination markets poised for considerable growth. Following the accident at the Fukushima nuclear power plants and the BP oil spill in the Gulf of Mexico (total liability could amount to as much as US $100 Billion), new governmental legislation and federal funding of post CBRN attack and accidents are only three of the many factors driving the decontamination equipment and reagents market growth.
The report, segmented into 30 submarkets, offers for each submarket 2010 and 2011 data, funding and market size, as well as 2012-2016 forecasts and analysis. In 245 pages and 114 tables and figures, the report analyses and projects the 2012-2016 market and technologies from several perspectives, including:
Market and technology forecast by modality: e.g., people decontamination, facility decontamination, indoor , outdoor decontamination and other decontamination equipment
Regional markets: e.g., USA, UK, Germany, France, Italy, Spain, China, Taiwan, Japan, India, Middle East
Equipment sales and post warranty service & upgrade business
Guidelines for decontamination equipment procurement
Product comparison tables –  hundreds of decontamination products including  pricing and performance information
Competitive environment: 90 vendors and their products
Business environment: e.g., competitive analysis, SWOT analysis
Current and pipeline decontamination technologies
Business opportunities and challenges