Description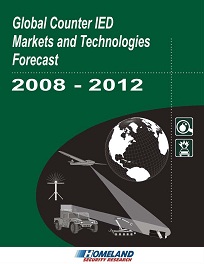 Improvised Explosive Devices (IEDs) evolved over the past few years from a tactical "nuisance" threat to a strategic problem challenging the tactics, strategies and war-fighting capabilities of established armies worldwide. The result should be a revaluation and major changes to military doctrines world wide, impacting outlooks, makeup and budgets for decades to come.
This world-changing trend is described, examined and analyzed in detail in this report:
The report arrives at some surprising conclusions about the ways the IED threat will influence the evolution of militaries in general and counter IED technologies in particular. The report examines existing and evolving strategies and technologies and highlights the advantages and disadvantages of adopting each technology.
Among others, the new research report focuses on the following areas:
Global Counter-IED Business Opportunities New market entrants with a technological edge are presented with market entry opportunities in several multi-billion dollar markets
Analysis of 71 current and future counter-IED technologies by tactical segments (e.g., Prediction, Detection, Prevention, Neutralization and Destruction, Mitigation)
2008-2012 Global Procurement, Services and Upgrade Market forecasts (2008-2012 aggregate market totaling $23.2 billion with an outlay of $29.4 billion)
2008-2012 Global market forecasts analyzed and segmented by region (e.g., U.S., Europe, India, Israel, China, Arab Word)
Global Counter-IED Market Growth opportunities segmented by region