Description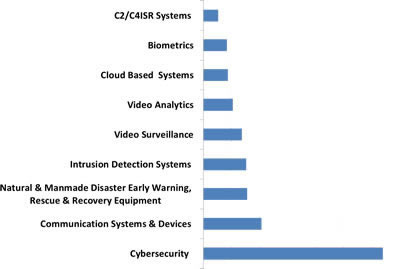 Nine Technologies that Will Dominate the HLS & Public Safety Technologies Market by 2020 [$B]
Global Homeland Security (HLS) & Public Safety markets are going through major shifts. Markets once dominated by weapons and explosives screening are now moving to cyber security, HLS & PS Communication Systems and Natural & Manmade Disaster Early Warning, Rescue & Recovery technologies. New and maturing sensor and ICT technologies create new market niches and fresh business opportunities. These shifts lead a $305 billion 2011 market to a $546 billion by 2022. With more than 577 pages, 159 tables & 279 figures, the new "Global Homeland Security & Public Safety Industry, Technologies Market – 2015-2022" is a landmark research project in the global HLS & PS technologies sector. This unique report offers for each of its 52 submarkets 2011-2014 market data and analyses, as well as 2015-2022 forecasts and analyses.
Report Findings Include:
Following the early January 2015 terror attacks in Paris, the demand for HLS and Public safety technologies will increase in Europe throughout the 2015-2019 period.

Big Data

: The HLS & Public Safety related Big Data technology market is forecasted to grow at a 2014-2022 CAGR of 37%, the fastest growing HLS & Public Safety technology sector.
According to recent reports (e.g., the UN) climate-related natural disasters grew during the recent decade by more than 13%. The 

Natural Disasters Preparation & Response

 equipment cumulative 2015-2022 market is forecasted to surpass the $150 billion level.

Cyber Security

: Driven by Cyber-Terror and Cyber-Crime, the global Cyber Security 2015-2022 market is forecasted to be the largest HLS & Public Safety technology sector, with cumulative sales of more than $700 Billion.
Why Buy this Report?
A] Questions answered in this report include:
What will the individual technology market size and trends be during 2015 -2022?
Which are the submarkets that provide attractive business opportunities?
What is the industry structure?
Who are the decision-makers?
What drives the customers to purchase solutions and services?
What are the customers looking for?
What are the technology & services trends?
Where and what are the market opportunities?
What are the challenges to market penetration & growth?
B] Technologies included in the report: 
Biometrics,
RFID,
Cloud-based systems,
Big data,
Bio-agents & infectious disease detection,
C2/C4ISR systems,
Chemical, HAZMAT & nuclear detection,
Communication systems & devices,
Counter-IED technologies
Cybersecurity,
Decontamination of CBRN & HAZMAT incidents,
Electronic fencing,
Explosives trace detection (ETD),
Intrusion detection systems,
Mass emergency notification,
Metal detectors,
Natural & manmade disaster early warning, rescue & recovery equipment,
Non-lethal weapons,
Personal (ballistic & CBRNE) protective gear,
Standoff explosives & weapon detection,
Tomographic explosive detection systems (EDS),
Vehicle & container screening portals,
Video surveillance,
Video analytics,
X-ray screening.
C] Revenue Source including: Products sales, maintenance & service, upgrades, refurbishment, planning, training and consulting  
D] Detailed market analysis frameworks for each of the 26 technology market sectors, including:
Market & Technology Background
HLS and Public Safety Applications
Market Dynamics
Market drivers & inhibitors
Business opportunities
SWOT analysis
Competitive analysis
Business environment
The 2011-2022 market segmented by submarkets