Description
Click to see the latest version of this report
13 years have passed since 9/11 and the global Homeland Security (HLS) & Public Safety markets are going through major shifts. Markets once dominated by the U.S. and EU are now moving east. New and maturing sensor and ICT technologies create new market niches and fresh business opportunities. These shifts lead a $305 billion 2011 market to a $546 billion by 2022.With more than 1500 pages and 1100 tables & figures, the new "Global Homeland Security & Public Safety Market – 2015-2022" is the largest research project ever conducted in our company's history. This unique report offers for each of its 200+ sub-markets 2011-2013 market data and analyses, as well as 2014-2022 forecasts and analyses. This three volume report is the most comprehensive review of the Global Homeland Security & Public Safety market available today.Report Findings Include:
Aviation Security

: This market which was dominated by the U.S. and the EU during 2002-1012, will be overtaken by China and the Gulf states during the 2014-2022 period. These regions will combine to a market share of more than 60% of the global sales of the new aviation security systems and devices.

Big Data

: The HLS & Public Safety related Big Data technology market is forecasted to grow at a 2014-2022 CAGR of 37%, the fastest growing HLS & Public Safety technology sector. The U.S. market share is 51% while the EU market share is forecasted to take more than 21% of the market.
Cross-border illegal immigration, organized crime, smuggling of goods & narcotics, and terror are the main drivers of the

land border and maritime security

markets growth.

Safe Cities

: As you read this preview, over 2300 municipalities around the globe are executing or planning their Safe City projects to enhance civilian security, safety, local economy and quality of life. A Safe City price tag ranges from billions of dollars (e.g., Dubai $2.3 billion, Guangdong Province "Safe City Corridor" $6 billion) to a few millions for a community "Safe City" project.
According to recent reports (e.g., the UN) climate related natural disasters grew during the recent decade by more than 13%. The

Natural Disasters Preparation & Response

equipment cumulative 2014-2022 market is forecasted to surpass the $150 billion level.

Cybersecurity

: Driven by cyber-terror and cyber-crime, the cybersecurity 2014-2022 market is forecasted to be the largest HLS & Public Safety technology sector, with cumulative sales of more than $700 billion.
Why Buy this Report?A. This is the only report that addresses the HLS & Public Safety dual-use markets
87% of the HLS & Public Safety industry revenues emanate from dual-use products. For example, cybersecurity systems are used to address both cyber-crime and cyber-terror. Decision-makers forming their strategy need a complete view of this overlapping market both independently and in their intersections.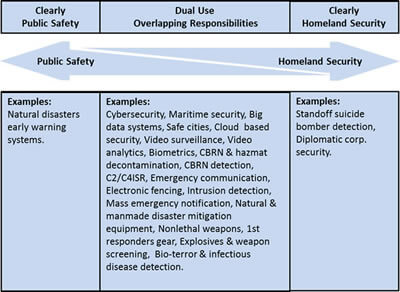 B. Market data analyzed via 5 key perspectivesWith a highly fragmented HLS & Public Safety market we address the "money trail" – each dollar spent – via the following 5 viewpoints:
By Vertical Markets including: Aviation Security, CBRN & HAZMAT Security, Land Border Security, Counter-Terror & Crime Intelligence, Critical Infrastructure Security, Law Enforcement & 1st Responders, Maritime Security, Land Transportation Security, Energy & Petro-Chemical Industry Security, Public Events Security, Commercial & Industrial Security Systems, Safe Cities, Diplomatic Facilities & Personal Security, Natural Disasters Preparation & Response and Other Vertical HLS & Public Safety Markets.
By Revenue Source including: Products Sales, Maintenance & Service, Upgrades, Refurbishment, Planning, Training and Consulting.
By Technology including: Biometrics, RFID, Cloud Based Security, Big Data, Bio-Agents & Infectious Disease Detection, C2/C4ISR Systems, Chemical, HAZMAT & Nuclear Detection, Communication Systems & Devices, Counter-IED Technologies, Cybersecurity, Decontamination of CBRN & HAZMAT Incidents, Electronic Fencing, Explosives Trace Detection (ETD), Intrusion Detection Systems, Mass Emergency Notification, Metal Detectors, Natural & Manmade Disaster Early Warning, Rescue & Recovery Equipment, Non-Lethal Weapons, Personal (Ballistic & CBRNE) Protective Gear, Standoff Explosives & Weapon Detection, Tomographic Explosive Detection Systems (EDS), Vehicle & Container Screening Portals, Video Surveillance, Video Analytics, X-ray Screening.
By End Customer including: Government bodies, Private sector.
By Country including: Australia, Austria, Belgium, Brazil, Canada, China, Columbia, Czech Republic, Denmark, Finland, France, Germany, Holland, India, Indonesia, Iraq, Ireland, Israel, Italy, Japan, Kuwait, Mexico, Nigeria, Oman, Pakistan, Poland, Russia, Saudi Arabia, Singapore, South Korea, Spain, Sweden, Taiwan, Turkey, UAE, U.S. and UK.
C. Detailed market analysis frameworks for each of the 78 market sectors, including:
Market drivers & inhibitors
Business opportunities
SWOT analysis
Competitive analysis
Business environment
The 2011-2022 market segmented by submarkets
 
 
 
Global HLS & Public Safety Market [$B] – 2010-2022

Homeland Security& Public Safety Market Vectors