Description
One cannot underestimate the importance of effective people screening. Since the end of the cold war, no single event has had a greater effect on the global geopolitics and defense, as well as on public safety and homeland security markets, than the 9/11 attack, caused by the pre 9/11 people-screening processes loopholes.
The 2nd half of this decade will be characterized by numerous new developments in the global People Screening market. Geopolitical turmoil in the Middle East, growing illegal immigration, rapid economic growth within Asia-Pacific nations, all combined with technological changes will lead to a vibrant global People Screening market estimated at a cumulative $34 B between 2015 and 2020.
The 2015-2020 period will also see the markets shifting from the traditional EU & U.S. markets expected to grow at single digit CAGR to Asia Pacific & Middle Eastern markets that are forecasted to boom with double digit CAGR. In fact, by 2020, the Asia Pacific People Screening Markets will be as large as those of the U.S. & EU combined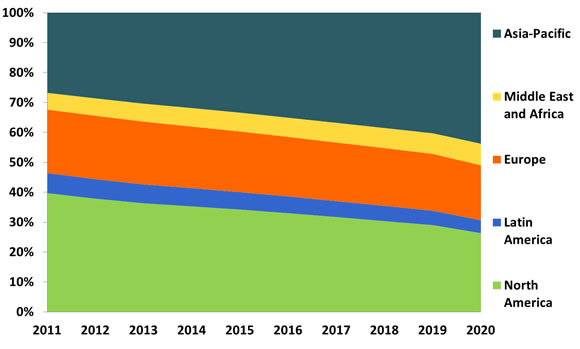 Global People Screening Market Share [%] by Region – 2011-2020
Some report findings include
In Asia Pacific, the investments in new mass transportation hubs, airports and rising crime provide an array of business opportunities for people screening systems vendors. This regional market will grow at a CAGR of 17.1%
The U.S. and European markets will grow at a CAGR of 5.8% and 8.9% respectively, a growth attributed to a strong replacement market and the incorporation of state of the art ICT means. Another market driver is the threat of homegrown radical Islam terrorists (e.g., ISIS 'graduates')
Despite attracting most of the attention, Airport Security will make-up less than 20% of People Screening market in the forecasted period (e.g., 15,000 diplomatic missions worldwide have people screening checkpoints vs. more than 7200 airport screening lanes by 2020)
Rapidly increasing illegal immigration is quickly becoming a leading driver behind people screening checkpoints projects
Middle Eastern turmoil and in particular the most recent ISIS threat lead local governments to not only reinforce their security forces but also to open their wallets in order to strengthen their homeland security infrastructures. In particular, Turkey, Israel, Saudi Arabia and other Gulf states are expected to lay out "Whatever It Takes" in order to replace existing checkpoints technologies with state-of-the-art systems while creating numerous new checkpoints in various strategic locations.
As demonstrated by "Red Teams" drills, present people screening technologies provide numerous security loopholes when screening for "Black Listed" people, weapons and explosives. Aside from technical challenges, issues of privacy present additional challenges in developing premium systems. Towards the end of this decade the market will see the introduction of new technologies that will drive more cost-effective explosives, weapons and illicit materials detection, moving from the pre 9/11 technologies to cutting edge technologies (e.g. CBRNE "sensors on a chip", advanced ICT systems, and standoff suicide terrorists detection).
Airport screening technology is currently being developed that will allow passengers to walk through the IATA – ICAO "Checkpoint of the Future" and enabling high screening throughput. Moreover, it is envisioned that the security process would be fused with customs and immigration procedures and further streamline passenger experience.
Automatic Airport Check-in of the Future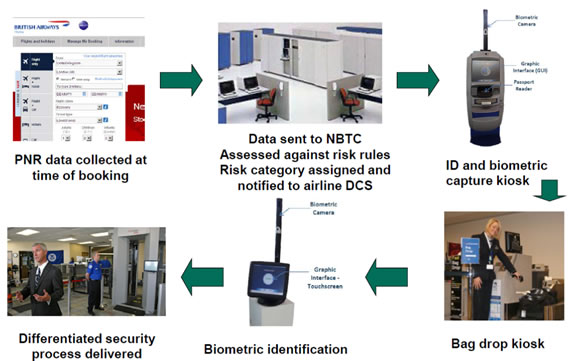 (Source: IATA-ICAO)
With 736 pages, 337 tables & 442 figures, the "People Security Screening: Technologies, Industry & Global Market – 2015-2020" report is the most comprehensive people screening market report available today. This unique report offers for each of its 209 sub-markets 2011-2014 market data and analyses, as well as 2015-2020 forecasts and analyses.
The report is granulated by 5 regional, 40 national, 7 vertical, 8 technology and 3 revenue source sub-markets as can be seen in the chart below: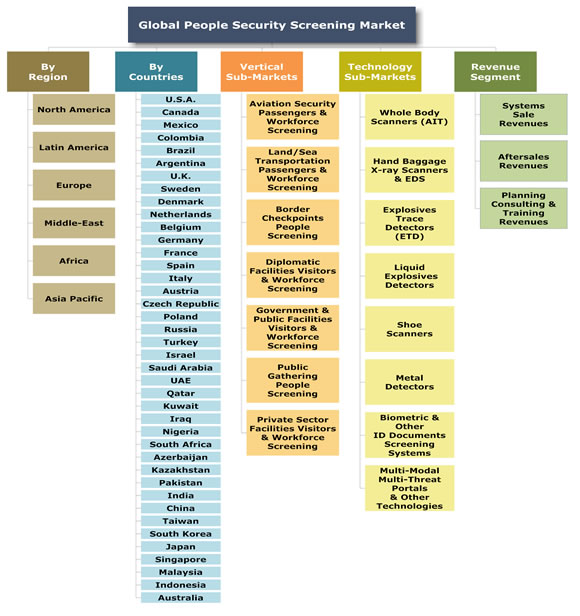 Global People Security Screening Report: Market Dissection Vectors
49 national and regional markets North America, Latin America, Europe, Middle East and Africa, Asia-Pacific, U.S., Canada, Mexico, Columbia, Brazil, Argentina, other Latin American countries, U.K., Sweden, Denmark, Netherlands, Belgium, Germany, France, Spain, Italy, Austria, Czech Republic, Poland, Russia, other European countries, Turkey, Israel, Saudi Arabia, UAE, Qatar, Kuwait, Iraq, Nigeria, South Africa, other MEA countries, Azerbaijan, Kazakhstan, Pakistan, India, China, Taiwan, South Korea, Japan, Singapore, Malaysia, Indonesia, Australia, Other APAC countries.
7 Vertical markets: Aviation Security, Land/Sea Transportation Security, Border Checkpoints, Diplomatic Facilities, Government & Public Facilities, Public Events, Private Sector Facilities.
8 Technology markets: Whole Body Scanners (AIT), Hand Baggage X-ray Scanners & EDS, Explosives Trace Detectors (ETD), Liquid Explosives Detectors, Shoe Scanners, Metal Detectors, Biometric (& Other) ID Documents Screening Systems, Multi-modal, Multi-threat Portals and Other Technologies.
3 revenue source sub-markets
Product Sales, Aftersale Revenues, Planning, Consulting & Training.
Current and pipeline technologies: "Screen while Walk" Technologies, Automated Border Control, Biometric (& Other) ID Documents Screening Technologies, single energy X-ray, dual energy X-ray, backscatter X-ray, multi-view X-ray and coherent X-ray, Threat Image Projection (TIP), Cast and Artificial Limbs X-ray, Transportable X-RAY Checkpoints, Fused X-ray and ETD systems, Fused Hand Held baggage X-ray and RFID, Multi-Threat Multi-Modal X-Ray Screening, Stereoscopic "3D X-ray" Imaging, Explosives Trace Detectors (ETD), Ion Mobility Spectroscopy (IMS), ChemiLuminescence (CL), Electron Capture Detectors (ECD), Surface Acoustic Wave (SAW), ETD MicroChemLab on a Chip, Coated Micro-Cantilever ETD Detector, Nanotechnology Based ETD Detector, Next Generation ETD Technologies, X-ray Backscatter AIT Portals, Active MMWave Whole Body AIT Scanners, Passive MMWave Whole Body Scanners, Terahertz Whole Body Scanners, Terahertz Weapon Detection Portals, Terahertz Time Domain Spectroscopy (TTDS), Metal Detection Portals & Hand-Held Devices, Shoe Scanners, Liquid Explosives Scanners, Body Cavities Screening Systems, Computer Aided Detection (CAD) Software, Biometric Screening, Fused Biometric, Document Authentication Interrogation Portals, Multi-Modal & Multi-Threat Portals.

Competitive Environment: 36 vendor profiles and their products description & prices: Auto Clear, ADANI, Red X Defense, Syagen Technology, Thermo Electron Corporation, Biosensor Applications, Hitachi, Scent Detection Technologies, Ketech Defence, Mistral Security Inc, Appealing Products, Inc (API) / ChemSee, DetectaChem LLC, Scintrex Trace, Flir Systems, Ion Applications Inc, BAHIA Corp (Sibel Ltd), CEIA, Garrett Electronics Inc, Fisher Labs, Brijot Imaging Systems, TeraView, ThruVision Systems, Gilardoni SpA, L-3 Communications Security & Detection Systems, QinetiQ Ltd, Westminster International Ltd, LIXI Inc, Morpho Detection Inc, NUCTECH Co Ltd, Rapiscan Security Products, Inc, SCANNA MSC Ltd., Smiths Detection, Vidisco Ltd.

Airports around the world: Details including for each airport the number of screened passengers and the annual passenger growth rate for over 1800 airports.

Market & industry analysis: Market drivers & inhibitors and the people screening industry SWOT analysis.

Business environment: Competitive analysis, industry analysis, price elasticity, mergers and acquisitions (M&A).

Business opportunities and challenges: Dozens of business opportunities, barriers to entry, supply-side & demand-side analysis, variable economic conditions, market tiers, defense primes & mega corporations' inroads into the market, people screening market entry strategies.

The report also includes the following 7 Appendixes:
Appendix A: Covert Walk-by People Screening Technologies
Appendix B: People Profiling and Behavior Tracking
Appendix C: CCTV-Based People Screening
Appendix D: Abbreviations
Appendix E: IATA and TSA Recommended Airport Passenger Screening Checkpoints
Appendix F: The People Screening Industry: Barriers to Market Entry, Supply-Side & Demand-Side Analysis, Industry Globalization, Classification of the Industry, Vendor – Government Relationship and more
Appendix G: People screening Industry: Business Models & Strategies, Market Entry Strategies, Price Elasticity, Mergers and Acquisitions