Description
In the world of homeland security, Saudi Arabia stands out as a unique case as a country that will continue and invest "whatever it takes" to build a formidable HLS-HLD infrastructure.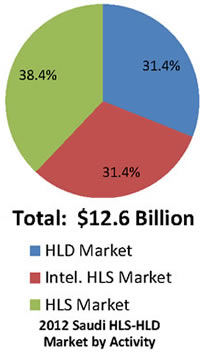 See also the latest version of this report
Imminent regime-threatening risks to the Saudi Kingdom, an uncertain geopolitical future, ever-changing terror tactics and unlimited monetary resources are forecast to create a period of unique Saudi security business opportunities, totaling over $90 billion over the report period.
Driven by increased homegrown Al-Qaeda activity and increasing concern over Iran's growing influence, backed by its nuclear ambitions, a rapid increase in the quality and quantity of homeland security and homeland defense systems purchased by Saudi Arabia is imminent in the coming years.
The Saudi HLS-HLD market is forecasted to grow from $7.8 billion in 2011 to $15.4 by 2018 with a CAGR of 10.2%. Of particular urgency is the need to upgrade the defenses of the oil industry infrastructure. This effort includes the buildup of a 35,000-man oil industry security force.
Some highlights include:
Detailed deciphering of the complex multi-tier Saudi HLS-HLD organizations, which employ over 250,000 people and are devoted exclusively to protecting the regime – with authority to make major procurement decisions
18 HLS-HLD sub-markets data, forecasts and analysis (e.g., Aviation, Counter-Terror Intelligence, Maritime security, Oil industry, National Guard, Private Sector and IT security)
Dozens of Saudi Arabian market business opportunities, segmented by HLS industry (e.g., Intelligence, Cyber security, Perimeter protection)