Description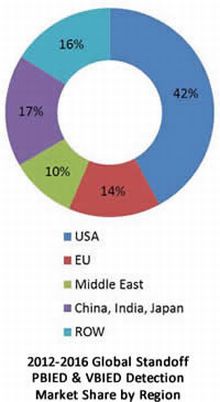 See also the latest version of this report
Terrorist attacks using Person-Borne IEDs (PBIED) and Vehicle-Borne IEDs (VBIED) remain a global problem, and have driven a growing number of homeland security and defense organizations to procure PBIED & VBIED standoff detection equipment.
The purpose of standoff PBIED & VBIED detection technologies is to determine at a safe distance if a human subject or a vehicle are carrying concealed explosives or weapons. Concealed weapons detection is perceived as one of the greatest challenges facing the counter-terror and military communities today. The threat posed by suicide bombers is the key to the emergence of transformational counter-terror technologies and tactics. The maturity and deployment of advanced standoff detection technologies capable of detecting suicide and other terrorists at a safe distance will change the landscape of homeland security and asymmetric warfare.
In the new Standoff Person-Borne and Vehicle-Borne Explosives & Weapon Detection: Technologies and Markets – 2012-2016 report HSRC analysts forecast that the market will grow at a CAGR of 33%.
The report, segmented into 93 sub-markets, offers for each sub-market 2011 data and 2012-2016 forecasts and analysis.
In 193 pages, 62 tables and 126 figures, the report analyses and projects the 2012-2016 market and technologies from several perspectives, including:
Market forecast by customer sector (e.g. transportation, defense, secured facilities)
Market segmented by Systems sales vs. Service, upgrades & refurbishing market
5 regional markets
The standoff detection industry: vendors , products, prices and RDT&E programs
Market analysis (e.g., market drivers & inhibitors, SWOT analysis)
Business environment (e.g., competitive analysis)
Current and pipeline technologies
Business opportunities and challenges