Description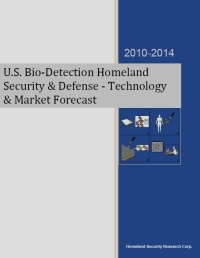 The bio-detection markets present some of the fastest growing and vibrant markets in the homeland security industry. The Obama administration is committed to accelerating the pace of bio-terror mitigation spending. In February 2009, the Congress passed a bill that included more than $1.7 billion in additional funding for bio-security and bio-health, and R&D.
This report describes the technologies and markets dedicated to using biological detectors for either constant, automatic, standoff surveillance of an indoor facility (e.g., mall, postal distribution center), an outdoor environment, or manual usage by 1st responders to check whether or not suspect traces consist of bio-terror agents. Such systems, in the context of homeland security, are mainly designed to mitigate the effects of biological terrorism.
HSRC's team of scientists and industry executives meticulously researched and analyzed each of the 4 modalities of bio-detection:
Outdoor Automatic Standoff-Detectors (e.g., Project BioWatch)
Indoor Automatic Standoff-Detectors
Emergency Responder Biological Mobile Labs
Emergency Responder Biological Hand-Held Detectors
For each modality, the research provides a detailed analysis and forecast for three generations of technologies, providing a look at the twelve market segments that will make up this industry for the next five years.
For each of the modalities, the research provides the following:
Present & Next Generation Technologies present technologies analysis and an in depth analysis of bio-detection candidates of next generation technologies
Current and upcoming business opportunities 18 specific business opportunities outlined and analyzed
2010-2014 Market Forecasts various and detailed forecasts of annual sales in units and dollars, for the next fice years
2010-2014 Service and Upgrade Business five year forecasts of the service and equipment installation and upgrade business, which are the main source of gross margin for this industry