Description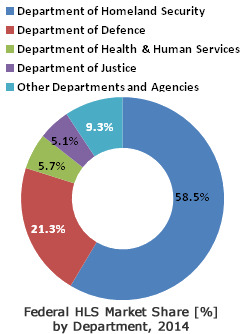 See also the latest version of this report
HSRC's newest release, US Federal Homeland Security Market 2011 2014, is the most comprehensive review of the world's largest HLS market available today.
The report granular analysis covers more than 350 sub-markets. It offers for each sub-market: 2009-2010 description, analysis, funding and market size data, as well as 2011-2014 forecasts data and analysis.
The report reveals that:
While the DHS plays a key role in homeland security, it does not dominate the US counter terror (HLS-HLD) market. The combined state and local markets, which employ more than 2.2 million first responders, totaled $15.8 billion (2009), whereas the DHS HLS market totaled $13.1 billion.
The DHS dominates 58% of the US federal Homeland Security market.
In spite of the fact that nine years passed since 9/11 with no successful terror attack on the continental USA, periodic, multi-year Harris polls, reveal consistent growth of public concern about another major terrorist attack.
Future small scale terror attacks (successful or not) will maintain this trend in the future. For example, the failed 2009 Christmas attack aboard a flight bound for Detroit and the attempted car-bombing in New York's Time Square (February 2010) resulted in immediate White House intervention, Congressional hearings and a radical air passengers screening upgrade program costing over $1.6 billion.
The Obama administration, using the American Recovery and Reinvestment Act of 2009 as a vehicle for job creation, committed more than $3 billion for homeland security projects through DHS and the General Services Administration.
Most analysts overlook the fact that the OMB federal rules demand that state and local HLS activities must be financed at the state, county and city level. Annually, all the states and over 40,000 counties and cities fund $53-$62 billion of their HLS activities, while the federal government supplements this spending with grants valued at $3-5 billion annually.
The aviation security sector enjoys much greater importance in the public image than in actual dollars and cents. While certainly important, it represents approximately 7% of the federal HLS market, is much smaller than some other HLS industry sectors (i.e. the 23% market share of the federal HLS information technology sector).
With more than 600 pages, 383 tables, 410 figures, including detailed information of over 350 sub-markets specific information regarding current and future business opportunities, this report provides essential market intelligence on approximately 40% of the global HLS market.