Description
See also the latest version of this report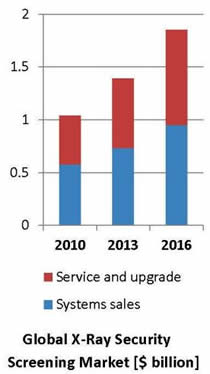 Despite years of cutting edge weapon and explosives screening technologies RDT&E, there is no competitive modality on the market, which challenges the cost-performance of X-ray screening technologies.Over the next six years, Homeland Security Research Corporation analysts forecast that, led by the USA, China and India, the global X-ray security screening market (including systems sales, service, and upgrades) will grow from $1.0 billion in 2010 to $1.9 billion by 2016 at a CAGR of over 10%.
HSRC's latest report, is the most comprehensive review of the multibillion global X-ray security screening market available today.
It analyses and forecasts the market by application, by country and by business transaction.
The report, segmented into 50 sub-markets, offers for each sub-market 2010 data and 2011-2016 forecasts and analysis. In 210 pages, 87 tables and 118 figures, the report analyses and projects the 2011-2016 market and technologies from several perspectives, including:
Market forecast by application: Air cargo, Airport-cabin baggage, Secured facilities, Postal items, Supply chain cargo and People screening AIT
National and regional markets: e.g., US, UK, Germany, France, Saudi Arabia, China, India, Japan, Korea, Malaysia, Singapore, Brazil
X-Ray Technologies: conventional, backscatter, multi-view, coherent, dual energy
Systems Sales, post warranty service and upgrade markets
Competitive environment:6 leading vendors and their products
Market analysis: e.g., market drivers & inhibitors, SWOT analysis
Business environment: e.g., competitive analysis
Current and pipeline technologies
Business opportunities and challenges