Description
The report is the result of more than a year of exhaustive research and analysis of thousands of federal, state, local and HLS-HLD industry documentation. HSRC conducted hundreds of interviews with federal, state and HLS industry decision-makers. The finished product is the most comprehensive review of the US HLS-HLD market currently available.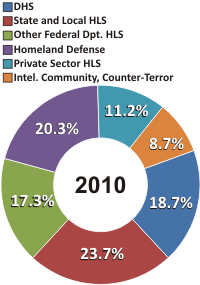 US HLS-HLD Market Share [%]
by Procurement Authority- FY 2010
The report sheds new light on many HLS-HLD market misconceptions. For example:
The US HLS-HLD market is larger and is growing faster than many realize. HSRC forecasts it to grow from $69 billion in 2010 to $85 billion by 2014.
The DHS has a key role in the industry, but it does not dominate the HLS-HLD market. DHS controls only 19% of the total HLS-HLD market. Focusing exclusively on the DHS will overlook 81% of the HLS-HLD market
The "state & local" HLS market is larger than the DHS and DOJ markets combined. This market (i.e. 50 states and over 30.000 counties and cities) represents 23% of the total US HLS-HLD business opportunities.
Aviation security, representing only 4.2% of the HLS-HLD market, is an important sector, but is much smaller than other industry sectors (e.g. information technology, first responders).
The "private sector" HLS market represents 12.5% of the market
The Homeland Defense (HLD) and Intelligence Community establishment control 29% of the HLS-HLD market
The report's granular research and analysis covers more than 580 sub-markets, including federal, state and local governments, the private sector, specific HLS-HLD programs and technology sectors. It also forecasts (2009 2014) the funding and markets for more than 460 sub-markets. The report provides essential market intelligence about the world's largest HLS-HLD market.
Federal HLS, HLD and Intelligence Community Counter-Terror Markets:
Analyzes HLS activities, funding and markets of more than 35 federal departments and agencies
Analyzes the Homeland Defense (HLD) funding and markets of the DOD and DOE, including dozens of programs and business opportunities
Analyzes the intelligence community counter-terror activities including funding and market estimates
State and Local HLS Markets:
State and locally funded HLS budgets and markets in 50 states, including counties & cities
State-by-state markets by procurement authority in the 27 largest states
Contact details for local HLS market information hubs
Detailed information, analysis and market data of federally-funded state and local HLS grants
Private Sector HLS Markets by Industry:
Banking & Finance
Water Infrastructure
Electric Power Industry
Civil Nuclear Power Industry
Petrochemical & HAZMAT Industry

Defense Industrial Base
Information Technology Industry
Transportation Industry
Postal & Shipping Industry
Other Industry Sectors

HLS-HLD Market by Industry Sectors:

Aviation Security Market
Bio-Chem Detection Market
Biometric-Based Systems Market
Border & Perimeter Security Market
Construction Market
Critical Infrastructure Security Market
Electronic Hardware Industry Market
First Responders Market

Guard Services Market
Information & Communication Technology (ICT) Market
Maintenance, Upgrade & Refurbishment Market
Maritime Security Market
Radio-Communication Market
RFID-based Systems Market
CCTV-based Real-Time Threats Identification Systems Market
Standoff Explosives Detection Market